Since attending the Google Teacher Academy in April, I have been trying to learn as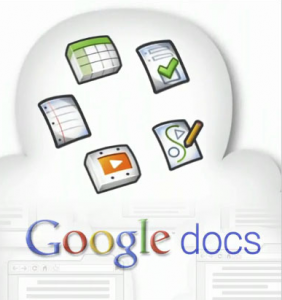 much as possible about each Google application. The result? I am realizing how little I actually knew about these tools and how tragically I was underutilizing them! Take Google Docs, for example. I have been using Google Docs for a couple of years, yet I had no idea how much I could actually do with docs personally or with my students.
So, in this blog want to share some information on basic functionality as well as fun ideas for using Google Docs (now Google Drive for some of us) with students.
Back to Basics 
Let's start with a definition, Google Docs "is a suite of products that lets you create different kinds of online documents, work on them in real time with other people, and store your documents and your other files — all online, and all for free."
Types of Docs: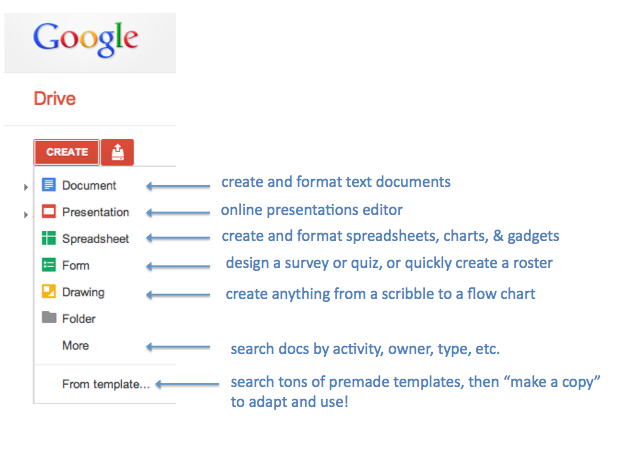 Documents 
Documents are a free online word processor. The ability to share documents and collaborate in real time from various location are the most exciting aspects of Google docs.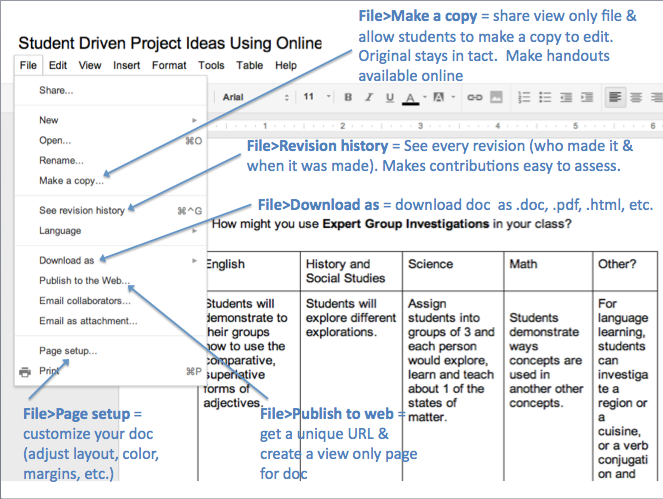 Click here to check out "Google Docs in the Classroom" a resource created by CUE and WestEd for Google. Note: The screen shot below is taken from this great resource.

Forms
"Collect RSVPs, run a survey, or quickly create a team roster with a simple online form. Then check out the results, neatly organized in a Google spreadsheet."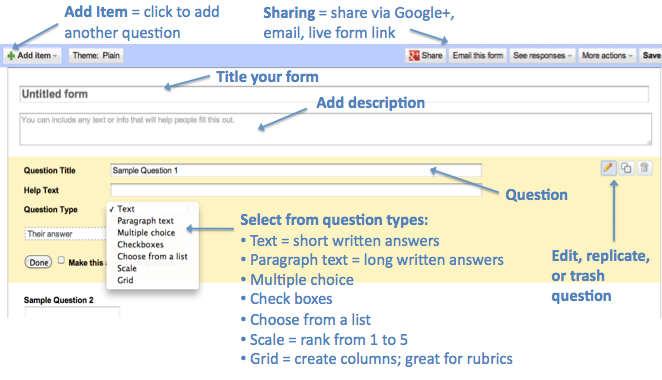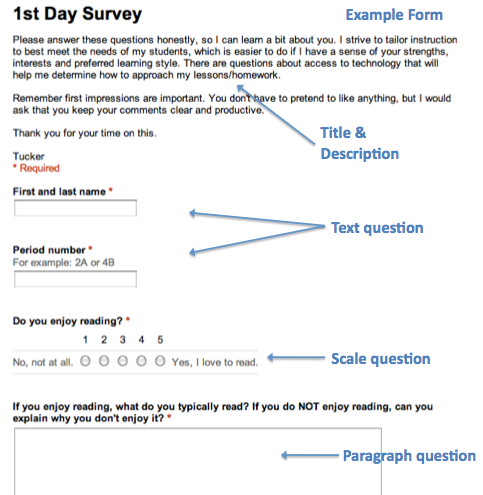 Use forms to: 
– Collect student data & get to know them better
– Create rubrics & quick assessments
– Support peer and self assessments
– Collect data that can be graphed for math practice
 – Allow students to create practice tests for each other (test prep)
 – Collect info and/or feedback from parents at Back-to-School Night
Spreadsheets 
"More than just columns and rows. Don't just make a spreadsheet; share it to collaborate and stay organized together."

Note: This spreadsheet is the back end of my "1st Day Survey" form which collects and organizes all the information I have requested.
Use spreadsheets to: 
– Create an online grade book
– Take attendance
– Organize contact information for parents and students
– Keep track of assignments – Completed? Incomplete? Missing?
– Collect data that can be analyzed
– Send feedback via email instantly using scripts
When using spreadsheets, it is helpful to explore scripts. Scripting "is a programming language that supports the writing of scripts, programs written for a software environment that automate the execution of tasks." Warning: This is a more tech savvy endeavor. That said, anyone using spreadsheets to collect data, scripts can save you a ton of time. There are 2 scripts I recommend exploring:
1. Flubaroo – Allows a teacher to grade a collection of data on a spreadsheet in one step easily collecting student data. This way students can complete a quiz or homework assignment on a live Google form, then that data is collected in a spreadsheet where it can graded with the Flubaroo script!
2. ValMerge – Makes it possible to merge spreadsheet data with a document template to send individual emails to all the email addresses in a data sheet. Alice Keeler is a spreadsheet expert and has written a blog worth checking out – "Using ValMerge – Sending."
Presentations
Create power point style presentations collaboratively. Students can include animations, drawings, transitions, and choose from a variety of themes. During the creation stage, students can use the comment feature to discuss work and they never need to worry about saving their work as this is done automatically.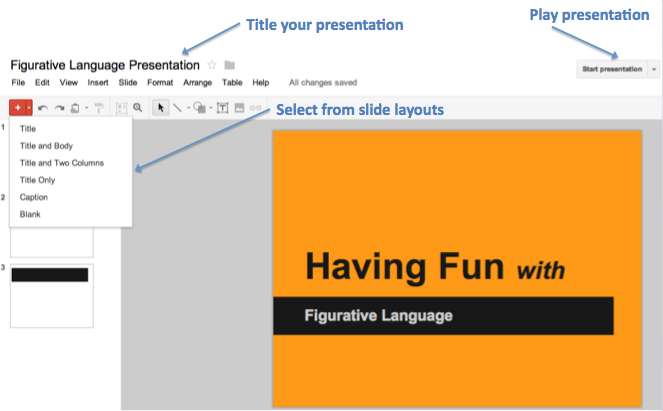 Presentations can be easily published to a unique URL to be shared.
Use presentations to: 
– Allow students to become "experts" on a topic and share what they have learned
– Create a multimedia product demonstrating the outcome of project/group work
– Introduce & review concepts by creating informational slides and/or animated flashcards
– Design creative projects as a group – multimedia mashups, scrapbooks, storybooks, and/or comics
Drawing
Add color to documents, presentations, and websites with easy to create charts and diagrams.

Use Drawing to: 
– Draw live in front of the class to demonstrate concepts if you have a smart board
– Use  to create charts, venn diagrams, mind maps, idea clusters
– Visual brainstorms
– Design collages or online posters
– Create book covers for favorite novels
– Storyboard
I encourage other educators using Google docs to post a comment to add to this list of ideas. Share your ideas about how we can use these tools with our students to foster creativity, collaboration, communication and innovation!