On Twitter this week I was asked how I manage Google docs with so many students. I realized there are several different answers to this question. I wanted to share a few different workflow options for managing Google documents when you go paperless with your students.
#1 Students Create & Share Docs
The first option is having your students create a document for each assignment and share that document with you.
1. Once you assign something, students "Create" a Google document in their Google drive.
2. It's crucial that students use a uniform naming convention. This is key to organizing their shared documents on your end. I require all of my students to use the following naming convention: Class Name-Last Name-Assignment Title This makes it easy to filter them by class or assignment.
3. After they properly title their assignment, they should click the blue "Share" button, enter your email address, and click "Can edit."
Caution: If students share their Google documents with you before naming it properly, they will appear on your inbox as an "Untitled document." If they accidentally do this (and some will), tell them to go back into their document, remove you as a collaborator, properly name their document and re-share it with you.
4. To avoid getting a flood of email notifications in your inbox, create labels in your Gmail for each class and each assignment you are collecting from each class.
5. After you have created your class and assignment labels, you can set up a filter in your Gmail using key words  (class name + assignment title) in the subject line to automatically put the shared notifications into your Gmail labels. Once filters are set up in your Gmail, the shared notifications will be automatically filtered into the the labels you create. You can access students' documents directly from the shared with emails. Watch the tutorial below to learn how to filter your emails.
Benefits: This mirrors the way most Google documents are shared in life beyond the classroom. Teachers don't have to organize student work in folders in their Google drive because they can be accessed quickly from your email.
Challenges: You need to create labels in your Gmail to organize the email notifications that are sent to you each time a student shares a document. You also need to set up filters on your Gmail to avoid dealing with a TON of email notifications in your inbox. Students will often mess up the title of their document, which can create problems when you try to filter their email notifications.
#2 gClassFolders
gClassFolders is a script that can be installed on a Google spreadsheet to create shared folders for your students. You can run the script and it creates 3 folders for each of your students — a "Dropbox" folder, a "View only" folder and a "Can edit" folder.
The "Dropbox folder" is where students will submit their work. They simply drag their completed files into their dropbox folder, then you can view and edit their work on your end.
The "View only" folder allows you to share documents for students to view (i.e. syllabus, assignment descriptions or notes) but they cannot edit these assignments.
The "Can edit" folder gives everyone editing capabilities, which is ideal for group projects.
The beauty of gClassFolders is that teachers can avoid being inundated with email notifications each time a student shares a document. The shared folders live in your (and your students') Google drive. Below is a quick overview of how gClassFolders work.
Benefits: Teachers can easily create folders for sharing and collecting students work in their Google Drive without receiving a ton of email notifications each time a student shares a document. 
Challenges: If you have a large number of students, you will have a large number of folders to navigate in your Google drive. There have also been some minor hiccups reported about the script and how it works. That said, the majority of the teachers reviews are extremely positive.
#3 Students Submit Their Documents Via a Google Form
Create a Google form that asks students to submit their work by sharing the URL/link to their shared Google document.
This way you can collect and organize an entire class set of documents in a Google spreadsheet and go straight from the spreadsheet to view and grade each student's document.
1. Create the Google form in your Google drive and be sure to collect the following information in every form:
First name
Last name
Class name
Email (*if they have one)
Title of the assignment (*optional)
Document URL
2. Students need to click the blue "Share" button at the top of their Google document and share it with your email address. Remind them to give you the appropriate sharing rights — "Can view," "Can comment," or "Can edit"– before clicking the green "Share and save." They need to copy the long URL/link at the top of the "Share settings" box because that is what they will paste into the Google form so you can access their document.
Benefits: This makes accessing their documents quick and easy. Teacher using scripts (like FormEmailer) can easily provide feedback directly from the spreadsheet too!
Challenges: You need to create a Google form for every assignment you want to collect. It does add an additional step for students because they have to complete the Google form.
#4 Doctopus
Doctopus is a script that can be installed on a Google Spreadsheet to quickly share documents with a roster of students, monitor student activity on the shared documents, and give students feedback from the spreadsheet.
Click here to check out a great "Doctopus How-To" I found online! It was shared by the writers of the Literacy 2.0 blog.
Here is a great walk through YouTube video created by Jay Atwood.
Benefits:  It makes it easy to quickly share a document that is properly titled with all of your students at one time. You can easily see the last time each document has been updated by a student. The activity stream is awesome for quickly checking to see who has been on their documents recently (great for catching the procrastinators!). 
Challenges: You need to have a class roster for each class ready in a Google spreadsheet. You need to install the script each time you assign a document. 
#5 Teacher Shares a Folder with the Class
You can create a folder in your Google drive and share that folder with an email list of your students. This makes it quick and easy to share a collection of documents with your students and collect a variety of documents from them. All you or your students need to do is drag documents into the folder.
You select the sharing rights — "Can view," "Can comment," or "Can edit"– but all of the contents added to the folder will share the same properties. This can be the downside of this approach. If you collect documents you intend to edit (or grade), then everyone with access to the folder will have editing rights (not just you).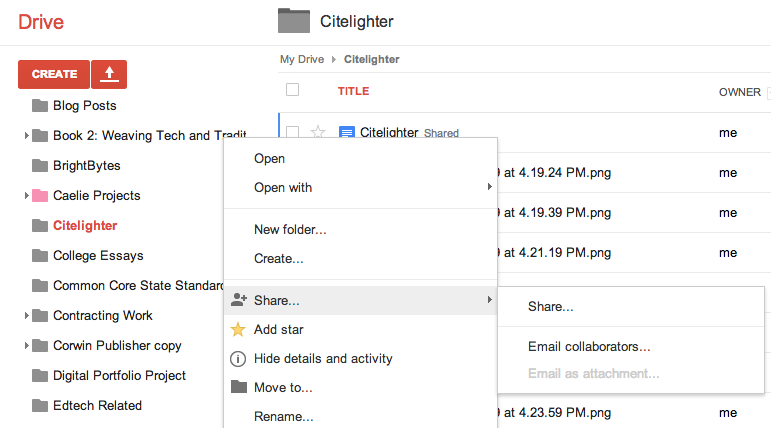 Benefits: This is the fastest way to share or collect a large number of documents with an email list. 
Challenges: Every document in the folder has the same privacy settings, so you cannot share "View only" documents and collect "Can Edit" documents. This makes collecting work that you want to grade digitally a hassle. 
This is by no means a complete list, but they are strategies I have used. They all have benefits and challenges worth considering. If you have a workflow that works really well for you, please share it with us!
Please Tweet me your comments and feedback @Catlin_Tucker.