This morning the BBC played softly in the background as I shuttled my children to school. Most mornings they whine when I turned the radio to a news station, but this morning they were absorbed in their own worlds in the backseat.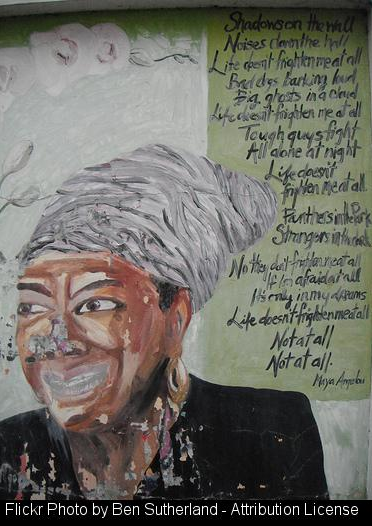 As the news anchor reviewed the day's top stories, he announced "Maya Angelou has died at the age of 86." I couldn't process what I was hearing. I've revered Angelou my entire life. Her words, her voice, her insight, her honesty and her humor.
As a poet, she gave me gifts like "Phenomenal Woman" that taught me to see beauty in "the span of my hips, the stride of my step, the curl of my lips" and  "the arch of my back, the sun of my smile." Her poem "Alone" reminded me that "nobody can make it out here alone," and that life is, at its core, about human connection.
Ironically, this woman, who I never met, inspired me to fight the hardest battle of my professional career. The first year I taught her early autobiography, I Know Why The Caged Bird Sings, a small but vocal group of parents in my district bombarded me with abrasive phone calls and accusatory emails. They called her beautifully written story "pornography." I was stunned. The attack on my decision to teach this book, and, subsequently, on me as a person was intense. I had to ask myself, why was I teaching this book?
The answer is simple. Hope. For all of the students who walk through my door carrying more than just their backpacks. For those students who carry sadness, pain, insecurities, self-loathing, and despair. For every child who comes to school hungry and is afraid to go home. For anyone who has ever felt they have no voice. This autobiography is a reminder that there is hope.

Every time I read Angelou's early autobiography, I am amazed that she was able to overcome life's obstacles and blossom into the accomplished woman she was. She endured poverty, discrimination, sexual and physical violence, abandonment, and pregnancy all before she turned 18. Angelou's story is one of resilience, tenacity and a love for life.
In life's darkest moments, it is stories like Angelou's that remind us we are not alone and that beyond the darkness there is light. I feel fortunate to have read her story as a teenager and to be able to share her words with my students.
Creatively Teach the Common Core Literacy Standards with Technology  Available NOW!