At the end of each year, it's fun to reflect on what I've written about and what other educators have gravitated to on my blog. This year the following 5 blog posts generated the most activity and conversation!
This activity is a fan favorite and requires zero technology. It transforms thesis statement writing into a fun collaborative task complemented by dance beats and a healthy dose of competition.
#2 Word Sneak: Vocabulary Game Inspired by the Tonight Show
This vocabulary review game is so much fun! I've been on a mission this year to get Jimmy Fallon to play Word Sneak with a woman on his show. To date, he has only played this game with men. I'd love to see a clever female guest give him a run for his money!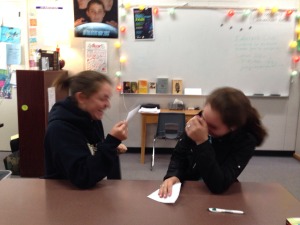 #3 Grading for Mastery and Redesigning My Gradebook
This year I shifted from traditional grades to a standards-based grading system. It's been incredible how this has also changed the conversations I have with my students. When I used traditional grades, students asked, "Why did I get this grade?" Now, they ask, "How can I improve this skill?"

#4 Fun Assessment for Silent Sustained Reading
I designed this 4 part project to get students excited about sharing their silent sustained books with each other. It's an informal book chat the combines art, reflection, and food. My students love it!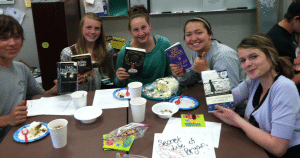 #5 Teaching and Parenting–A Delicate Dance 
This year more than years past, I've felt the strain of balancing my work life with my home life. Raising two young children, ages 6 and 8, is a wonderfully exhausting challenge. In this post, I felt I needed to be honest about how challenging it is to be a mom and a teacher. The flood of responses reminded me that I am in good company!
As I wrap up 2015, I am incredibly thankful for the educators in my life who inspire me and motivate me to continue learning. Thank you.