I watch students roam campus eyes glued to cell phones reading messages, updating Facebook pages, firing off text messages, and watching Youtube videos.
When they arrive at their next class, they are greeted by signs that read "NO Cell Phones!" or "Turn OFF All Electronic Devices." They are required to sit in a chair – plastic and uncomfortable – and listen quietly as a teacher talks about a subject that may seem completely foreign or irrelevant to them and their lives. The walls may be decorated with colorful posters or maps, but stimulating media and technology are rarely present.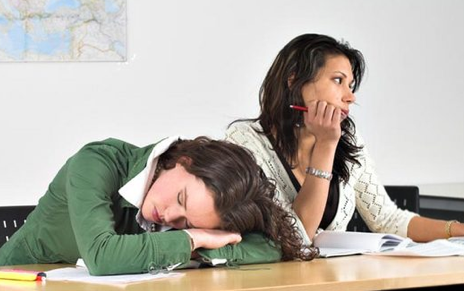 At a time in their lives when students are rapidly developing a sense of self and are most social, schools require them to sit, listen, take notes and work quietly on assignments. It is the rare classroom where students are allowed and encouraged to engage with their peers in collaborative projects, dynamic discussions and problem-solving activities.
This disconnect between the way students live their lives beyond the walls of the classroom- plugged in- and the way they are required to behave inside the traditional classroom concerns me as a parent and a teacher. I worry that the current approach in most public schools (mine included) will alienate students and dampen- if not completely destroy- their desire to learn.
So how can we fight Engagement Deficit Disorder?
How do we RE-ENGAGE students who have checked out?
To ENGAGE our students, we must occupy, attract and involve them to capture their interest.
Here are some suggestions for getting student's attention and actively involving them in your class:
Acknowledge their status as technology natives. Use technology whenever possible because this is how they are engaging most frequently with their peers and the world around them.

Stimulate the senses with visual media. Show images, video clips, political cartoons, art work, graphic novels, etc.
Bite size lectures. If you are going to lecture, break it up into bite size portions. Stop talking at regular intervals and let students do something creative with the information presented.
Bring the drama into your classroom. Re-enactments are more exciting than reading about an event!
Who doesn't love arts and crafts? Use creative online tools, like Glogster, Wix or Blabberize

to engage kids in creative activities online.

If you don't have computers in your classroom, break out the crayons, markers, construction paper, paint, scissors, glue, magazines and let kids CREATE.

Tap into your students competitive nature and bring games or gaming into your curriculum.
Kids love to talk, so let them. Make time for debates, discussions,

student presentations,

etc.

Raw footage. Ask students to make a documentary  or design an iMovie

about a topic related to your subject area

.

Let kids figure it out. Design real life problems to be solved.
QR Codes, Cell phones, Wireless Device, Oh my. Let students use their phones or wireless devices to do something educational, like scanning QR codes to go on a virtual field trip without leaving the classroom.
Add to this list with your ideas about how we can engage students in our classrooms!