At the Google Teacher Academy Lisa Thumann awed me with her lively presentation on Google Search. I must do an average of 15 searches a day on a wide range of topics. I search for articles, images, power points presentations, key words, etc. but I had no idea what Google search could do for me and my students. 
What I know now will radically change how I teach my students to research in the future, so I wanted to share some cool tips with other educators. 
First, let's get the lingo down (since I didn't know the terminology before I started digging into the resources Lisa provided).
Your search is called a "query" and you type it in the "query box." 

I know that query means question or inquiry, but I had no idea that is what you called the little box on the Google homepage. So, now when I say query box, we'll all be on the same page. 
Note: When I type an example query, I will use brackets [ ] to indicate that it is a query.
Here is some quick and interesting information on how Google improves your searches. Google:
suggests spelling corrections and alternative spellings.
personalizes your search by using information such as sites you've visited before.
includes synonyms of your search terms to find related results.
finds results that match similar terms to those in your query.
search for words with the same stem, like "running" when you search for run.
10 Questions & 10 Answers to Help You Search Smarter!
1. Not a great speller? Not sure how to spell a word? No problem!
"Google's spell checker automatically defaults to the most common spelling of a given word, whether or not you spell it correctly."
2. Are you looking for a specific file type?
Do you want to find PDFs, PPTs, or XLS? Refine your search by adding filetype:[insert 3 letter file abbreviation] 
example: [tips google search filetype:PPT] = yields results for PPTs only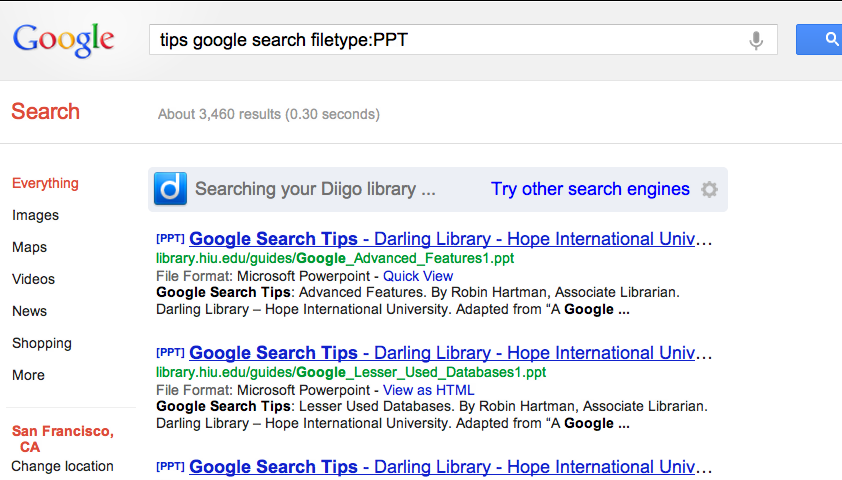 3. Did you find a great website and want to find others like it?
Search for related pages. example: [related: insertURL]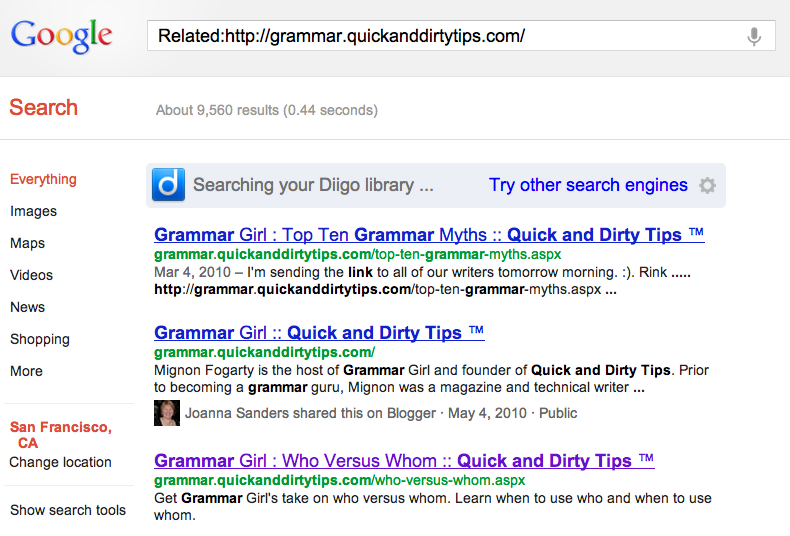 4. Have you found a great site but want to search within that site for specific information?
If so, begin with your key words + site:[URL]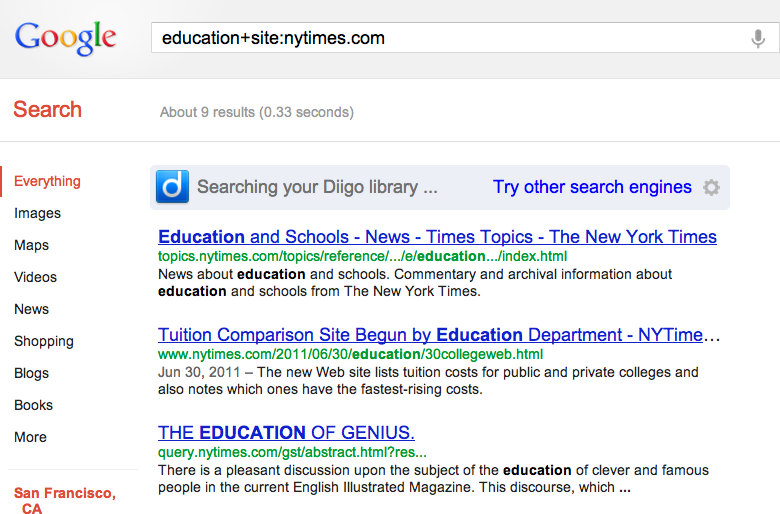 5. Looking for a specific type of site, like .edu, .gov or .org?
If so, begin you query with site:[type of site]+key words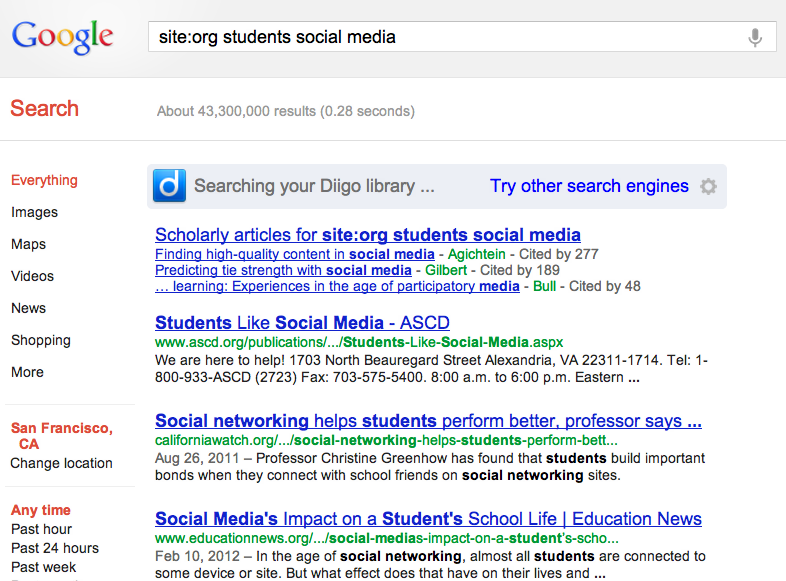 6. Do you ever wish a search engine could read your mind, complete a statement or fill in a blank? It can…well, it gets really close to mind reading!
Put an asterisk * in a phrase or question you want completed and Google will fill in the blanks.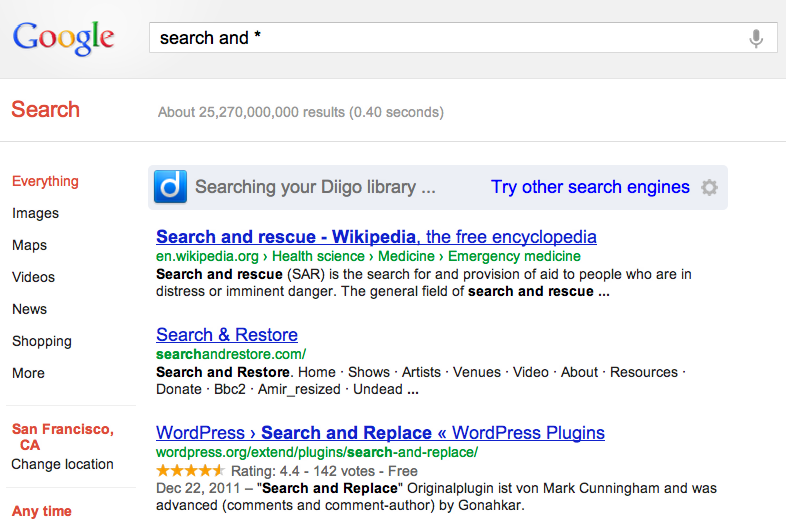 7. Looking for an exact word, phrase or sentence? Put your query in quotes to search for exact matches or enter your query, click related searches in left sidebar and click "verbatim" for exact matches without using quotations. This can limit the results you get, so make sure you know exactly what you are looking for when you use it.

8. Wish you could determine the reading level of the information you find? No problem. 
If you are having students in your class do research and want to make sure they will be able to read the information they find, just…
Click More search tools on the left side of the search results page.
Click Reading level. You'll now see results with reading levels and percentage breakdown of results by reading level.
To filter your results by a specific reading level, select your desired level (Basic, Intermediate, or Advanced).
9. Are you searching for a specific type of image when you search? Wish you could filter out all the clip art or irrelevant images? You can.
Go to Google and click "Images" in black bar at the top.

Enter query

In left hand bar, you can refine your search by size, color, type (e.g. face, photo, clip art or line drawing), standard view, etc.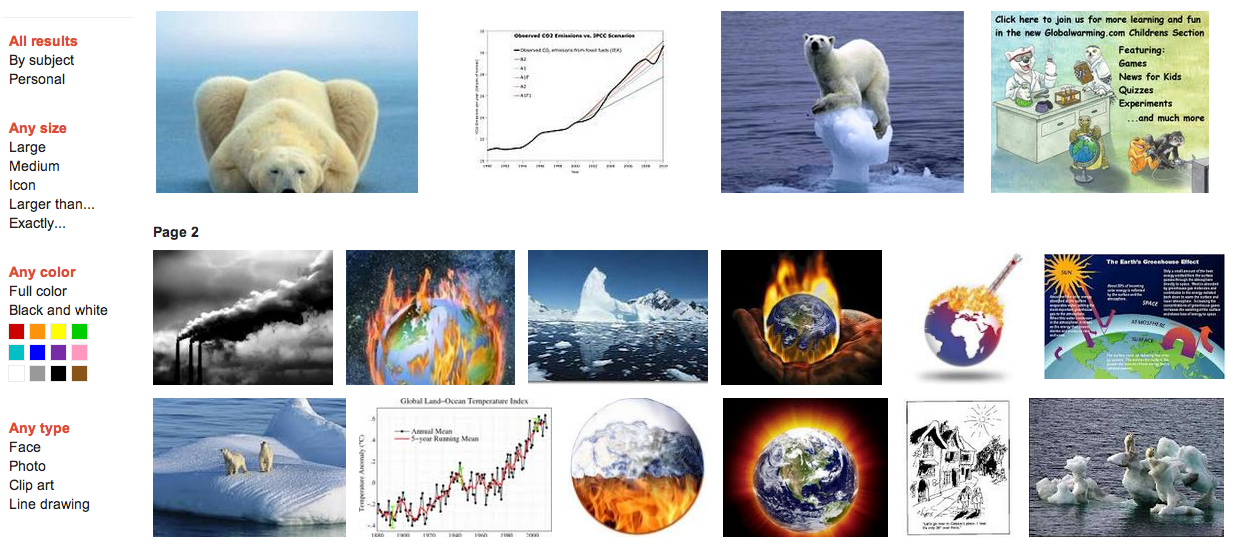 10. Have you ever found an image but don't know where? Do you wish you could find out where it came from so you can cite it or find other images like it?    It's as easy as a dragging and dropping.
If you click the small camera icon in the Google query box. It allows you to drag an image directly into the query box. It searches for information on that image and provides "Similar Images" you can view.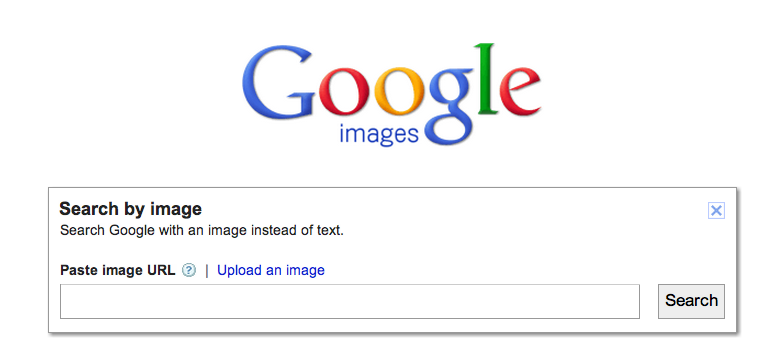 I will be adding new blogs each week to share some of the awesome tips and tricks I learned at the Google Teacher Academy. Feel free to post a comment to add to this list if you have fun Google Search information to share with other educators!