The Common Core Standards for math stress real world relevance, creative problem solving, collaboration and communication.  "One hallmark of mathematical understanding is the ability to justify…why a particular mathematical statement is true or where a mathematical rule comes from" (Common Core Standards). Encouraging students to engage with math actively is easier to do when educators explore technology. 
goo.gl/oyEHI
Yummy Math: Collection of Real Life Scenarios
Easily search a collection of real world scenarios by category or math level. These real world questions combine media with interesting challenges involving math. 
Maps can be used for so much more than getting from point A to point B. Creating math challenges using real distances, shapes, architecture, and heights on a map adds a visual component to stimulate student creativity. The collaborative nature of Google maps makes it easy to group students to solve these math map challenges.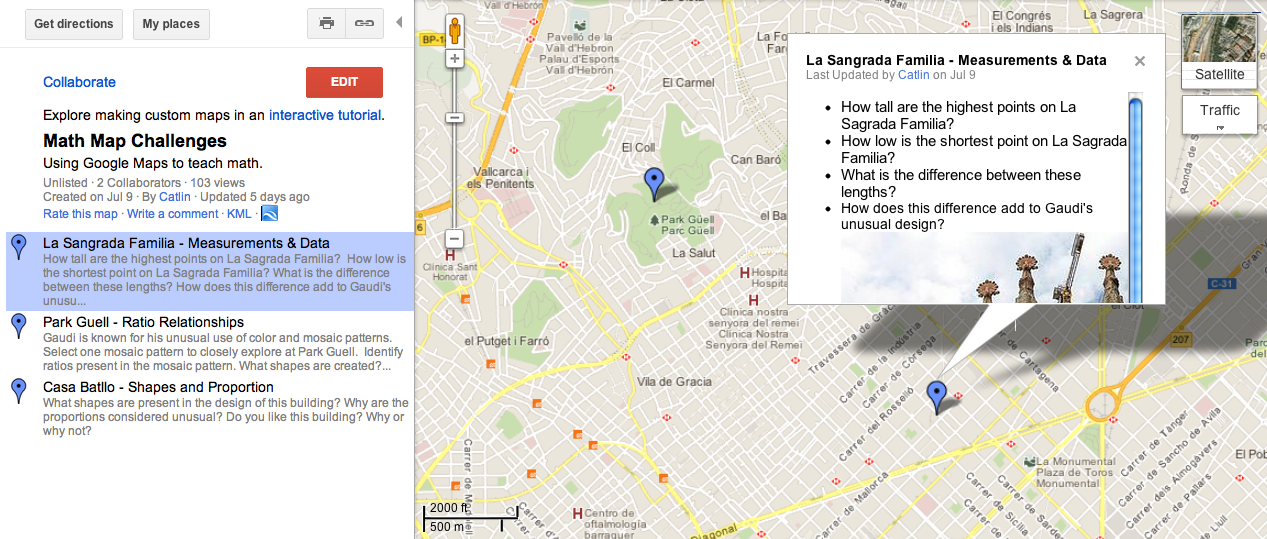 For a fabulous blog post on using Google Maps to create math maps, check out Tom Barrett's blog titled "Maths Maps."
Google Docs: Collaborate While Problem Solving
Tackling real world problems can be daunting for students who may be use to completing practice problems out of a book. Real life problems and scenarios do not always have one right answer. Encouraging students to work together to identify what they know and need to know creates a support system. Asking students what they have learned and how they can apply what they have learned allows them to reflect as a group and collaborate to extend their understanding of a mathematical concept.
Google Docs: Debate "The Best Buy"
Ask students to apply their mathematical understanding of ratios, proportions, measurements, and cost to determine which product is the better buy. Teachers can create the product comparisons or allow students to choose the products and create activities for their peers.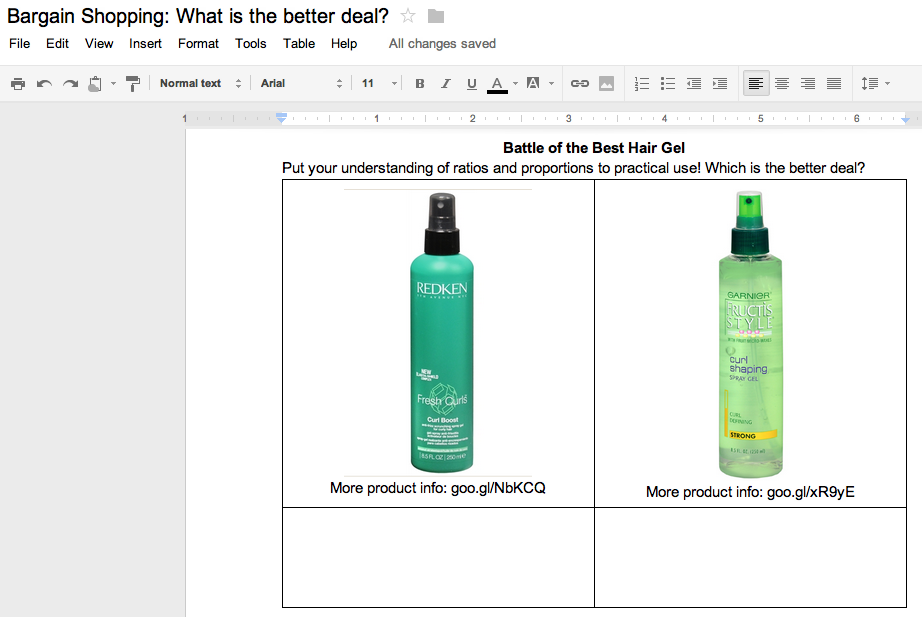 Creately: Group Modeling, Flowcharts, & Diagramming 
A growing number of students are visual learners, so it can be extremely powerful to allow them to work together to create flow charts, diagrams or visually lay out a strategy for solving a complex problem. A tool like Creately can also be used to allow students to explore shapes, proportions and measurements. 
Gliffy: Create a Variety of Diagrams 
This tool is similar to Creately and worth checking out for group collaboration and problem solving.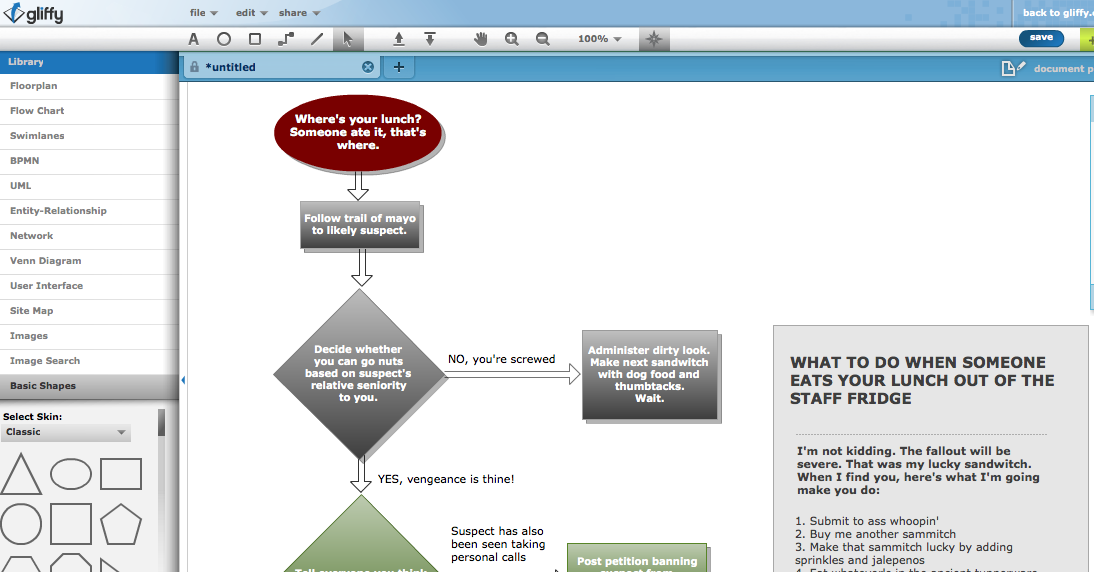 Google Presentations: Get Creative with Math
Let students create their own presentations for their peers to demonstrate their understanding. Create a class cookbook or design a collection of visuals for a unit.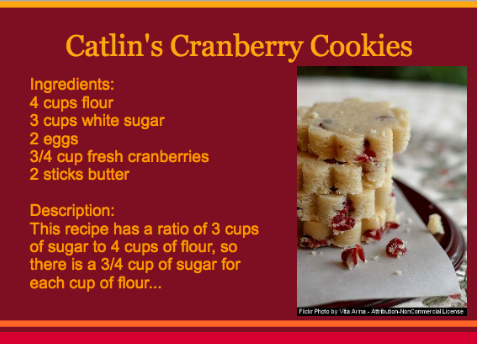 Survey Monkey or Google Forms: Create Surveys, Collect Data & Analyze Results
Getting kids excited about statistics and probability may not seem a simple task. What if they were given an opportunity to design their own surveys on topics of their choice? Students buy into assignments when they are interesting, relevant and fun. Use Survey Monkey or Google Forms to allow kids to design a survey, collect data and analyze the results. 
Google Classroom: Facilitate Discussions about Mathematical Concepts
The Common Core Standards describe mathematically proficient students are able to "justify their conclusions, communicate them to others, and respond to the arguments of others. They reason inductively about data, making plausible arguments that take into account the context from which the data arose…[They] are also able to compare the effectiveness of two plausible arguments, distinguish correct logic or reasoning from that which is flawed." Using online discussions to complement in-class work ensures students have the time and space to articulate their approach to problem solving. It also gives students an opportunity to read what their peers have said and evaluate their reasoning. 
When all else fails, have fun with Legos! (No. Really. Kids love them and they can be used for some cool math projects!)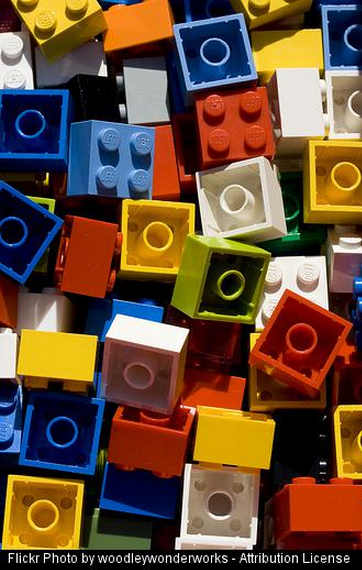 If you have favorite Web 2.0 tools for teaching math or strategies for addressing Common Core Standards for math, please post a comment and share them.
Preorder your copy of Creatively Teach the Common Core Literacy Standards with Technology. Just in time for summer reading!