My blog "Flipped Classroom: Beyond the Videos" explored both my excitement and concerns around the flipped classroom model. Several comments and questions posted in response to that blog post asked about the strategies I use to engage students in active learning online.
I want to share some of the strategies I use for engaging students around flipped content to:
Stimulate higher-order thinking.

Transition homework from a solitary practice to a collaborative experience.

Create transparency for teachers, so they can identify what students understand, where they are struggling and what questions they have. 

Begin work in class at a deeper level. 

Cultivate a learning community online to complement face-to-face work. 
1. Google Sites: Pair YouTube Embeds with Google Forms
An increasing number of teachers have their own websites where they make resources available to students. I use my Google site to embed video clips. Pairing those videos with a Google form encourages students to think about what they have seen and articulate their ideas in writing. Once my students have submitted the form, I get an organized collection of responses in a Google spreadsheet that I can review or reference. 
When asking students to evaluate information and form an argument, like the example below, it is interesting to collect their individual responses then use that spreadsheet the next day in class to have a follow up discussion or debate (without names). It allows me to begin class at a deeper level of conversation. 
2. Direct Students to Online Resources & Have Them Annotate with Diigo
In class reading assignments tend to be fraught with anxiety as students worry about having to read aloud. Even if students read silently, the range of reading abilities can still add to the stress of this work when done in real time. That said, the Common Core Standards stress that students must read a variety of texts, literary  and informational, understand the explicit and implicit meaning of what they read, and pull examples from their reading to discuss and analyze.
Flipping your reading to allow students time to read and process what they have read can make this a much more meaningful activity. The trick is getting them to engage actively with the text. Diigo makes it possible for students to highlight, create annotations on sticky notes and share their work. 
3. Google Hangout: Present Information Online & Schedule Live Chat
The beauty of pairing online content with a live conversation is that students get to bounce ideas around, ask questions, and make connections  in real time. This can be done as a voluntary extension activity since it is hard to arrange schedules, but it does offer students another opportunity to connect outside of class.
Teachers looking to address speaking and listening Common Core Standards can take advantage of yet another opportunity to encourage students to present information to an audience so that listeners can follow their line of reasoning. It also encourages them to adapt their speech and conversational skills to a variety of contexts.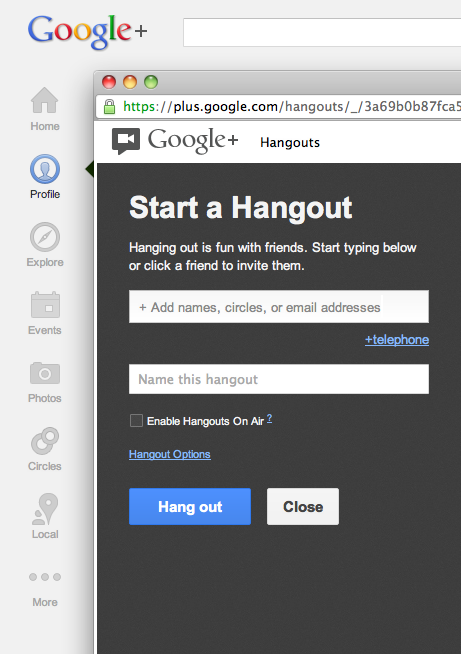 4. Online Discussions: Embed Video, Image, Doc & Discuss, Debate Reflect
Instead of simply disseminating and collecting information online, online discussions make it possible to engage students in active learning online. Wrapping content in dynamic conversations that are structured using different question types cultivates strong online communication skills, while building class community. Students can process information at their own pace, learn from the embedded modeling, and lean on their peers if they have questions or need support.
Teachers can address multiple Common Core Standards in one assignment when they pair the transfer of knowledge online with discussion topics that encourage analysis, synthesis, evaluation and/or reflection. Online discussions also require that students produce writing that is clear and coherent and collaborate with their peers using the Internet. 
5. Google Doc: Hyperlink to Video & Discuss 
Teachers can create Google docs with hyperlinks that are easily shared with a group of students. Sharing a single doc with a hyperlink to a YouTube video or online resource makes it possible to direct students to important information and pair that information with a discussion, debate or group assignment.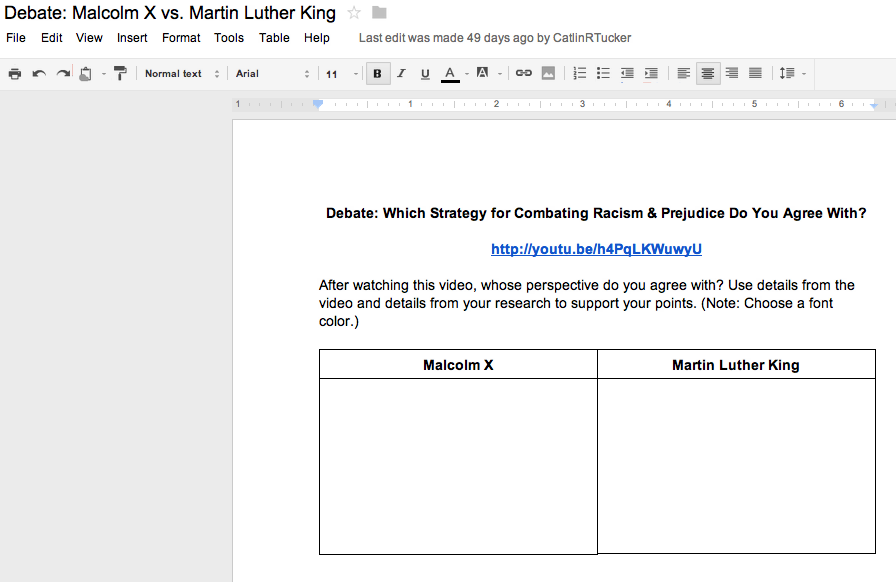 Please share any comments or questions you have! If you flip and engage using a different strategy or tool, I would love to hear about it.