This year I decided to try something new. Frustrated by the lack of funding for professional development, I wanted to create time and space to offer fun, informal PD for the teachers on my campus. This is how Techy Teacher Tuesdays began. 
The goal was to create a fun, informal space to share ideas, best lessons and favorite web tools. I encouraged teachers to bring their lunches and a device. 
In advance of our first meeting, I created a WeJIT – a quick discussion tool – to find out what topic teachers were interested in discussing.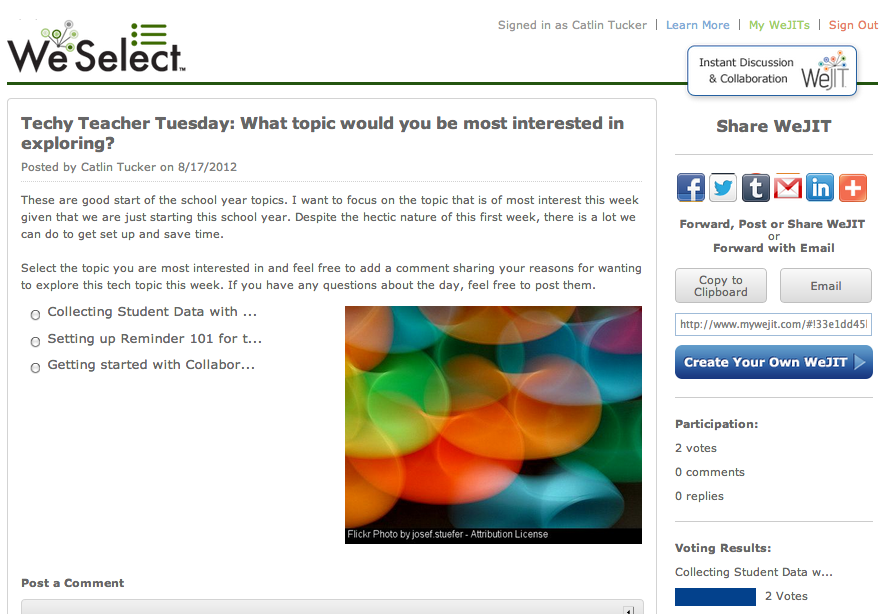 Each week we cover topics ranging from collecting student information using Google forms to setting up Reminder 101 to send text alerts to students. We explore tools, like Diigo, Collaborize Classroom, and Lino, and discuss how we can use them to address the Common Core Standards. 
My hope is that these meetings, which fluctuate from a couple of teachers to a small a group, will become part of our school culture. I want teachers to feel empowered and supported.
With less money and resources for PD, it is crucial that we develop our own personal learning networks (PLNs) both on our campuses and online.  These lunch meetings are a refreshing change to administration or district organized professional development. We are not locked into strict agenda and teacher interest drives the process. 
I would encourage others to think about how they can create informal, bite size PD on their campus to inspire creativity, foster relationship building and cultivate camaraderie between educators. These innovative ideas have the potential to breath new life into the teaching profession!