Over winter break I read Overcoming Textbook Fatigue: 21st Century Tools to Revitalize Teaching and Learning by ReLeah Lent. Ironically, I don't use textbooks in my English classroom, but I am interested in the myriad ways technology is transforming how teachers teach and students learn.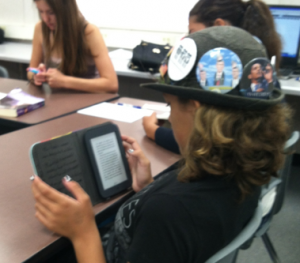 Lent discusses the changing role of the textbook in a world where students are increasingly more comfortable engaging with a screen and "tapping keys then turning pages."
Despite my own excitement about technology, my instinct is not to grab a device when I want to take notes or jot down my ideas. Instead, I grab a pen and paper. I realize this is taboo in the edtech community, but it is a testament to how I was taught and how I learned as a student.
In stark contrast, when I ask my students how many use pen and paper to write, the majority say they only write with pen and paper for school. I find this fascinating! It speaks to the way computers, iPads, tablets and cellphones have changed the way young people engage with the world.
Most of my students no longer carry an agenda to write down their homework. The vast majority quickly snap a photo of the board with their phones. It is quicker and makes more sense if they have the technology.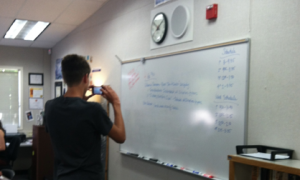 As a teacher, I want my classroom to rapidly evolve to meet my students' changing needs as learners. Sometimes it feels like a sprint keeping up with them, but at the end of the day it has kept my job exciting and challenging!
As I embrace a new year, my resolution is simple.
Keep questioning and asking why.

Experiment with new strategies, teaching methodologies, and technologies.

Don't be afraid to try, fail, and try again.

Share what I am learning with anyone who will listen.

Learn from my students, from my mistakes and from my amazing PLN!
Happy New Year!