Real time discussions can be tricky for a number of reasons:
The same few students dominate.

Shy students don't feel comfortable participating.

There isn't enough time to hear from everyone.

It is next to impossible to capture all of the great ideas shared.

Students cannot revisit the conversation.
If any of these resonate with you, I would suggest exploring a super simple backchannel tool like TodaysMeet. Note: A backchannel is a conversation that is taking place while another presentation, conversation or activity is happening. 
Step One: Go to TodaysMeet
Step Two: Name your room and decide how long you want your backchannel to be available. Your room data can be saved for: 2 hours, 8 hours, 12 hours, 1 day, 1 week or 1 month.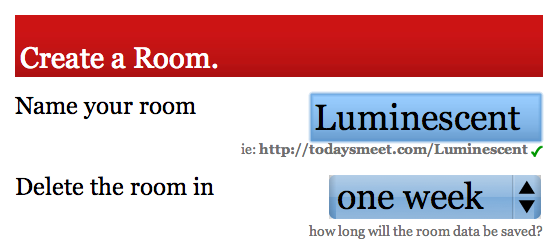 Step Three: Send your students to your unique URL to participate in your backchannel. They must enter their names, then they can post comments, questions, and feedback. 

The backchannel challenges students to keep their comments clear and concise since they only have 140 characters to articulate each thought. Many teachers may be skeptical of this "Twitter-like" interaction, but it is increasingly important that students learn to communicate with limited characters. As social media permeates society, many students will benefit from learning and applying this skill. 
Fun features:
Teachers using this backchannel tool in the classroom, can click "Projector" to enlarge the conversation stream to project it onto the board for everyone to see.

They can access a transcript of each backchannel conversation for reference later.

Finally, if your class is on Twitter, you can tweet out your backchannel URL to invite others to join in your conversation. This can be a fun way to connect with experts and/or other classrooms!
8 Ideas for using a backchannel tool with students: 
Allow the outer circle in a Socratic seminar to capture and share their observations, questions, comments and ideas using mobile devices instead of pen and paper. 

Encourage students to post ideas when watching a documentary or film. This way they can engage with each other and think deeply about what they are viewing. 

Set up a backchannel for students outside of class and encourage them to participate in an asynchronous discussion about a novel or informational text they are reading. 

Create a "study hall" backchannel where students can ask each other questions and get support before an exam. 

Give students a backchannel anytime they are beginning a new routine outside of class and might need a space to troubleshoot and problems. 

Pair a backchannel with a virtual or real-time field trip to allow students to share their reactions and experiences. 

Brainstorm with a backchannel. Quickly collect a large number of ideas and suggestions from your entire class. 

Use a backchannel to facilitate icebreakers to build class community. For example: What are you passionate about? If you could meet anyone, who would it be and why? Where would you travel if you could go anywhere in the world? The 140 character limit makes it a fun challenge!
If you are using a backchannel with your students, please share your ideas here! I'd love to hear how other educators are using backchannel tools with students.