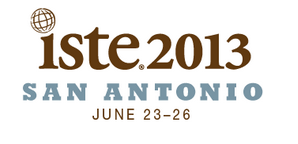 I am presenting a half-day workshop at ISTE 2013! My workshop, "Blended Learning: Exploring Tools, Techniques, and Resources" will focus on extending engagement, fostering collaboration, and leveraging the power of technology to create student-centered classrooms.
We will explore how a blended model can transform the traditional classroom to more effectively cultivate a community of inquiry that combines the advantages of online learning and face-to-face interactions.
Workshop will include:
hands-on practice with tools like Collaborize Classroom, TED-Ed, Socrative & Lino.it.
techniques for using mobile devices to promote engagement and collaboration.
practice designing student-centered learning opportunities to build on the work done online.
strategies for teaching digital citizenship and creating a safe space online.
experimenting with flipped instruction as a way to create time and space in the classroom.
Join me for an exciting workshop that will leave you energized and excited to play with educational mediums to provide the best learning outcomes for your students!
February 13, 2013 the ISTE program goes live and you can sign up for workshops!