Each school year I begin with "writing boot camp" where we focus on the fundamentals of writing. I have transitioned to the Common Core Standards and developed flipped writing videos and complementary writing templates to help students learn how to write strong argument and informative paragraphs. I wanted to share these with teachers who might be able to use them and save time!
Argument Paragraph
I present my writing instruction online, so students can do the actual writing in class. Then I can circulate around the room answering questions and providing one-on-one support as they write. Students who need extra help can also revisit these videos throughout the year. Flipping instruction is ideal for allowing students to digest information at their own pace to improve comprehension and retention. It also creates much needed time and space in the physical classroom for practice, hands on activities and collaboration.
I also create writing templates with "View only" Google documents. Students log into their gmail, click on the template link, go to "File" and click "Make a copy." Then the template is automatically saved in their Google drive. (Note: To make a copy of these templates below, you should follow the same process.)
Informative Paragraph
Argument and informational paragraph structures have several similarities. It is helpful to point out those similarities for students. I use this side-by-side chart to visually displays the similarities and differences between these two types of paragraphs.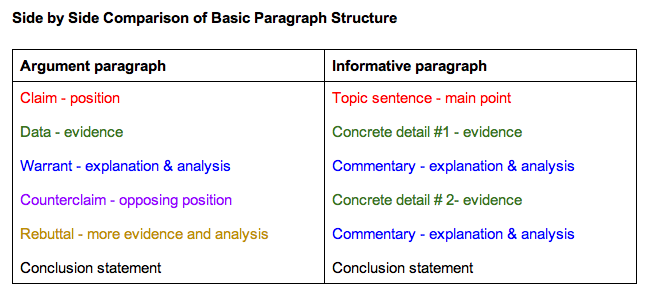 Hopefully, these strategies will spark ideas for how other English, history and science teachers can support students in writing both argument and informational paragraphs. Once students are able to write strong paragraphs, then they can build on those paragraphs to produce longer process pieces.
If you have strategies for teaching writing that have been successful for you, please share them! I love learning from what other educators are doing in their classrooms.
Preorder your copy of Creatively Teach the Common Core Literacy Standards with Technology. Just in time for summer reading!