Many teachers are ending their semesters with large scale assignments that require digital research. According to the Common Core Standards, students who are "college and career ready" can "tailor their searches online to acquire useful information efficiently, and they integrate what they learn using technology with what they learn offline." With unlimited information at our students' fingertips, it is key that they learn how to find, evaluate, analyze and apply that information.
I've used Diigo with my students to teach them how to annotate and organize digital information, but I recently stumbled over another useful research tool I wanted to share. Like Diigo, Citelighter has a toolbar the user can download. Students can capture quotes, write comments, and generate citations.
Citelighter Toolbar

Citelighter Features
Create Citations – Students can create instant citations (MLA, APA or Chicago) for any piece of information captured using Citelighter.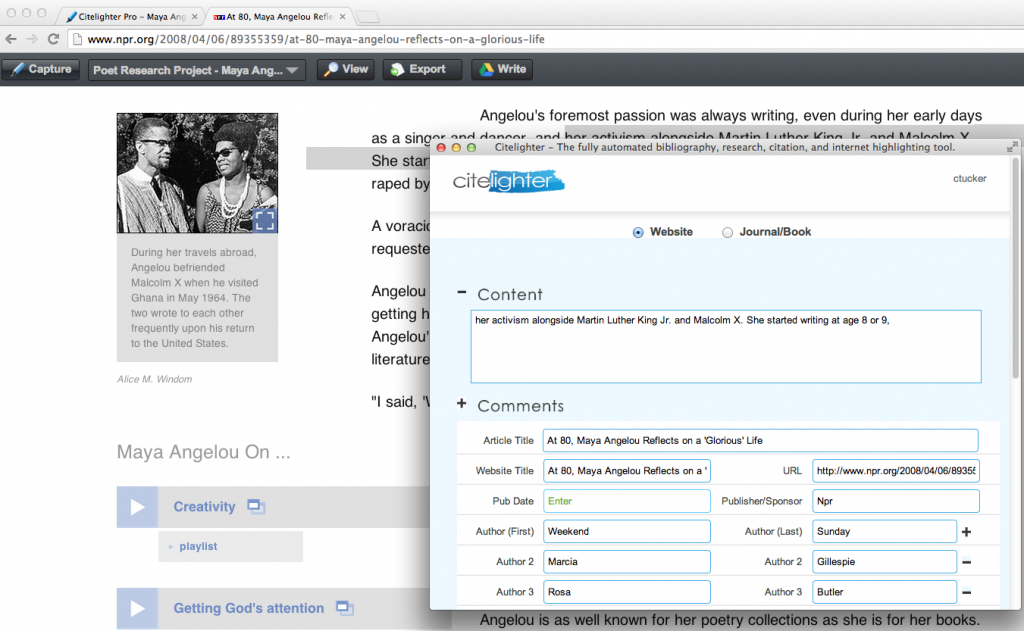 Write Comments While Researching – Students can add comments that are attached to specific pieces of captured content. They can actually write their paper as they research. Too often the research component is a separate step disconnected from the writing component. Citelighter pulls those two steps together, so students can write down their immediate thoughts as they encounter information online.
Save Everything to Specific Projects – Students create project titles and their research is saved to specific projects, which makes it easy to complete research for multiple classes or projects at one time. When they log into their Citelighter account, they can access all of the information — quotes, comments, and citations — associated with a particular project. Gone are the days when students get to their works cited page and complain, "I don't know where I got this quote."
Students can also enter a due date and opt for email reminders to ensure they complete their work on time.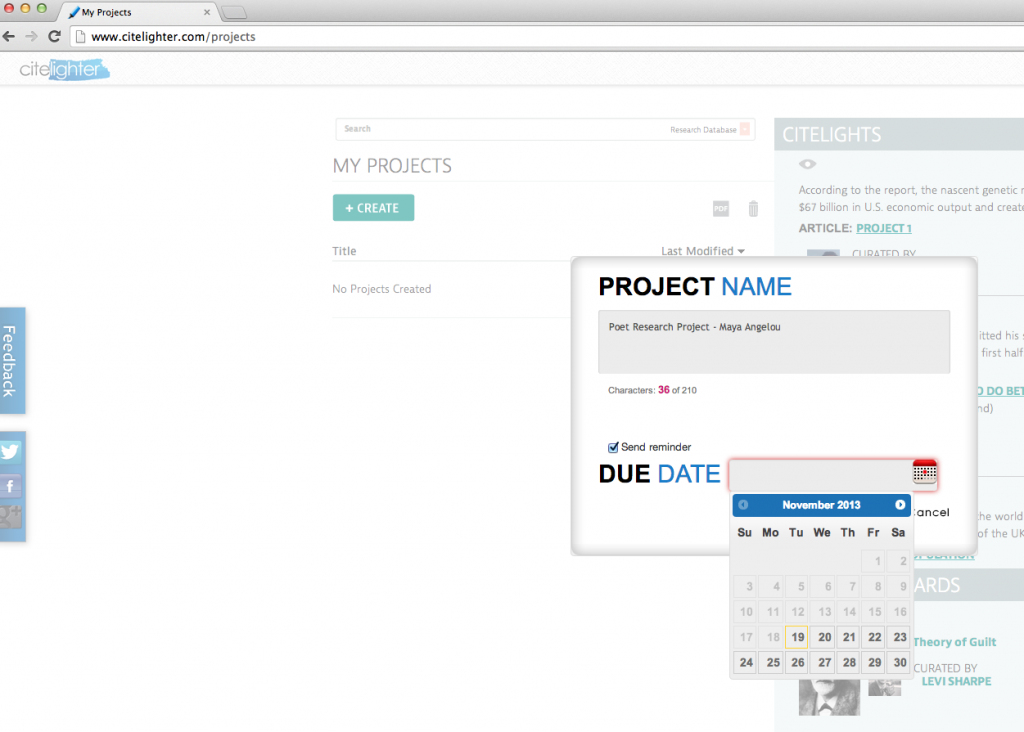 In addition to these features, students can log into their Citelighter account to:
see a "quick view" of their research for any project. This quick view acts like virtual research note cards.
export their research, writing and citations directly to a Word document. (Citelighter Pro account allows the user to export to Google docs.)
share their work via email.
print their work.
How-to Resource for Your Students
No sense recreating the wheel, so I wanted to share the Google document I created to walk students through the process of signing up for a Citelighter account. This document also highlights some of the features for students who are new to Citelighter. Feel free to use it with your students!
*Note: It is a "View only" Google doc. To make a copy to share with your own students, sign into your Gmail account then go to "File" on the document and select "Make a copy." It will automatically save in your Google drive.
Please Tweet me your comments and feedback @CTuckerEnglish.