When I attended my daughter's kindergarden Back-to-School Night two years ago, I was delighted to see a video of the classroom playing on a television in the corner. As a parent, it was exciting to see my child in the context of the classroom. My daughter's teacher had simply videotaped the children singing, working on projects, and progressing through their daily routine. The classroom was no longer a mystery. I left wanting to provide the parents of my 9th and 10th grade students with a similar experience.
Most parents of high school students probably have no idea how their children spend their days or what they are doing in their classes. This makes me sad as I will eventually be the parent of a high school student. As a result, I've tried to create windows into my own classroom.
Here are 5 strategies I'd suggest teachers consider:
1. Use a Twitter Hashtag or Create a Class FaceBook Page
You can post announcements, share pictures, and connect parents to resources and documents online.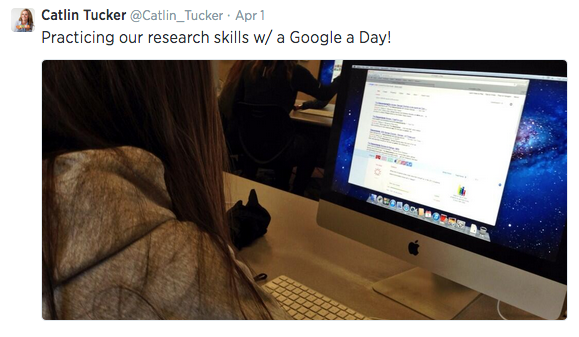 Tip: If you are using Twitter you do not need to follow your students' parents, but you can add them to a list "Parents 2014-2015." If you are using Facebook, you do not need to friend you parents for them to follow a Facebook page you've created for your class.
2. Create a Class Instagram Account
This makes it possible for parents to actually see what students are doing in the classroom. Post pictures that give parents a sense of what is happening each week.
Tip: If you are using Instagram and plan to have a public account where you will post pictures of your students, you need your parents to sign a photo release form. Like Twitter and Facebook, you do no need to follow any parents or students with your class Instagram account.
3. Post Content Videos & Tutorials to a YouTube Channel
If you flip your classroom and provide video content online for students, parents can watch the videos too. This provides parents with the tools to support their students as they work on an assignment.
Tip: Organize your videos into "playlists" so they are easier for your parents to navigate. For example, I have essay writing videos in their own playlist and vocabulary videos in another playlist.
4. Share Animoto Videos
Animoto is so easy to use I often take pictures of students working on projects or in their daily routine to share with parents via short videos. I play a video at Back-to-School Night and then post them to our class website for parents to view.
Tip: You can create a simple Animoto video just using your phone. Take pictures and video clips, then use the Animoto app to create a polished video in minutes!
5. Share a Master List of Student Blogs
All of my students started writing their own blogs this year. I encouraged them to blog about any topic they are passionate about. One strategy for getting more eyes on your students' blogs is to encourage parents to check them out! Create a Google Document with the blog titles (no names) and hyperlink to each student's blog. This encourages parents to click on blogs written about topics they are interested in, while also giving them a sense of what students are working on for your class.
Tip: Post a link to a "View only" Google Document from your website. This way both parents and students can check out the blogs any time.
If you are using different strategies to engage your parents or provide a window into your classroom, please post a comment or find me on Twitter! I'd love to learn from what other teachers are doing.