"What do you want to be when you grow up?" Kids are repeatedly asked this question by adults. In kindergarten, my son's class was asked to draw a picture of what they wanted to be when they grew up. They created the self-portraits pictured below.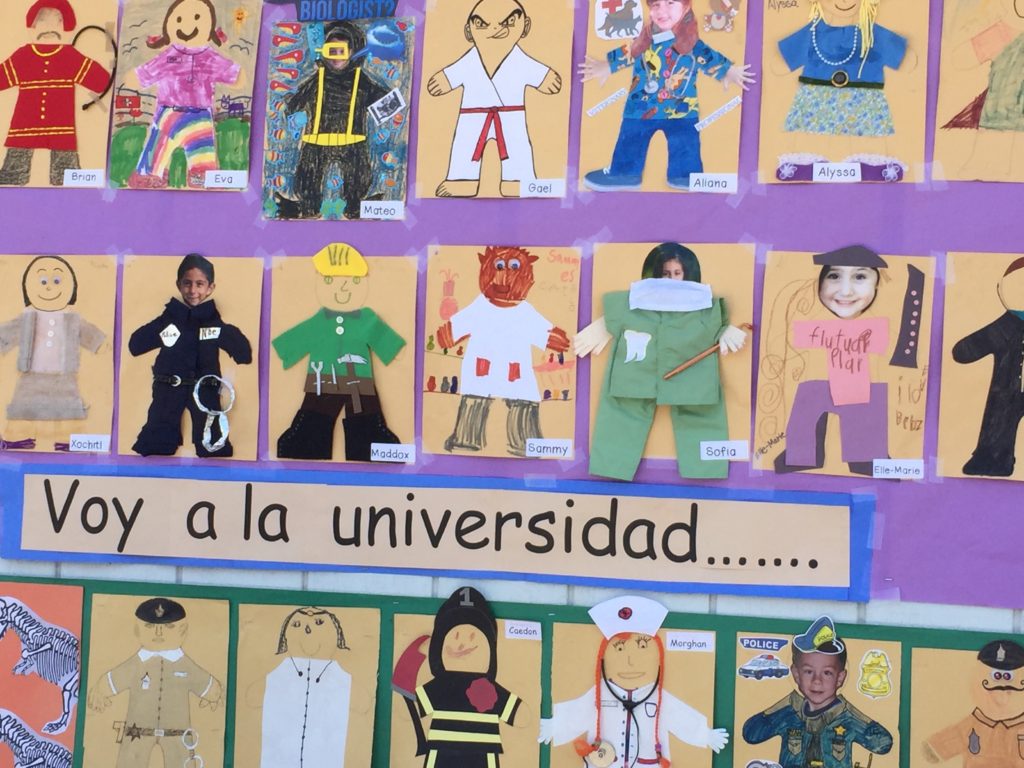 As my son worked on his self-portrait, I reflected on how little exposure most students have to the work world. Very few schools have career-school partnerships that provide students with the opportunity to explore different professions. I designed a Career Exploration Project to help students learn more about a career they are interested in pursuing after high school. Below is an explanation of the project with student examples:
Part I–Inquiry Questions & Research
First, students were asked to generate at least 10 questions they had about their chosen career. They had to submit those questions via a Google Form for review. Then those questions were used to drive their online research. All of their research was organized on a shared Google Document complete with a works cited page that included at least three credible online sources. 
Part II–Interview Questions & Evidence 
The second part of the project required students interview someone in their chosen career field. In preparation for their interview, students were asked to:
Write a professional business letter and resume. The formal business letter served to introduce them, outline the purpose of the project and request an interview. Students also learned how to format a formal resume and included that with their request. 

Decide on the audio recording device to capture evidence of the interview. Instead of taking notes during the interview, students recorded the conversations so they could refer back to them later. I encouraged them to explore the following recording apps:
Once students had found a person in their field to interview, they had to submit a short bio of the person they were interviewing and interview questions. I reminded them that their interview questions had to be strong enough to spark a 15-30 minute conversation. Once again, they submitted their proposed questions via a Google Form so I could review them prior to their interviews. 
Part III–Observation
Students had to find a second person in their chosen profession and spend a minimum of one hour observing them at work. During their observations, they were asked to record notes on the environment they are observing, tasks performed and interactions with other employees and/or customers.
They were also asked to reflect on the following questions:
What is appealing and/or unappealing about the work environment?

Does this job require a person to move about, sit for long periods, work with their hands, or on the computer?

What skills and/or technology are needed to accomplish the daily tasks?
After completing their observations, students transferred their notes to a shared Google Document and included evidence (photos and/or videos) from their observation. If cameras were not welcome in the environment they were observing, I encouraged them to take a picture of the building/sign where they observed.
Part IV–Create, Publish & Share               
After students completed their research, interviews, and observations, they pulled all of that information together to create a short video about their chosen profession to share on YouTube. Their films needed to provide a comprehensive overview of their career, including:
Title page: your name, class, and name of your researched career

Prior impressions

Education – degrees, field of study, certifications, specialized training

Needed skills

Typical daily tasks

Job realities – What is the job

really

like?

Challenges and rewards (monetary and nonmonetary)
Their videos needed to incorporate the various elements of their career exploration–audio clips or direct quotes from their interview, pictures from their observations, statistics and information from their research.
I encouraged students to explore one of the video creators below to produce their videos. I wanted students to select the video creator that worked with their individual devices. I'm an advocate for allowing students to select the tools they want to use instead of requiring them to use a specific tool.
Here are some of the finished products!
*This video was produced with GoAnimate.
*This video was produced with VideoScribe.
*This video was produced with iMovie. 
As a class, we watched all of the student-produced videos. That way students could publish their work for an authentic audience AND students learned about a whole range of professions!
For those educators wondering, why would an English teacher do this project? Like most projects there were so many important skills incorporated into it. Students had to complete extensive research, cite properly, write a business letter and resume, practice speaking and listening skills during both the interview and observation, and produce a multimedia video to communicate information. Even though many of my students were stressed at different points in the project as they struggled to coordinate schedules with busy professionals or learned how to navigate a new video creator tool, most really enjoyed the process and learned a lot about their chosen careers!