Last year, I began experimenting with standards-based grading and wrote a blog titled "Grading for Mastery and Redesigning My Gradebook." My goal was to shift the conversation away from the accumulation of points and, instead, focus on the development of skills. Although I appreciated the immediate change that took place when I began grading based on my students' ability to master specific skills, I knew I wanted to go even further this year as I began N.E.W. School.
This summer I read Starr Stackstein's book Hacking Assessment: 10 Ways to Go Gradeless in a Traditional Grades School. In her book, Stackstein chronicles her journey ditching grades in a traditional school setting and offers some excellent strategies a teacher can use to go gradeless.
I found the sections titled "Track Progress Transparently," "Teach Students to Self-Grade," and "Cloud-based Archives" particularly helpful in planning for this year. In an effort to do all three of these things–create transparency, teach self-assessment, and archive work online–AND keep parents in the loop, my teaching partner and I developed a Google Document for the first unit of the year with 10 focus standards for each class–English, science, and technology.
We shared this "Ongoing Assessment" document with each student via Google Classroom. Their first task was to read through and rewrite the standards in a way that made sense to them. Then each student shared their ongoing assessment document with his/her parents as a "Comment only" document, so parents could follow their child's progress and post questions.
The "Ongoing Assessment" document was designed to encourage students to take ownership of both their work and the evaluation of that work. They are given time each week to assess their progress in relation to specific skills and reflect on their learning. It's their job to assess their skills on a scale of 0-4 and provide evidence from their body of work to support their self-assessment.
Another column is dedicated to teacher feedback. We post our assessments of specific pieces of work and include multimedia documentation of what we are seeing in class. Students are able to post comments and questions in response to our feedback and this often leads to a conversation about how to improve.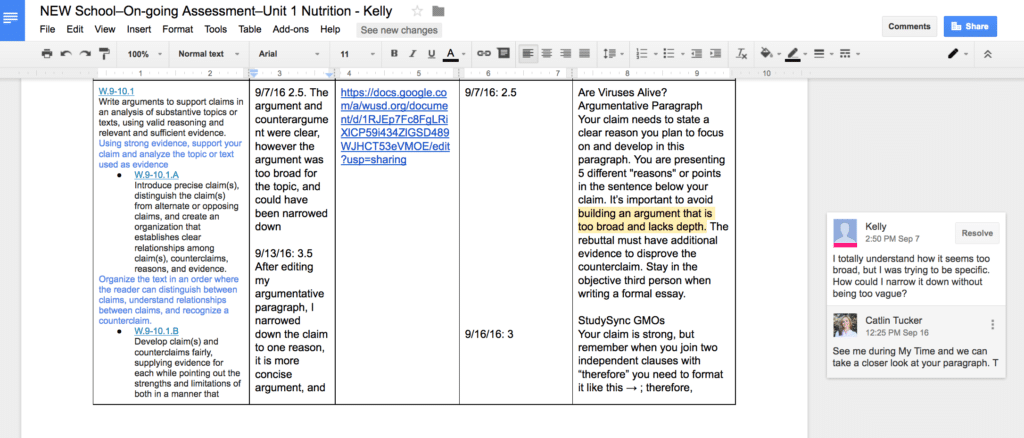 This strategy also provides parents with a window into the classroom and the work their child is doing, which alleviates some of the anxiety of not having an online gradebook.
At the end of the first 6 weeks of school, I'm required by my school to submit a letter grade for each student. To prepare for grade reporting, my teaching partner and I met individually with each student to agree on an appropriate grade. We used the Station Rotation Model to move students through a series of student-driven activities and assignments while we met with each student. In her book, Sackstein addresses the questions and concerns many teachers have about dedicating this much class time to conversations with students about their progress. She makes the excellent point that "how we spend our time in class is indicative of what we prioritize in education." She also presents a range of strategies teachers can use to create this time and space both in class and virtually, if need be.
We asked students to prepare for these conversations by preparing a formal argument. They had to begin by stating a clear claim about the grade they deserved for each class. Then they had to support their claim with 3 pieces of evidence from their body of work. Their evidence needed to be specific pieces of work they believe showed their level of mastery in relation to specific skills. If we did not feel the grade they proposed was appropriate, we would present a counterclaim and students had an opportunity to present a rebuttal. The conversations that ensued were fantastic! I'd argue these types of conversations are also crucial to success beyond high school.
Although the conversations required substantial time, it was worth it. My students had a real voice in their assessments. Grades weren't a surprise. Instead, assessment became a conversation. Students left our meeting with a clear sense of where to spend their time and energy to improve in relation to specific skills.
For those teachers looking for a different way to approach assessment, I'd highly recommend reading Hacking Assessment: 10 Ways to Go Gradeless in a Traditional Grades School!