In January I wrote a blog post titled "New Year Resolution: I'm Moving ALL Assessment into the Classroom." I'm here to update everyone. Since January, I have not brought a single stack of digital papers home to grade! It's been amazing!
It's not that my students aren't writing. In fact, they just completed a detailed six paragraph research paper on an environmental problem of their choice. This paper took them about 3 weeks to write from the time they started their research to when they finished their final draft and works cited page. We spent a significant amount of class time working on these papers. Students honed their research skills, organized their information, watched flipped videos on how to complete various aspects of the paper, like citing properly, and they received detailed feedback from me the entire way through!
I used the station rotation model every day during the writing process to build in time for me to provide real-time feedback on their work. I used my teacher-led station for synchronous editing. As my students wrote, I jumped into their Google Documents in suggesting mode and made edits. I also added static comments with questions, suggestions, and links to additional resources that might be useful.
Groups of 6-8 students rotated through my teacher-led station in 25 minute intervals. During that window of time, I was able to give every student written feedback. One day I edited thesis statements and another day I was editing topic sentences. I tried to keep the scope of what I was editing narrow enough to provide every student with detailed feedback.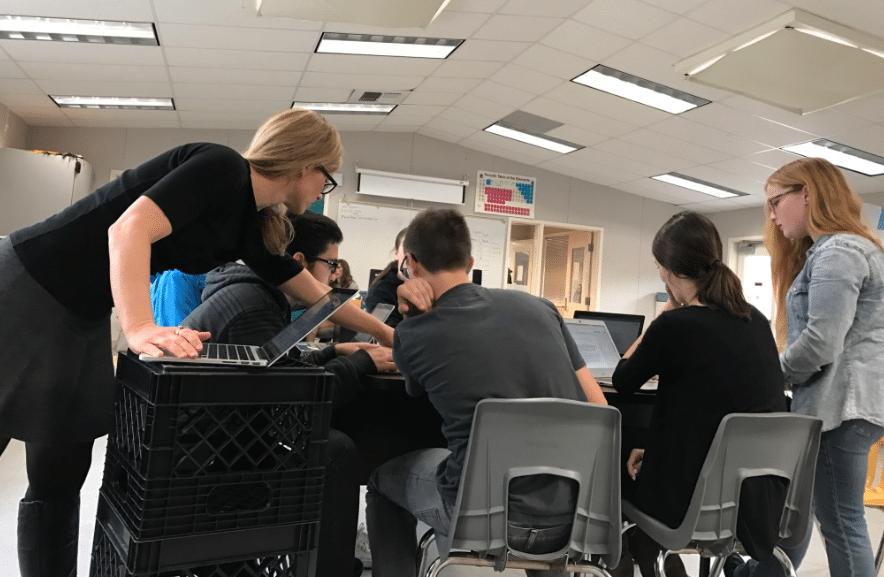 When students were in the other stations, they worked on a variety of tasks, like reading and annotating a text on StudySync, conducting additional research for their papers, practicing a grammar concept on NoRedInk, drawing sketches of possible solutions that would address their environment problem, etc. I prepared directions for those stations ahead of time, so students could complete those tasks without needing me to provide instructions.
Here's why I think it's so crucial for teachers to stop taking grading home:
First, I knew where almost every student was in terms of his/her progress at any given moment. There were no surprises when the papers were due because I had been in and out of their documents several times over the course of three weeks we worked on it. I was able to support students throughout the entire process. If they had questions as they worked or needed additional scaffolds, I was right there to support them.
Second, I feel more energized and creative! I have more time and energy to invest in the aspects of teaching that I really love, like lesson design. Instead of spending hours at home wading through a neverending stack of digital papers, I am planning fun lessons, activities, projects, and guest speakers.
I realize that moving assessment into the classroom requires a shift in mindset and the strategic use of blended learning models, but it is hands down the BEST decision I've made this year.