Some teachers will probably hate me for even mentioning next year when we still have a month of school left, so my apologies for those of you who don't have the bandwidth to think about it yet. However, I find myself feeling the same way every year around this time. I experience a mix of guilt, frustration, and exhaustion. I feel guilty about all of the things I didn't get to or all of the aspects of my teaching that could have been better. I feel frustrated by the routines that did take and my students' unwillingness to buckle down in the last month of school to finish strong. And, I feel exhausted by all of the mental, emotional, and physical energy that has gone into my work this year.
I've developed a strategy for managing my mixed emotions as we head into the final few weeks of the school year. I create a "Things to Revamp for Next Year" Google Document to reflect on the year and brainstorm new strategies, routines, lesson ideas, project concepts, and skill labs that I want to build into my classroom and curriculum next year.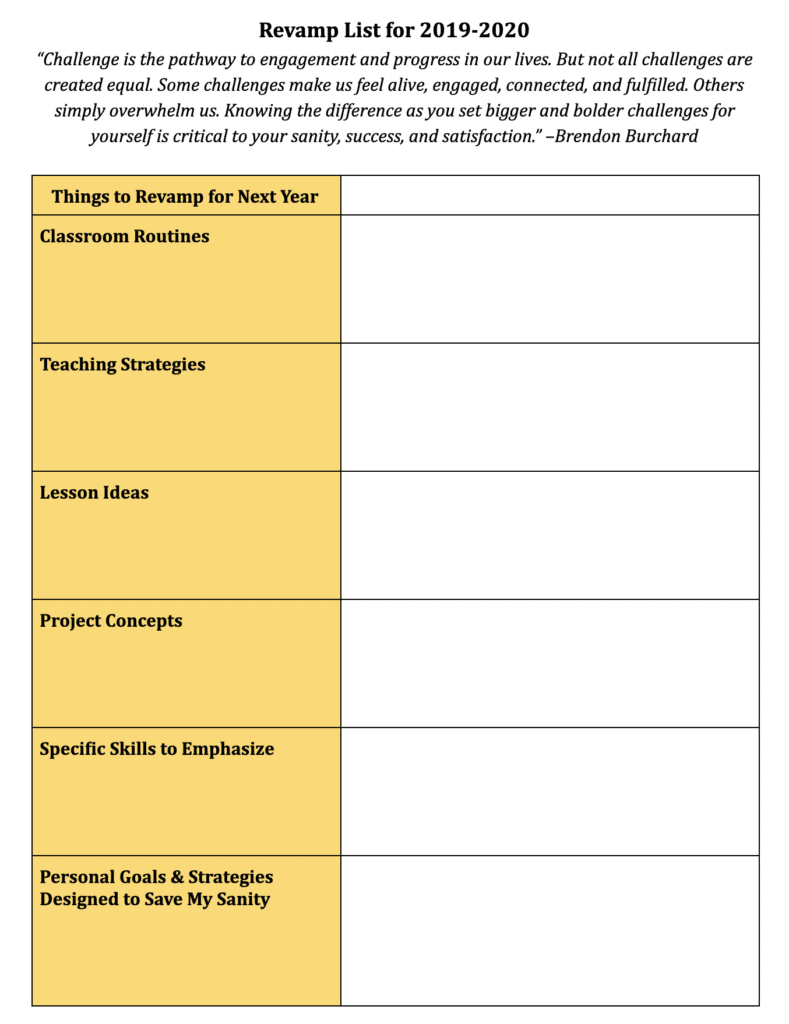 I find this strategy helpful on two fronts.
First, it helps me feel like I'm in control of my teaching reality when I actually feel like things are a little crazy and out of control. The end of the year feels like a tidal wave. There is so much to do and not enough time to do it all. Adding items to my revamp list allows me to identify the aspects of my current teaching reality that aren't working well and gives me a place to articulate how I can make them better next year.
Second, I know that when I leave my classroom for summer the pain points I'm experiencing right now won't be as poignant. I want to capture my thoughts about how to improve my teaching practice for next year while I'm feeling the pain. When I am stressed out or feeling frustrated, I tend to organically think of a multitude of different ways to improve my current situation, so I want to capture those great ideas for next year.
This is a simple sanity-saving strategy that I've come to lean on in my moments of desperation at the end of the school year, so I wanted to share it with other teachers who might also be feeling down or being too hard on themselves. We have to remember that we do the best we can every day. There is always room to improve, but we have to appreciate all that we are currently doing for our students.