My goal with blended learning has always been to shift the focus from me to my students. I want to place them at the center of learning. I want them to ask questions, conduct research, engage in conversations, collaborate with peers, and make meaning for themselves. I believe this is the best way to prepare them for life.
However, the truth is that [clickToTweet tweet="Being a student in a student-centered class is hard & some kids don't want to work that hard." quote="being a student in a student-centered classroom is hard & some kids just don't want to work that hard"] I teach 9th and 10th grade, so my students have been in school for 10 years before they walk through my classroom door. They've been conditioned to think that "teaching" is a person standing at the front of the room explaining information.
This perception of what a teacher should do and what I actually do are very different. I see my primary role as two-fold: 1) I'm an architect of learning experiences designing engaging activities and projects so my students can discover and create, and 2) I'm a coach providing regular, real-time feedback as they work. The disconnect between their perception of what I should be doing and my actual role is hard for some students. They want me to spoon feed them information and I want them to be drivers of learning.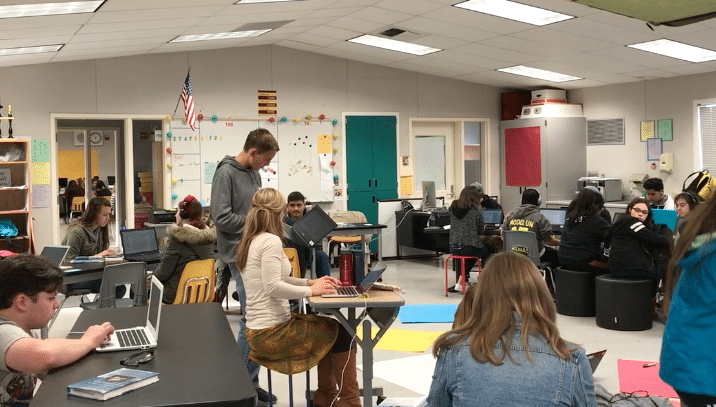 My students' role in the classroom has largely been to listen, take notes, and complete individual practice. Unfortunately, this traditional student role does not demand that they develop the key soft skills that people entering today's evolving workforce need to be successful.
A recent Forbes article titled "Why Soft Skills Matter And The Top 3 You Need," states that "soft skills—specifically interpersonal skills, the ability to manage and control your emotions, communication skills, leadership, adaptability, and problem solving—are critical." These soft skills are developed and honed when people work together and face challenges. This is what makes project-based learning hard for students. They have to use and improve these skills to work with a diverse group of individuals to complete tasks, negotiate responsibilities, and execute large-scale projects.
Because my classroom is project-based, technology-infused, and student-driven, it demands that students take an active role in the learning happening. They cannot be passive bystanders. Some rise to the occasion and thrive; while others flounder and want to place the blame on the design of the course. As a teacher, I want to see every student succeed. However, I realize that my class demands that students grab the learning and embrace their roles as drivers of learning.
So, the challenge for me continues to be the battle against my students' perception of both my role as teacher and their role as learners in our classroom.
How can I help my students to appreciate the skills they will need when they graduate?
How can I engage even my reluctant learners and inspire them to want to learn?
How can I help them to see the value in my roles as an architect of learning experiences and a coach?
I have this sneaky suspicion that many of my students will not fully appreciate the skills they have developed in my classroom until long after they've left school. I imagine them being presented with a challenge at work and using the skills they've honed in N.E.W. School to rise to the occasion and address the problem, whatever it is. At least, that's my hope.