A major barrier to innovation in the classroom is teacher exhaustion. I regularly work with teachers who like the idea of trying new teaching strategies, blended learning models, and technology tools, but they don't have the time or energy to experiment.
When I work with teachers, my goal is to get them to shift their mindsets. Instead of asking themselves, "How can I?" I want them to pause and rephrase the question, "How can students?" This shift in teacher mindset seems simple, yet it goes against most teachers' instincts. We place a lot of pressure on ourselves to do it all. Unfortunately, that mentality robs students of opportunities to learn.
Below is an example of what it looks like to shift the work from the teacher to the student with the goal of placing students at the center of learning. The image below depicts a traditional workflow.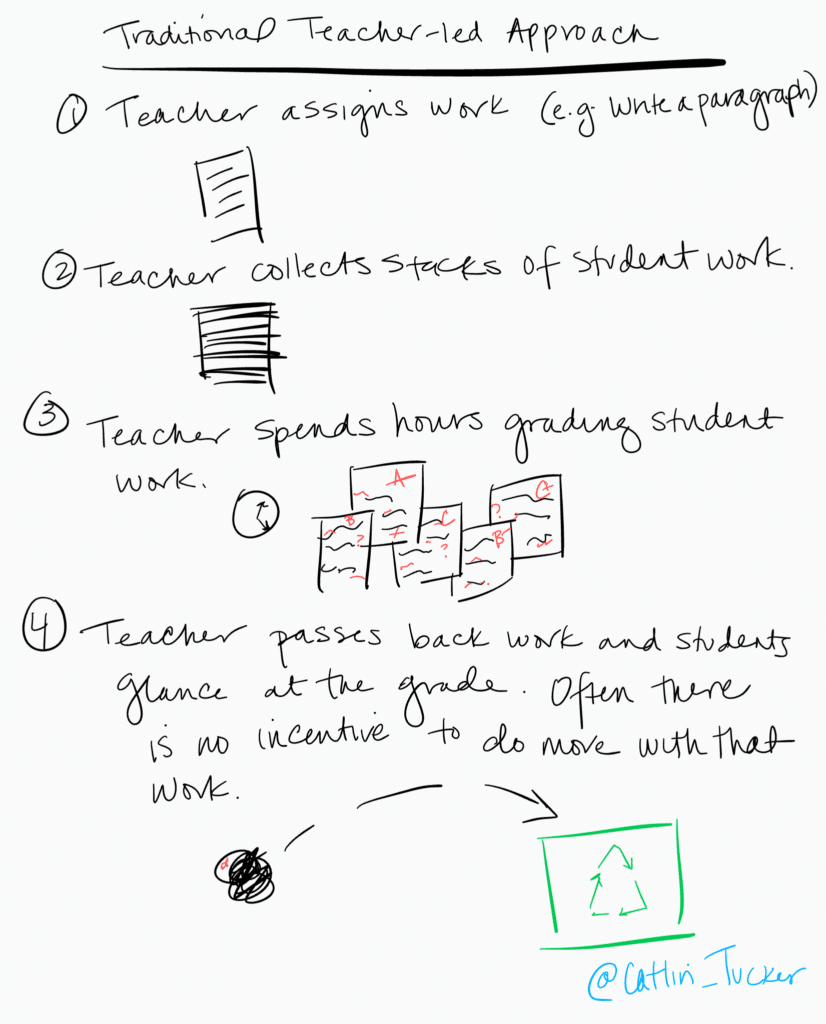 It's no mystery why this approach is so draining and frustrating. The teacher is doing all of the work. After hours of grading and providing thoughtful feedback, there is little incentive for students to revise or improve that piece of writing.
In a classroom where the student does the work, that same assignment could have a dramatically different outcome.
I would argue that the student is going to learn exponentially more with the student-led approach. This second approach shifts the work from the teacher to the student. The student uses the Grammarly report to identify mechanical errors and edit their work. They have to think critically about their specific skills using the exemplar provided by the teacher and the rubric. Finally, they have to reflect on their learning and set goals for themselves in their ongoing assessment document or learning log.
If teachers design lessons that require students do the lion's share of the work in the classroom, the benefits are two-fold: 1) teachers won't be so exhausted and 2) students will learn more.
I hope that if teachers are not exhausted, they'll be more willing to try new teaching strategies, blended learning models, and technology tools. This, in turn, will make their classrooms more exciting and engaging for students. It's a win-win, but it requires a shift in our mindset!