I'm still mourning the loss of TodaysMeet. I used it regularly as a teacher and presenter. It was the rare tool that was easy to use and free. I've been on the hunt for a viable replacement. Richard Bryne posted a blog with six potential alternatives to TodaysMeet. I explored them all and settled on Backchannel Chat.
I selected Backchannel Chat, in part, because it reminded me of TodaysMeet's simple interface. Last week, I had the opportunity to test drive it in three separate workshops.
I opted to use the free version for my experiment and filled out the small form required to create my backchannel URL. It is important to note that the free version only allows you to create one room. This was enough to make me want to pay the $15/year to get unlimited chatrooms because I like to use a separate space for each of my classes and workshops.
When you press "Start," your backchannel appears. The interface is clean, simple, and easy to navigate. To enter your room users need the URL and a password if you created one. I chose not to use a password for my trial run since it is another layer of complexity for people entering the room.
As participants at my workshop entered the chatroom, I realized there was a cap on the free version. Only 30 people can enter a chatroom at one time with the free version. The paid for version allows up to 50. Since I regularly have classes over 30 and most of my workshops have close to 50 participants, I will need to purchase the paid for version.
There are several features I was excited to discover as I used Backchannel Chat.
I enjoyed seeing everyone's names and avatars on the right-hand side of my screen.
There is a search feature, which makes it easy to find content in the chat.
Transcripts of the chat can be easily downloaded and shared.
I can pin a welcome or instruction note to the top of the screen.
The "chat stats" makes it possible to track participation 

quickly

.
I can embed media in the chat.
Since Twitter is my preferred method for sharing content, I was excited to see that I could copy and paste a Tweet directly into our chat. Teachers can do the same thing with YouTube videos!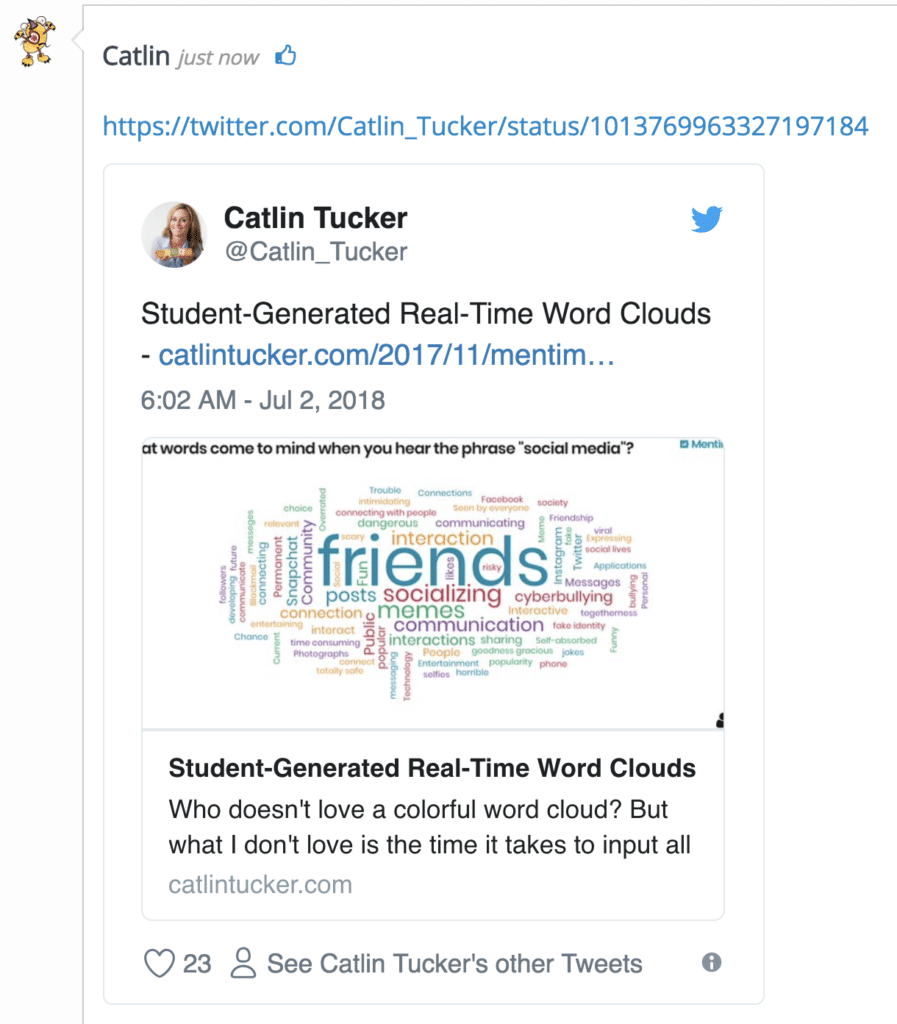 I could tell Backchannel Chat was created by educators because the features available for teachers who pay the $15/year are excellent. In addition to allowing more people in the chatroom and creating unlimited chatrooms, the paid for version makes it possible for teachers to:
Send private messages to students
Integrate their chats into Schoology and Edmodo
Embed their chats into a class website
Create "office hours"
Provide a single code or URL for all chats
Attach files
Personalize avatars
Search all content (not limited to 3 months)
I also have to admit that I enjoyed writing messages longer than 140 characters, which was the TodaysMeet character limit. It allowed for a more robust conversation.
If you are using something else to replace TodaysMeet, please post a comment and share! I'd love to find out what other educators are using and enjoying.