In this episode of The Balance, I talk with Adam Welcome, a father, educator, speaker, and writer. Adam has written three books–Kids Deserve It!: Pushing Boundaries and Challenging Conventional Thinking, Run Like a PIRATE: Push Yourself to Get More Out of Life and Empower Our Girls: Opening the Door for Girls to Achieve More.
In this episode, we discuss the changing roles of teachers and students in a time when students have unlimited access to information and resources online. We lament the pressure that many teachers feel about teaching inside a metaphorical box because of pacing guides, curriculum demands, and standardized exams. We explore the difference between entertaining students and engaging them. We talk about empowering girls, making tough choices about where we invest our time and living an active, healthy lifestyle.
If you are part of a professional learning community, the questions below are designed to facilitate a conversation–in person or online–about the issues discussed in this episode of The Balance. If you do not have a PLC at your school but you want to engage in an online conversation with other educators, check out the Facebook page I created to encourage conversations about achieving and maintaining balance! I will post a question a week to encourage an ongoing discussion about issues related to balance.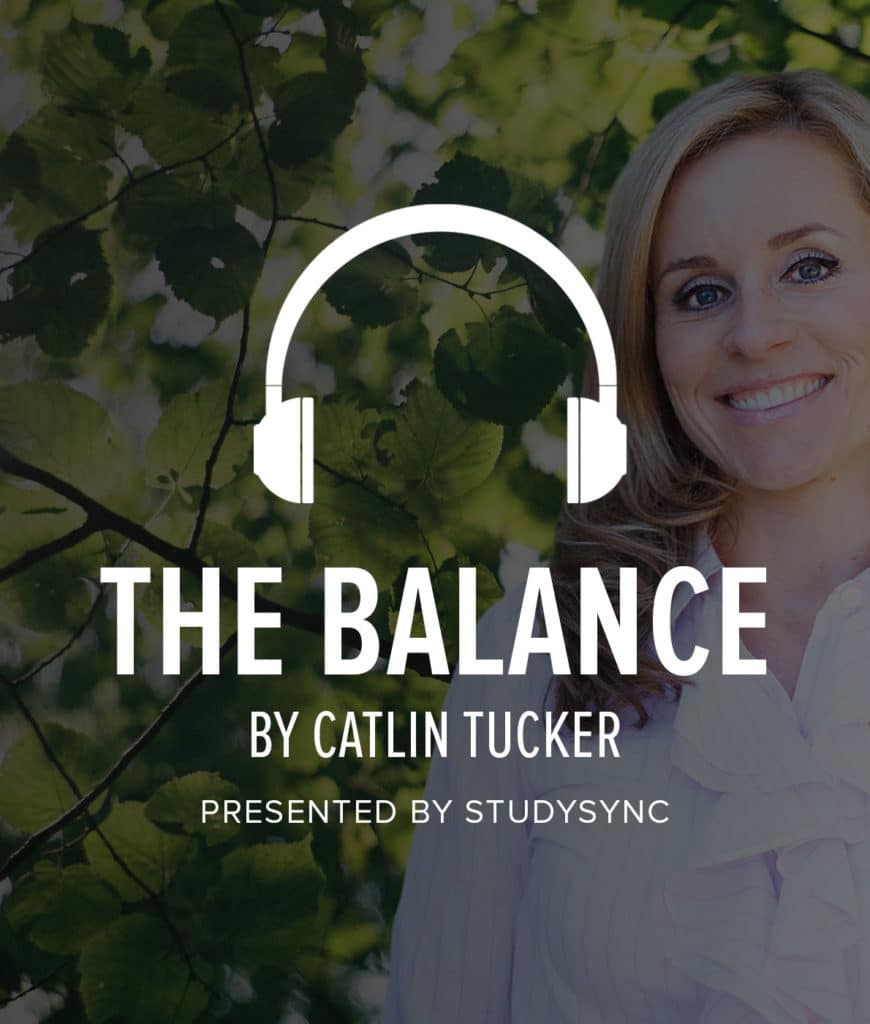 How would you describe student engagement? What does it look like and sound like? How do you know when your students are engaged in a lesson or activity? Do you make an effort to notice engagement and document those moments? Do you agree with the statement that "the best discipline program is an engaged classroom"? Why or why not?
What tasks do you currently do for students that they could potentially do for themselves? Identify one task that you currently do for students that you think they could do. What support, scaffolds or practice would students need to assume responsibility for this particular task? What might the value be of shifting this responsibility to your students? How would this shift impact your teaching reality?
Do you feel like you can be creative in the design and facilitation of your lessons? If so, what form does your creativity take (e.g., projects)? If not, what limits your ability to be creative? Is there anything you can do to mitigate or eliminate those limitations?
Do you connect students with experts and experiences beyond the classroom? How might pursuing real-world projects and experiences impact your students' engagement and better prepare them for life beyond school? How might partnering with people in the community affect the way you design learning experiences?
Are the girls in your school given the same opportunities as their male counterparts? Are efforts made to expose girls to female role models? Are the girls in your school encouraged to pursue classically male-dominated subjects?
Do you carve out time to be physically active? If so, when do you make time for this in your busy schedule?
I would LOVE to feature "teacher tips" related to finding balance both in the classroom and in our lives.
Describe the strategy, tip, or routine.
What imbalance did it help you to address in your professional or personal life?
How has making this small change helped you to feel more balanced?
If you have something you do to create balance in your life, please post a comment and share it! I would love to give you a shout out in an upcoming episode of the balance.
Thank you to StudySync for producing and sponsoring this podcast! StudySync is committed to helping teachers find balance in their lives by providing them with a robust multimedia ELA platform that simplifies lesson planning, automatically differentiates tasks for learners at different skill levels and language proficiencies, and blends online and offline engagement to help students develop as thinkers, readers, writers, and speakers.