Covid 19 has educators and educational institutions worried about and preparing for possible school closures. What happens if students have to stay home for days or even weeks? How can we keep them learning remotely? What strategies and technology tools can teachers leverage to take their traditional classes online?
I have fielded multiple questions about the best ways to engage students and leverage online learning tools if schools close for a period of time. Despite the fear and anxiety that accompanies a health emergency or a natural disaster, both of which have the potential to close schools, learning does not have to stop because kids are at home.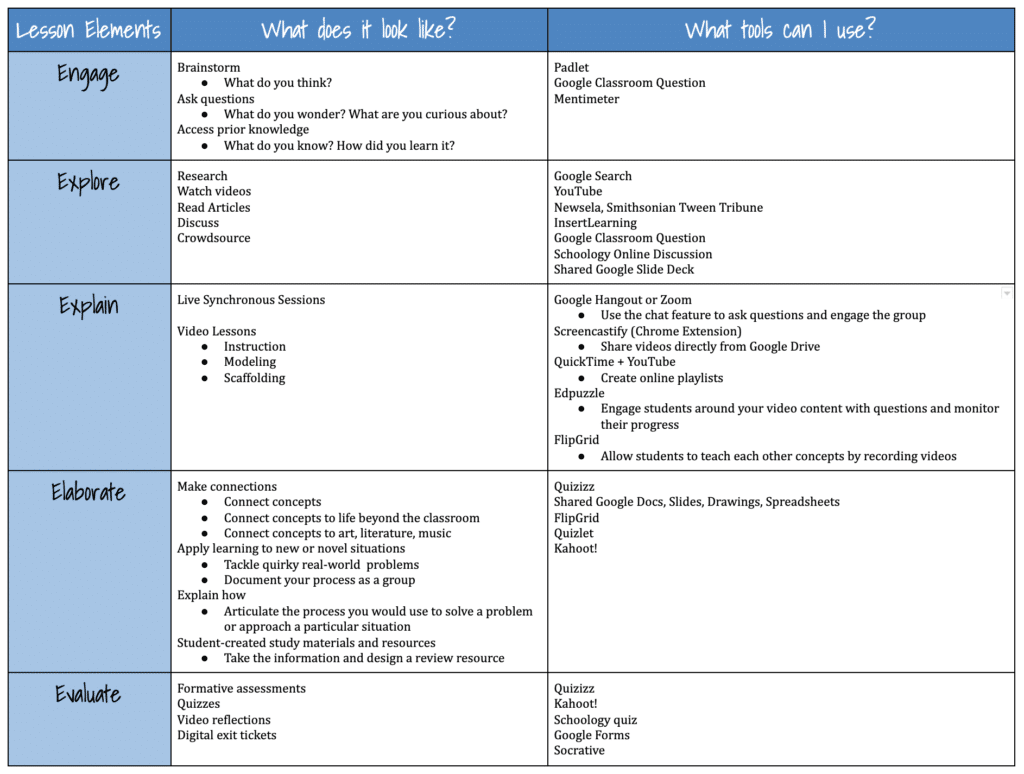 Everyone is in a different place when it comes to lesson design and navigating technology. I have recorded a video overview for each stage of Roger Bybee's 5 Es instructional model for teachers who need additional support in designing an online learning experience. I also include quick introductions to some of the technology tools that pair nicely with each stage of the 5 Es.
Below is a template that teachers can use to create their online learning experience using the 5 Es instructional model. I encourage teachers to visit the Hyperdoc website and check out the templates and already-created hyperdocs available for teachers. Lisa Highfill, Kelly Hilton, and Sarah Landis are the authors of The Hyperdoc Handbook and have created a website full of free resources for teachers.
The beauty of building an online learning experience using a Google document, like the one pictured above, is that teachers can create different versions of the same learning experience. This allows them to subtly differentiate the content for learners at different levels. Readings, videos, and activities can be customized or personalized, and the various versions can be shared quickly via Google Classroom.
As teachers face uncertainty, I encourage them to leverage the power of technology to keep students engaged in inquiry, collaboration and learning online. However, it is important to note that a 5 Es learning experience will likely span days and weeks depending on the scope of each task. Students learning remotely are juggling many different assignments and responsibilities, negotiating shared spaces with family members, and dealing with the emotional and mental impacts of being socially isolated. As educators, we must take these factors into consideration as we design learning experiences and be sure to give students plenty of time to complete the work we are assigning.
Teachers interested in learning more about the 5Es instructional model should check out…
The BSCS 5E Instructional Model: Creating Teachable Moments by Rodger Bybee
Teaching Science for All Children: An Inquiry Approach (5th Edition) by Ralph Martin, Colleen Sexton, Teresa Franklin, Jack Gerlovich and Dennis McElroy