We talk a lot about student engagement in education. Most educators got into this profession for the students, and, as a result, we want their experience to be as engaging and positive as possible. There is far less written about teacher engagement, even though teacher engagement and student engagement are reciprocal. When teacher engagement dips, it has a negative effect on student engagement. When teacher engagement is high, it positively impacts both student engagement and achievement.
Why is understanding teacher engagement important?
Given the myriad challenges of the last two years, everyone in education should be concerned about teacher engagement. It impacts:
The rate of teacher turnover and attrition from the profession
Teachers' feelings of self-efficacy, or confidence in their ability to do their jobs well
Burnout, or physical and emotional fatigue
A teacher's level of job satisfaction
Student engagement
Students' academic performance (Bakker et al., 2007; Klassen, Perry & Frenzel, 2012; McIlveen & Perera, 2016; Perera, Granziera, et al., 2018).
It's critical to understand what teacher engagement is and what factors positively impact teacher engagement if we are going to attract and retain talented teachers. Given the increasing numbers of teachers blending online and offline learning, understanding the impact of blended learning on teacher engagement is an area of research that deserves more time and attention. I'm excited to share what I've learned about this topic from my own research.
What is teacher engagement?
At the start of a keynote on reigniting teacher engagement, I asked a group of educators to tell me what words came to mind when they heard the phrase "teacher engagement." Below is the wordcloud created from their responses. The largest words were repeated by the highest number of people. This cloud reflects the actions or physical manifestations of engagement, such as learning, interest, participation, focus, attention, and curiosity. However, to truly understand teacher engagement we must understand the dimensions of this motivational construct.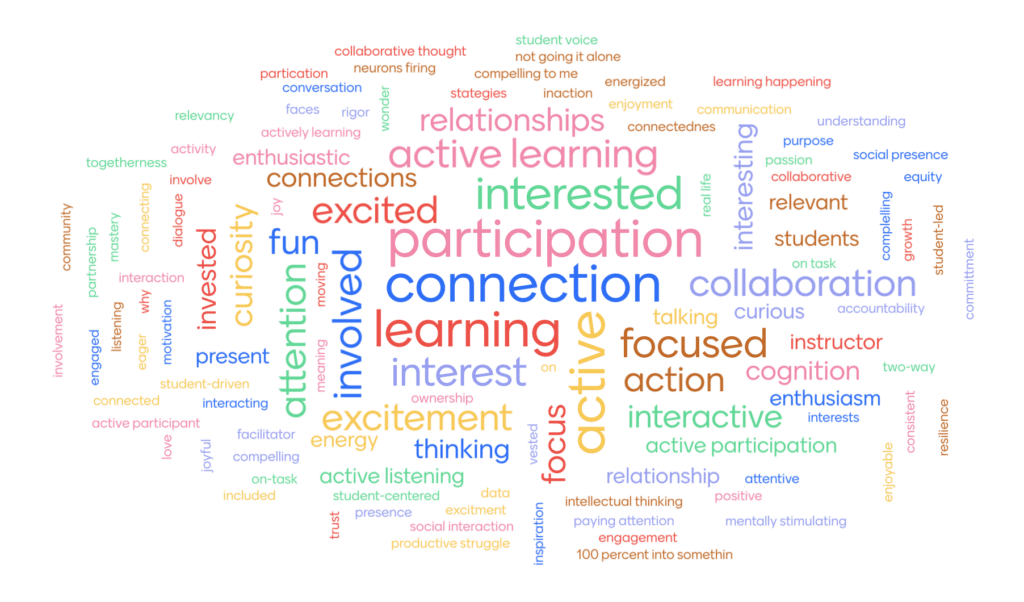 Teacher engagement is a multidimensional motivational construct that reflects a teachers' choice to dedicate energy resources to their work. Many aspects of a teacher's work can function to increase or decrease their engagement. I love that the word connection is the largest word in this cloud. It suggests the importance of relationships and human connection in the teaching profession. In fact, the role of a teacher's relationships with students and colleagues is the reason I chose to ground my research study on teacher engagement in blended learning environments in a definition of teacher engagement that included the dimension of social engagement (Klassen, Yerdelen & Durksen, 2013).
The Four Dimensions of Teacher Engagement
The four dimensions of teacher engagement include: a) cognitive engagement, b) emotional engagement, c) social engagement with students, and d) social engagement with colleagues.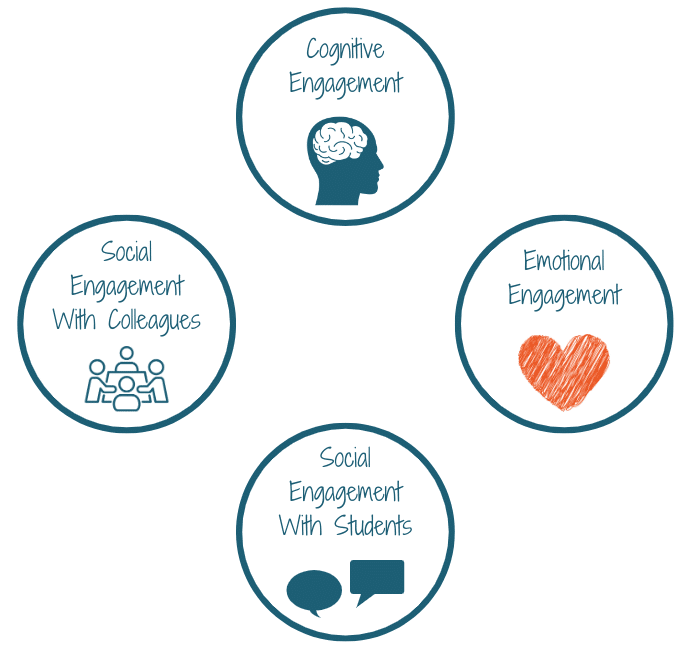 | | |
| --- | --- |
| Cognitive Engagement | The degree to which teachers are attentive to and invested in their work. |
| Emotional Engagement | The teachers' feelings about, degree of dedication to, and emotional response to their work. |
| Social Engagement with Students | The way in which teachers' interactions with their students affects their feelings of energy or exhaustion at work. |
| Social Engagement with Colleagues | The way in which teachers' interactions with their colleagues affects their feelings of energy or exhaustion at work. |
In a series of four blogs, I will explore each dimension of teacher engagement in depth, identifying the factors that positively impact that dimension of engagement. I'll provide specific strategies and highlight blended learning models teachers can employ to spend more time and energy on the aspects of this work that are more cognitively, emotionally, and socially engaging.
As teachers navigate another challenging school year, it is critical that teachers, coaches, and school leaders understand teacher engagement and take proactive steps to re-engage teachers who are mentally and emotionally exhausted. It is critical that we focus on setting realistic expectations, embracing sustainable workflows, and prioritizing the parts of this profession that are likely to yield higher levels of engagement and job satisfaction.
If you are interested in blended learning and want to learn how to design and facilitate learning experiences using models that weave together active, engaged learning online and offline, you can sign up for one of my self-paced, online courses!
I'll be opening registration for cohort 2 of my Blended Learning Coaching Course in January! If you or your coaching team are interested in joining cohort 2, which will run from beginning of March to early May 2022, you can explore the course content here. To request a quote for your coaching team, fill out this form.