The Maker Movement happening in education right now is exciting. It makes so much sense to create "more opportunities for all young people to develop confidence, creativity, and interest in science, technology, engineering, math, arts, and learning as a whole through making."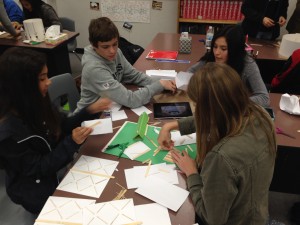 Turning Students into Makers
The Maker Movement:
places students at the center of learning.
shifts students from consumers to producers.
is cross disciplinary.
requires critical thinking to solve problems and design solutions.
develops communication, collaboration and research skills.
yields a finished product that students can be proud of and share.
At first, I was not sure how to introduce elements of the Maker philosophy into my English classroom. Much of the conversation around this movement focuses on technology and STEM subjects, but I see value in getting students to design and create in all subject areas. Since I don't have any actual technology in my classroom, I had to get creative in my approach.
We were reading (performing is more accurate) Shakespeare's play, Othello. I usually do a mini-lesson on the Globe Theatre to introduce its design, layout, symbolic spaces, and genius construction. That's when I had an idea! Why not ask students to build replicas of the Globe Theatre? To build a model of the Globe, they would have to complete research, get creative with their materials and work collaboratively in groups. I realized that through the act of making their replicas they would probably learn more and have more fun.
Building a Replica of the Globe Theatre
I was struck by two things as I watched my students work. First, each group took a very different approach to building their models. It was a reminder that students are immensely creative when given the autonomy and freedom to decide on the path they want to take to complete a project. I simply provided an assortment of materials — construction paper, toothpicks, popsicle sticks, glue and tape. I left all the design and construction decisions up to the students.
The second thing that both surprised and amused me was how "hard" my students felt this task was. Because the assignment didn't come with a clear set of instructions, they had to work together to make decisions. They found the process of trial and error frustrating.
Despite the challenges they faced and frustration they felt during the process, I could tell they were extremely proud of their finished products. By the end of our 90 minute class period, each group had a replica of the Globe Theatre and a stop motion movie of their work.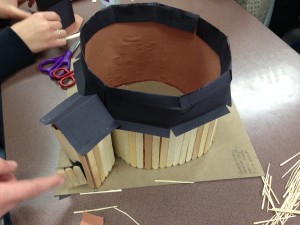 Creating Stop Motion Videos of Their Work
Prior to beginning their work, I asked one member of each group to upload the iMotion HD app (free) to capture a stop-motion film of their work. They propped up the phone and the iMotion HD app took one picture per second and strung them together into short stop-motion movies showing their process. They enjoyed watching their work evolve in this short stop-motion movie.