Shakespeare's plays are a staple in high schools across the country. Unfortuntately, when most students hear the name "Shakespeare" they react with a mixture of dread and anxiety. They worry they won't "get it" and chances are they won't get a lot of it. I think that's okay. Do I understand every line of Shakespeare's plays or sonnets? No. Does that mean I don't enjoy them? No. Shakespeare's words are beautiful and his plays are captivating, even if I don't understand every turn of phrase.
So, when I teach a Shakespeare unit, my goal is to make sure my students enjoy it! I want their first experience with Shakespeare to be a positive one. Hopefully, one they will remember.
In class, students get roles, rehearse outside in the quad with peers and perform on our makeshift stage. Although some students are initially nervous, most end up loving the physicality of actually moving, gesticulating, and interacting with peers as they perform.
I'm not a drama teacher, but I know enough about acting to guide my students. Before assigning roles and giving them time to rehearse, I remind my students to do the following in their acting troupes:
Read through your lines and talk about what is happening in your section of the scene.
Figure out who you should be talking to and looking at.
Identify the emotional undertone of your lines.
Practice your movements, gestures, and intonation.
Face your audience and stay in character even when you aren't speaking!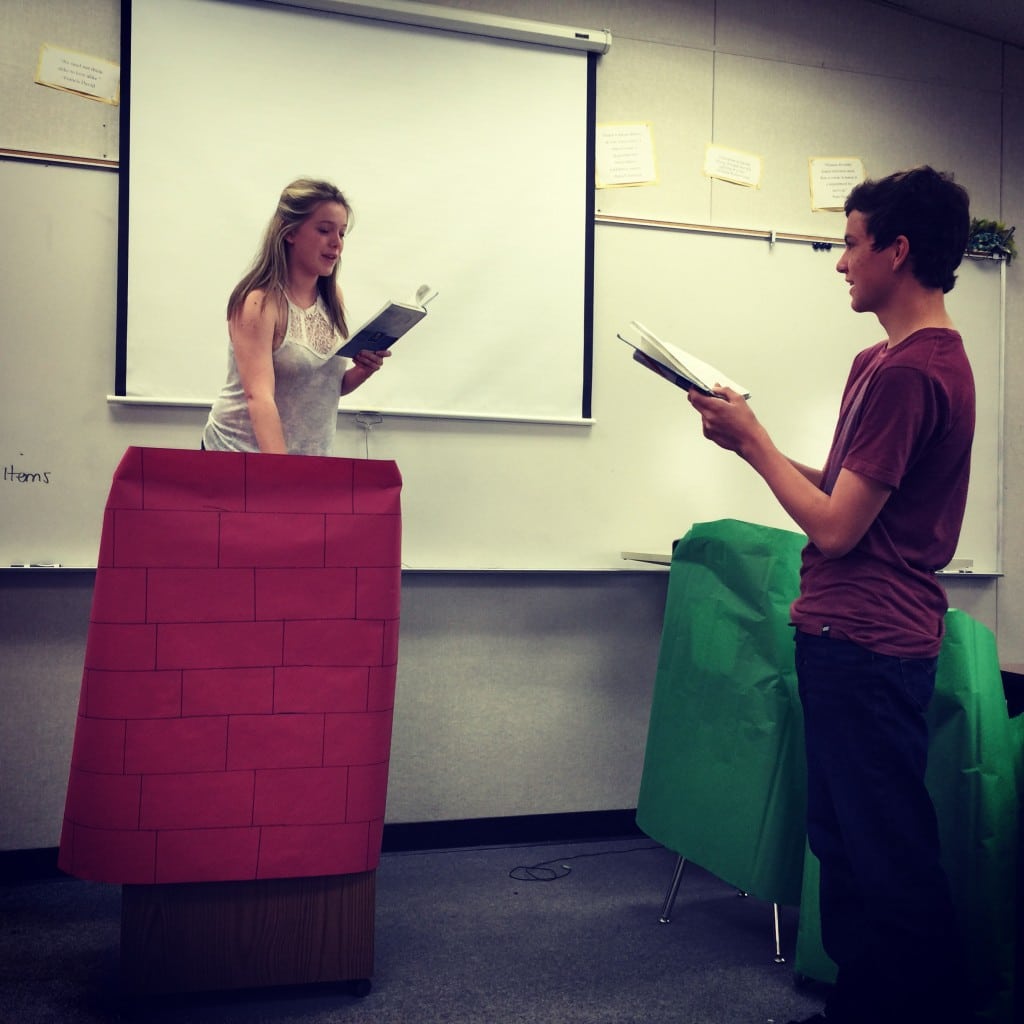 The result of asking students to put themselves out there and perform is that they are more likely to really think about what is happening in the play. To bring a scene to life, they need to understand the characters…their fears, their motivations, and their relationships to other characters.
There is also an element of "making" in this approach to teaching Shakespeare. I am not telling the students what to do or how to tackle a scene. Instead, students work together to build a scene. Often they construct basic props to help the audience follow the action in the scene. It is exciting to see them get into character and have fun with it. I'm amazed by how willing they are to take risks. I believe that is a direct result of the safe space we've created in our physical classroom.
Here are some short clips of my students' performances!
My next blog will be about the creative soundtrack project my students complete while we read Shakespeare!