Students who are avid readers have better vocabularies. This is a fact that most teachers are well aware of. However, many students do not fit this description and even those who read regularly are unlikely to encounter high level vocabulary in the novels they select. The Common Core Standards require students expand their vocabularies, use context clues to uncover the meaning of unfamiliar words, understand word relationships and word patterns.

In addition to the various texts we read in class, I include SAT vocabulary in my curriculum. I expose my students to challenging words and definitions because I know they will see many of these words when they take the SAT.
This year I changed my approach and began using the following approach to teaching vocabulary. 
Making Prediction Based on Context Clues
I begin by presenting students, in small groups of 3-4, with 15 sentences. Each sentence has an underlined word; this is their vocabulary word. They are not given the definitions; instead I ask them to work together to use the context clues in the sentences to make predictions about what the word means.

This activity requires that they analyze the sentences, how the word is used, the part of speech to "determine or clarify the meaning of unknown and multiple-meaning words and phrases" using context clues. This directly addresses the Common Core Literacy standards which requires students to "use context (e.g., the overall meaning of a sentence, paragraph, or text; a word's position or function in a sentence) as a clue to the meaning of a word or phrase."
In years past, I would stand at the front of the room and use my transparency machine to present the list of 15 words to each of my six classes. This took approximately 20 minutes per class, which is a staggering 2 hours of instruction every week and a half.
When I heard about the flipped classroom, I realized that flipping my vocabulary instruction and presenting the words online via a recording would not only save me valuable class time, but it would allow students to work at their own pace. I still identified root words, broke down convoluted definitions and provided examples, but it only took me 10-12 minutes to record. I used my iPad to record some using Educreations and for the others I used QuickTime on my Mac and uploaded them to YouTube.
Students took Cornell notes of the words and definitions. I encouraged them to note the examples I highlighted in the video that they thought would be helpful in remembering the words.
Leveraging Mobile Devices: Synonym & Antonym Search
The next day in class I, again, had students in small groups and asked them to take a sheet of paper and fold it into three columns. In the first column they wrote their vocabulary word, in the second column they wrote a synonym and in the last column they wrote an antonym. I encouraged them to use their mobile devices to look up synonyms and antonyms that would help them remember the word.
During this process, they "demonstrate understanding of …word relationships, and nuances in word meanings." They also "participate effectively in a range of collaborative discussions" about the various words they find and whether or not they are strong choices. This discussion of language is music to my ears as I circulate around the room fielding questions.
Getting Creative with Unfamiliar Words
My students continue to explore their new words online for homework. I ask them to write a poem, story, or song lyrics using 10 of the 15 words and post their stories on Schoology for their peers to read and respond to. It is helpful for them to see their peers using the words. Our discussion site gives them an opportunity to learn from each other, receive (and give) positive feedback and constructive critiques of both their word use and their narratives.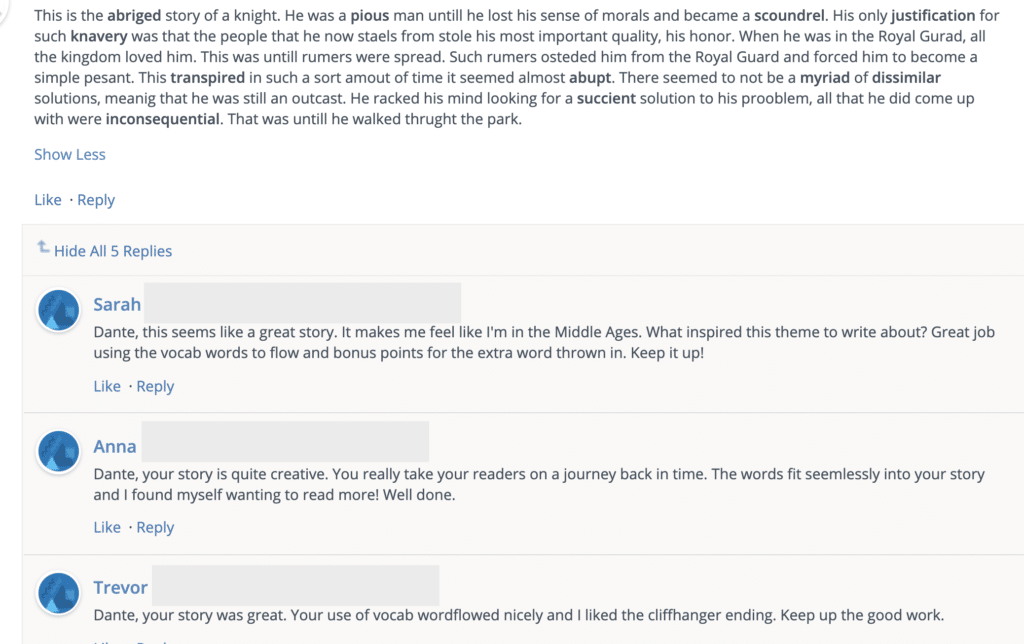 Many students "write narratives to develop real or imagined experiences or events" using the new vocabulary. They have to "produce clear and coherent writing" so their peers understand what they are trying to say. Finally, they are using "technology, including the Internet, to produce, publish, and update individual or shared writing products, taking advantage of technology's capacity to link to other information and to display information flexibly and dynamically."
Presenting 
Finally, we conclude by sharing the students' stories. This provides and opportunity for the class to celebrate the stories that received the most votes in our online discussion forum. It is nice to see the variety of approaches in their writing and the different ways they use the words to mold a story or poem.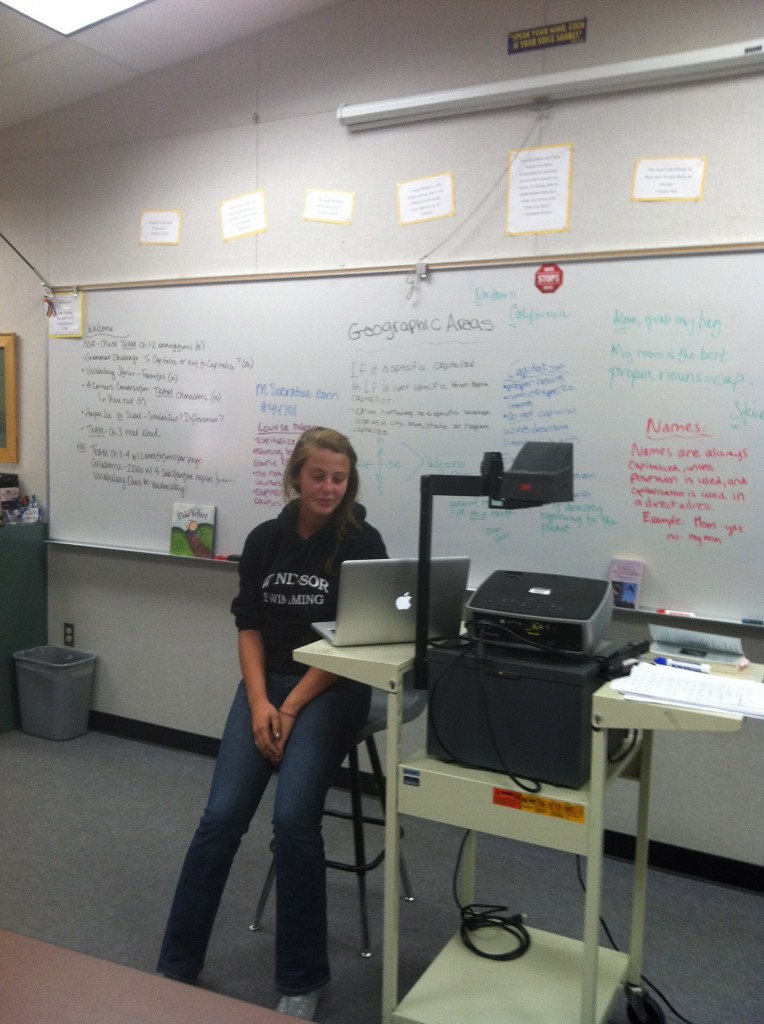 By flipping my vocabulary instruction, encouraging collaboration and designing student-centered classroom activities to develop their understanding of the words, I think more of my students will walk away remembering and using this challenging vocabulary.