Google docs has made it possible for me to go paperless. The decision to remove paper from my life has been liberating! Whenever I train teachers, I share my enthusiasm for a paperless classroom. My cries of joy and excitement are sometimes met with grunts and skeptical looks. I've met several teachers using Google docs, who still collect hard copies of assignments and essays to grade by hand. They are concerned that grading online will take longer than grading by hand. I disagree.
I want to share three tips and tricks I've used to make grading digital writing more efficient than hand grading student work.
1. Set Your Own Preferences
Teachers can set specific preferences in their docs to tell the computer to automatically substitute one thing for another. If you have traditionally used symbols or abbreviations on your students' papers, then you can do something similar in docs. Whenever I type the letters "awk" which stand for awkward phrasing, the computer automatically inserts the following: [note: awkward wording. rework for clarity.]
This screencast below will show you how to set your preferences!
2. Shortcuts Save Time
Keyboard shortcuts are such a simple way to expedite the grading process when teachers are editing and assessing work on a Google doc. They remove unnecessary steps which can interrupt a teacher's flow when they are grading. Instead of leaving comments by highlighting text, clicking "Insert" and selecting "Comment," I use option+command+m on my keyboard. It may seem like a small difference, but that adds up when a teacher has 50, 100 or 150 assignments to grade.
Remember: You can simply click on any header at the top of your Google doc (File, Edit, View, Insert, etc.) and find the shortcuts available for the actions you repeat most when editing Google docs.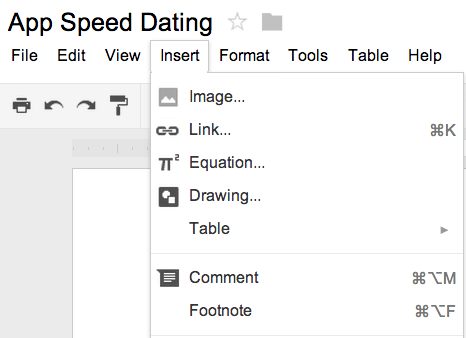 3. Make a Master List of Comments
Teachers spend a majority of their time writing the same comments on 75% of all student work. This is not an effective use of our time. Instead, I have started compiling master lists of comments. If I am grading summer assignments, I open up the master list of comments for that particular assignment. If I am grading an argument essay, I open up my master list of argument essay comments. I keep the master list open in a separate tab while I am providing feedback and simply copy and paste the comments onto the student documents as I grade. Of course, some comments are unique to each student, but I find the master list a huge help when grading large numbers of the same assignment.
This is a bit of a tangent, but I love to pair my comments with links to YouTube videos that explain a particular aspect of writing. If a student begins his/her essay without a hook strategy, I will remind them that they need to add a hook strategy but I also include a link to my video on how to write hook strategies. This provides students with the support they need to improve their work. When teachers include a link in a "Comment" it automatically becomes a hyperlink, which is handy for students.
If you find these strategies useful, stay tuned for a post on using Google forms for assessment! As always, if you have your own tips and tricks that work, please post a comment and share them. I love learning from other educators.