I'm always looking for great resources to support reading. While leading a training in Alaska this weekend, a participant mentioned The Smithsonian Tween (& Teen) Tribune. This free resource is a great place to grab informational and nonfiction texts written at various Lexile levels to support a wide range of reading abilities.
Create up to 9 classes! Teachers can easily differentiate instruction assigning articles written at a range Lexile levels to different groups of students within a single class. Strong readers might be able to read an article that measures 1130L, while other students in the same class may need to read the same article written at a 1000 Lexile level. This differentiation challenges students at different reading levels while allowing them to access the same information.
Sidenote: If you are wondering what the target Lexile range is for your students, check out the chart below, which is provided in Appendix A of the Common Core State Standards for English Language Arts & Literacy in History/Social Science, Science and Technical Studies. For more on "text complexity," click here.
Once teachers create an account and set up their classes, they can assign articles and collect student data. Teachers can use the "Classroom Dashboard" to see which students have posted comments to an article and how they scored on the quiz about the reading.

Teachers can search by topic–animals, art, book reviews, education, science, sports, technology, world news– or they can search by Lexile levels.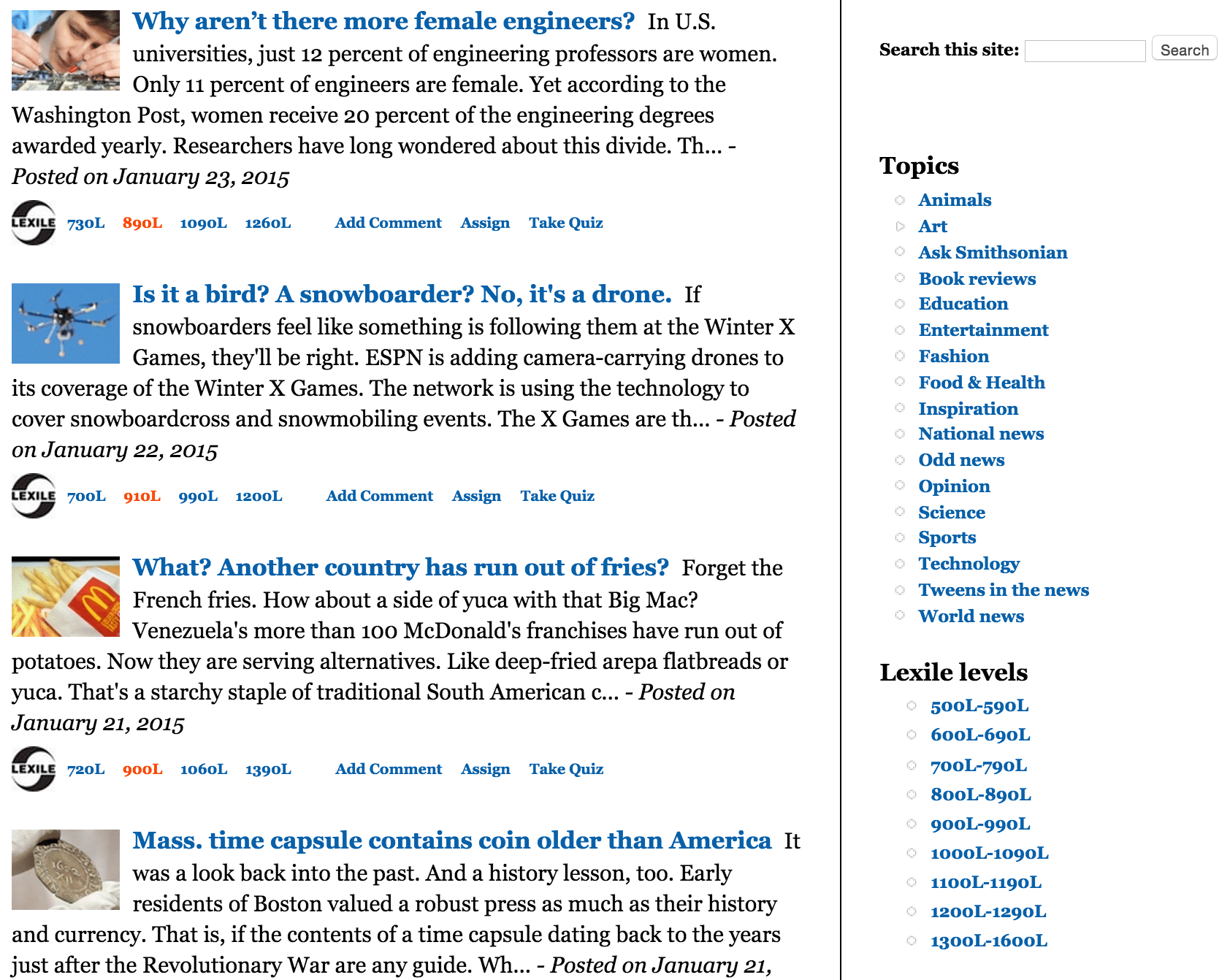 Students can add comments to the articles they've been assigned. These comments are private to the teacher and the student, unless the teacher decides to "go public." When a class is public students read comments posted by students around the world. However, the teacher must approve students' comments before they are published on the site.
Each article has a 3 question quiz students can take. The first question typically checks for understanding and the other two tend to be more challenging.