When students share their ideas and work online, they are taking a risk. As soon as they share a YouTube video or post a comment online, they open themselves up to possible ridicule and unkind remarks. I wish I could protect my students from the Internet, but I can't. What I can do is help them to protect themselves and learn how to be savvy about how and what they share online.
Last week, my students posted and shared their TED-style Talks online. In an effort to help them to navigate comments on YouTube, I posted a blog on our class website detailing how students could either turn off comments or turn on comment moderation. I thought this would be helpful for other educators who encourage students to publish their work on YouTube.
Instructions for turning off or moderating YouTube comments: 
Step 1: Log into your YouTube channel (*use the same email and password you use to log into your Gmail). Then click on your image in the upper right-hand corner of the screen. A popup window with a button reading "Creator Studio" will appear. Click "Creator Studio."
Step 2: When you get to your videos, click on the arrow next to "Edit" and select "Info and Settings".
Step 3: Once you select "Info and Settings," it will take you to the actual video. Once there, click on "Advanced Settings."
Step 4: Advanced settings allows you to decide how people interact with your videos. If you don't set any preferences, viewers can post comments that will immediately appear beneath your video.  However, if you set preferences, then you can:
disable comments so no one can post a comment.
set comment moderation where you approve comments before they post.
remove the rating feature, so viewers cannot post a thumbs up or thumbs down on your videos.
Step 5: If you decide to allow comments without moderation, it's important to know how to delete an individual comment. Simply hover to the right side of the comment and click the small arrow that appears. You will have three options: edit, remove or disable replies.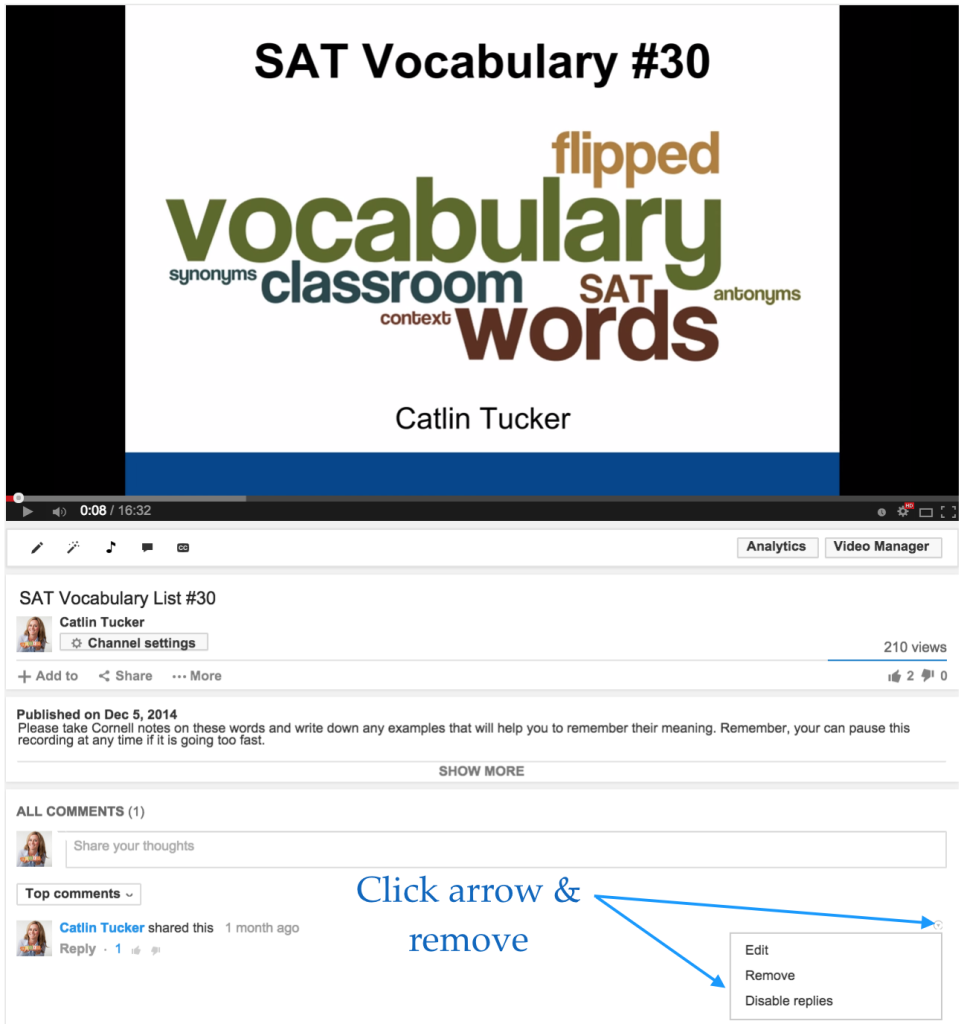 I want my students to share their ideas and work with the world, but I also want to arm them with the tools they need to safely navigate our increasingly digital world. It's crucial that we teach students how to protect themselves from cruel comments and abuse online. Please share this post with colleagues and students!