For the last two years, I've been increasingly frustrated with the traditional approach to assessing students and reporting grades. I want my students to value learning, not the accumulation of points. Unfortunately, I feel like school is akin to a Pacman game where students are myopically focused on gobbling up points and, as a result, miss the point of learning entirely.
Redesigning My Gradebook
This year I decided to overhaul my gradebook and assess students based on their mastery of particular skills, also referred to as standards-based grading. Instead of organizing my gradebook using traditional categories (e.g. homework, classwork, projects, tests, and projects), I identified the main skills we would be focusing on developing in this class and used those to create my gradebook categories.
Last Year This Year
Because my students create everything from digital stories to digital portfolios to RSA animation, I also included "Creative Design" and "Academic Engagement" categories to cover additional skills that are crucial to their success.
Don't Grade Everything
In the past, students received points for almost every activity they completed in class. This led to an enormous number of grades in my gradebook, but it did not provide real insight into how much they were actually learning. This approach to grading created a disconnect between a student's level of mastery and his/her grade.
Much of the work we do in class is focused on learning and practicing specific skills. During these activities, students should feel that it's okay to struggle, or even fail. That is part of the learning process. If everything they do is collected and given a grade, students don't have the time or space they need to really learn. It's my job to support them during this phase of learning by providing meaningful feedback and support. My energy is better spent working with them in small groups or one-on-one in these moments instead of collecting massive stacks of paper to grade and enter.
It's important to explain the rationale behind this shift in assessment and grading to students, so they understand the importance of the work they do in class – even if that work doesn't receive a grade. Again, the focus needs to be on learning not the accumulation of points. I explain that certain activities are designed to help them practice and hone skills which will be assessed at a later date by a writing assignment, quiz/test, or project. Each activity they do in class and at home is designed to continually build their skill sets.
Entering Grades in Relation to Specific Skills
In the past, I entered grades in a way that worked for me. Although I used a detailed rubric to grade their essays and projects, I only entered the total score into the gradebook. So, an argumentative essay would be entered as a point value out of 100. A student might earn an 80/100, but a parent looking at his/her child's grade wouldn't know exactly what their child did well or what they need to work on. As I reflect back on it, I doubt my gradebook really made sense to my students or their parents.
I redesigned my gradebook with the goal of helping my students and their parents better understand exactly where they are succeeding and where they are struggling. My hope is that this would make it easier for students to focus on the areas where they were struggling and for parents to better support their children.
Now when I am entering the grades for an essay, I enter each individual element that I am assessing from the rubric as a separate score. For example, an argumentative essay on the novel Of Mice and Men might have the following entries in the gradebook:
Of Mice and Men Argumentative Essay: Claim
Of Mice and Men Argumentative Essay: Quality of Evidence and Citations
Of Mice and Men Argumentative Essay: Depth of Analysis
Of Mice and Men Argumentative Essay: Strength of Rebuttal
Of Mice and Men Argumentative Essay: Conclusion
Of Mice and Men Argumentative Essay: Spelling, Grammar, & Formal Writing Norms
If each element is entered separately, the student can see how he or she did in relation to each skill. Then they can focus their energy on developing the specific skills they are struggling with.
Teachers can decide to allocate different amounts of points to different elements or assign them different weights in the gradebook depending on the difficulty of the skill being assessed. That's totally up to the teacher.
Grading for Mastery Using a 4 Point Scale
After an enlightening conversation with Jon Weller, another English teacher in the North Bay, and exploring the work done by Robert Marzano, I decided to use a 4 point scale to assess where my students are on the road to mastering a skill.
4 = advanced
3 = proficient
2 = basic
1 = below basic
In his book Formative Assessment & Standards-Based Grading, Robert Marzano breaks down several examples of what it looks like to assess students using a 4 point scale. On his website, Marzano provides a generic scale to help educators think about what each point value should represent.
A student who earns a 4 "goes beyond what was taught." A student who earns a 3 demonstrates a strong knowledge of what is explicitly taught. A student who earns a 2 shows a grasp of the simpler concepts and may have errors or omissions when it comes to the more complex concepts taught. A student who earns a 1 only demonstrates a partial understanding of simpler concepts taught (Marzano 2006).
If individual teachers are using a 4 point scale to assess individual skills and the entire school is not shifting to a standards-based approach to grading, they may want to reference a translation scale that turns that 4 point scale score into a percentage score.
Here is a conversion chart based on a recommendation by Robert J. Marzano and Tammy Heflebower in their article "Grades That Show What Students Know" (2011).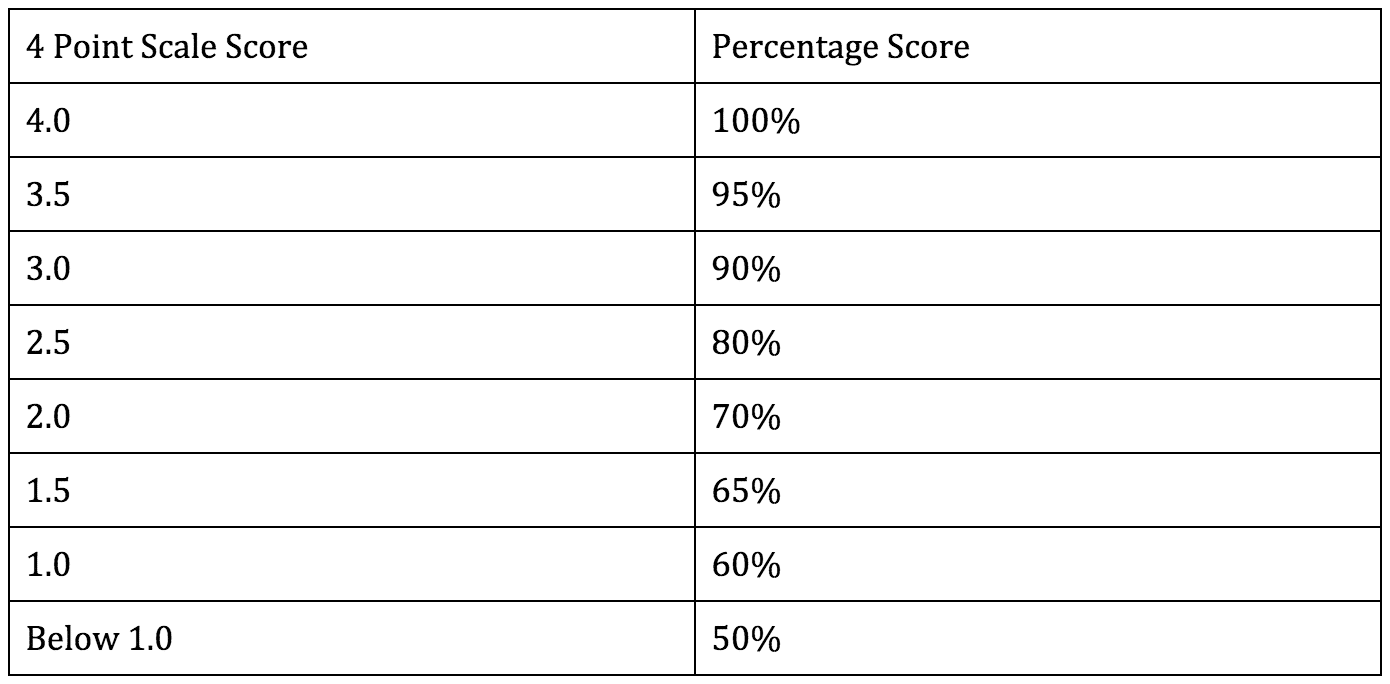 As I continue to make this shift in my own teaching and assessment practice, I will continue to blog and share both the successes and challenges of shifting from traditional grades to a focus on mastery in relation to specific skills. I am by no means an expert on this topic, but I am excited to see how this shift will impact the learning happening in my classroom. If you have resources or experiences with standards-based grading or grading with mastery in mind, please post a comment and share! I'd love to learn from other educators doing this.