Most teachers groan at the mention of "articulation." It's not that we don't see the value in the articulation process but getting everyone on the same page is time-consuming and cumbersome.
In my role as a blended learning coach, I value clear goals. [clickToTweet tweet="When teachers know what they are trying to achieve, they design lessons with intention and a clear sense of purpose. " quote="When teachers know what they are trying to achieve, they design lessons with intention and a clear sense of purpose. "]In my role as a coach, I had the opportunity to facilitate an articulation day with a group of middle school English language arts teachers.
As I researched articulation strategies, I found "5 Ins and 5 Outs" mentioned in a Teaching Channel video. The basic idea is that teachers identify 5 "outs" or skills students will master by the time they leave their class. These "outs" become the "ins" for the next grade level. So, if I say that students will leave my 9th grade English class able to "correctly cite strong textual evidence that supports analysis" then the 10th-grade teachers can feel confident that the incoming sophomores will be able to demonstrate that skill.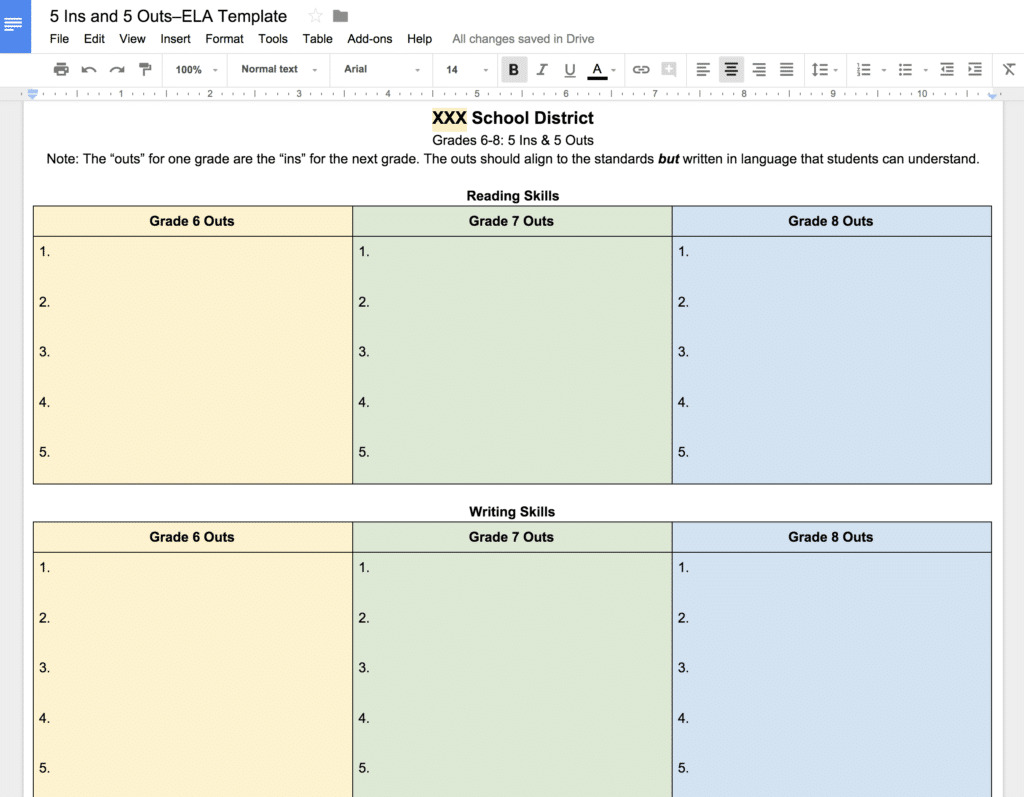 Obviously, we want students to leave our classes with more than 5 skills so articulation teams can identify categories of skills. English Language arts teachers might want to create 5 ins and outs for reading, writing, language, and soft skills/study skills.
The outs are grounded in the standards, but standards are daunting in their detail and verbosity. The ins and outs strategy is a manageable way for groups of teachers to identify the specific skills they want to emphasize and make sure students master.
This vertical alignment strategy helps teachers in the same subject area but across grade levels identify which skills are most important.
It was interesting to work with a room full of 6-8 grade English language arts teachers as they worked on their ins and outs. A few things became clear:
#1 Teachers used different language to describe similar strategies.
For example, one group of teachers was using the word "signposts" when teaching students what to look for in a fictional text, while another group of teachers used the phrase "note and notice." Both groups were teaching the same strategies, but the lack of continuity in the language may confuse students as they move from one grade level to the next. The more consistent we are with the language we use, the easier it will be for students to move from one grade level to the next.
#2 Teachers interpret the standards differently.
There was a debate about whether the word "claim" was synonymous with "thesis statement." It's important that teachers dig into the language of the standards, clarify any areas of confusion, and reach a consensus, so students don't hear conflicting information or definitions from different teachers.
#3 Transparency between grade levels helps teachers identify skill gaps.
We worked collaboratively on a shared Google Document so teachers could see the outs for the previous grade, ask questions, and make suggestions. The conversations about what teachers were seeing in terms of skills at the start of the school year helped to refine the outs for the previous year.
These are challenges that most departments and schools face, so finding a way to encourage an articulation process that feels valuable and manageable is crucial for schools.