Last night I watched an episode of Black Mirror, which Netflix describes as "sci-fi anthology series explores a twisted, high-tech near-future where humanity's greatest innovations and darkest instincts collide." My interest in the show was initially piqued on a visit to my sister's home in Los Angeles. She works at Netflix and has a piece of artwork in her apartment that presents a scene from a Black Mirror's "Nosedive" episode.
The print (below) disturbed me. Though the characters are in the same physical location, they are isolated. I see this same scene when I watch my students interact (or, more accurately, not interact) during break and lunch. They are physically together but isolated on their individual devices.
When my professor asked us to watch and reflect on an episode of Black Mirror, I decided to watch "Nosedive" (Season 3, Episode 1) to understand the context for the print that I found so disturbing. As I watched the episode, I sketched out my thoughts wanting to capture and make sense of what was happening
Lacie, the main character, clutches a phone. In fact, every character in almost every scene is holding a phone which they use to rate each other on a scale of 5 stars. Even the briefest meetings in an elevator or on the street are followed by a rating.
Lacie is fixated on her average rating score (initially a 4.2). At first, this fixation seems shallow but the viewer quickly realizes that one's social rating directly impacts their ability to receive discounts, qualify for housing, procure invites to events, book flights, enter specific buildings, and access medical treatment.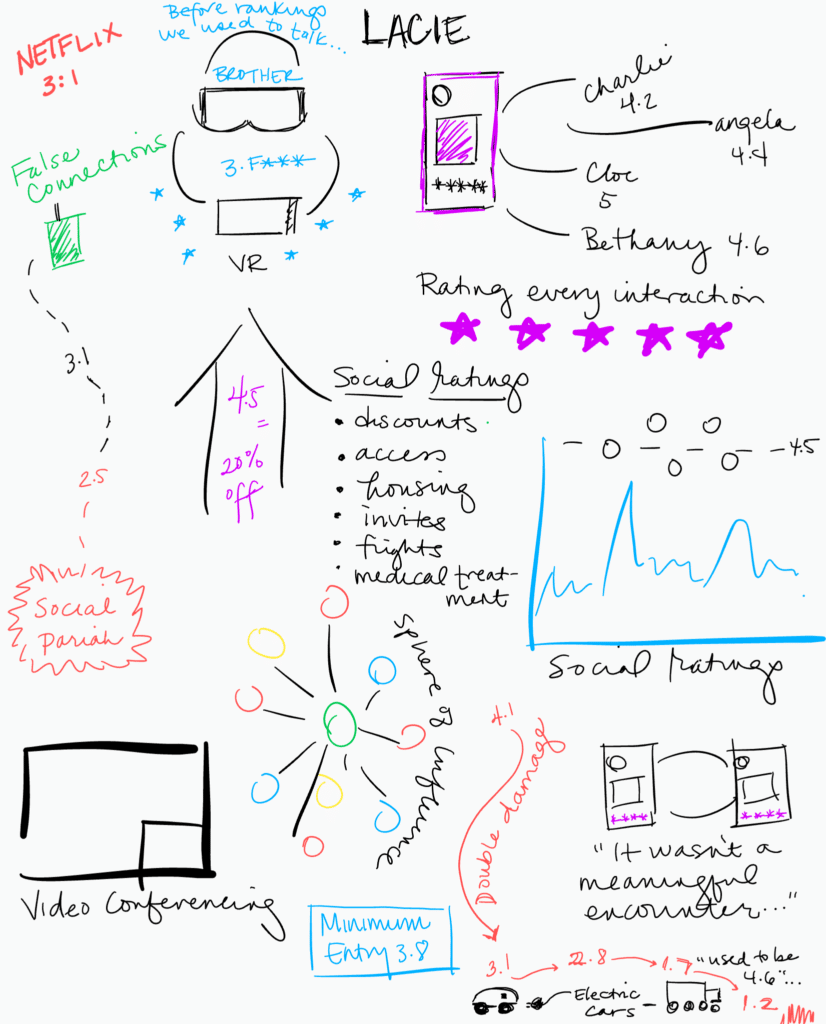 In an effort to improve her overall score and secure an apartment in a sought after complex for highly rated people, Lacie hires a consultant to help improve her social rating. He evaluates her "sphere of influence" or the people she interacts with the most and their average rating scores. The consultant pulls up a graph of her rating trends and recommends she interact more with individuals who have a social score of 4.5 or above.
When Lacie is unexpectedly invited to a wedding, she sees an opportunity to dramatically improve her score by delivering a moving maid of honor speech to a crowd full of highly rated people. As she sets out for the wedding, Lacie's luck takes a turn for the worse. In a world where every interaction counts and is reflected in a numerical score, Lacie quickly realizes the power other people have over her life.
Watching "Nosedive" was like watching social media gone off the rails. People already post snapshots of their lives on SnapChat, Instagram, Twitter, and Facebook where others can rate and comment on their lives. Many of the teenagers I engage with on a daily basis check their social media feeds at almost every opportunity. I appreciate that social media has made it so easy to connect with and learn from others, but I worry that too much of my students' self-worth is tied to their interactions online.
Watching this episode got me thinking…What will the next generation of social media look like? What form will it take? Will we be tempted to rate each other and not just the media we choose to share?
As I contemplated this questions and a futuristic reality where social media could be used to rate people, I stumbled onto an article describing the Peeple app. This app is designed to allow people to rate each other personally, professionally, and romantically. I was stunned. The reality portrayed in "Nosedive" felt like an extreme satirical spin on our reliance on social media and the potential dangers of our hyperconnectedness, yet here is an app designed to facilitate the same judgment and rating system that crippled Lacie and stole her freedom in "Nosedive."
As technology develops and we move from a web of communication to a web of context, things, and thoughts, the way people interact will fundamentally change. Who will decide what that change looks like…those who develop the technology or those who use it?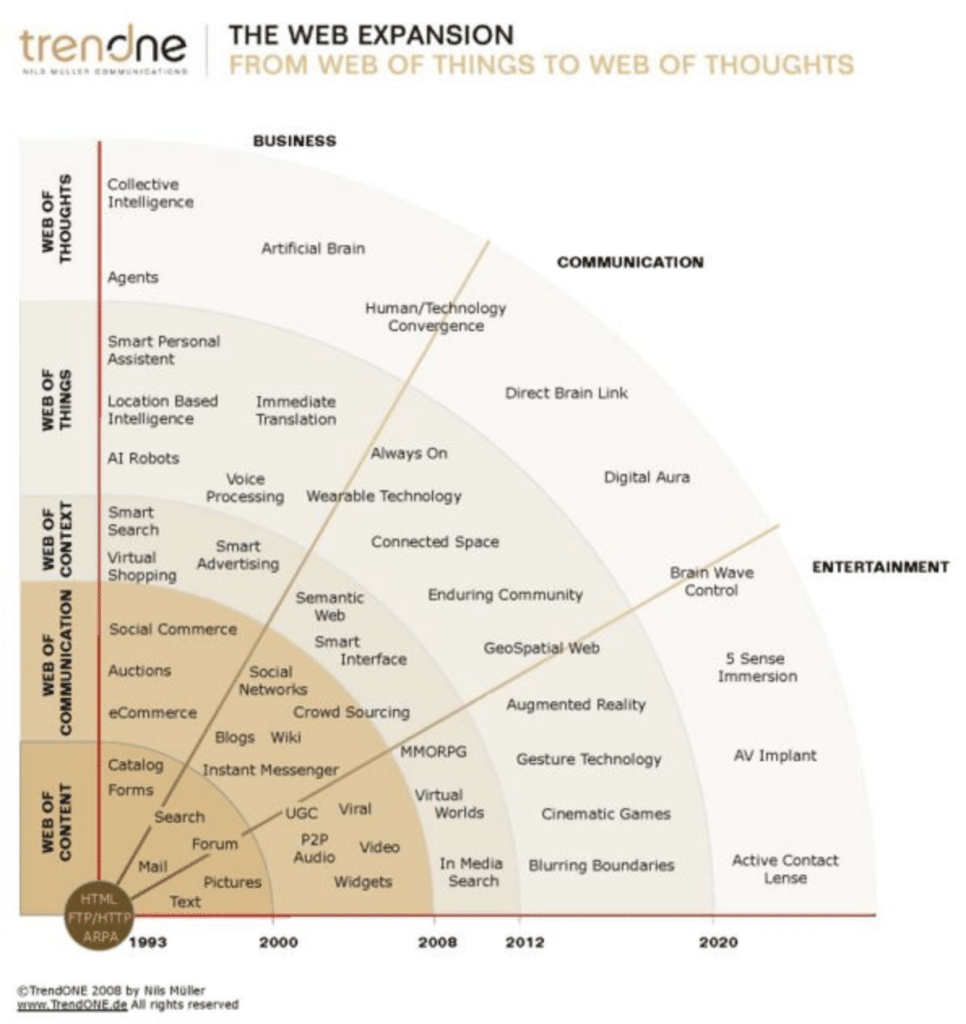 Educators and parents must encourage students to think critically about how they use technology and engage in tough conversations about how technology is changing our lives and our interactions.
Technology has the power to do incredible good, but we must be proactive in deciding how it will shape our lives and what degree of control we are willing to give the technology we use.