The Station Rotation Model is a blended learning model where students rotate through a series of online and offline stations. This model is an easier shift for elementary teachers who are already use learning stations with students. Unfortunately, most secondary teachers do not learn how to design lessons using stations in credential school. Most of us are still be trained to teach using a whole group lesson model, so reimagining a lesson to rotate students through a series of stations feels daunting. That said, there are clear advantages to using this model at the secondary level. It makes it possible for secondary teachers to:
Create smaller learning communities within the larger class.
Maximize limited technology since they do not need a device for every student.
Work directly with small groups of students.
Shift the focus from them to their students.
When I train teachers on the Station Rotation Model, they are quick to ask how I group my students. I tell them that I use multiple grouping strategies. I create groups based on:
Mixed skill level
Reading level
Writing level
Mixed level speaking and listening
Interest-based
Needs-based (informed by pre-assessment or diagnostic data)
Strengths in a group dynamic
Random
Mixing it up is key! The grouping strategy should make sense for the specific lesson. Unfortunately, more often than not teachers place students skill level groups and leave them there indefinitely. Kids are smart. It doesn't take them long to figure out what their group means. I worry about how this will impact their self-esteem and their feelings about themselves as learners.
Use Google Sheets to Keep Track of Your Groups
I know that creating groups is time-consuming, so I wanted to share the strategy I use to organize my groups.
I create a Google Sheet for the school year labeled "2018-2019 Grouping Strategies."
I create a sheet for each of my classes. (See bottom of the Google Sheet to create additional "sheets" or pages.)
I copy and paste student names in the A column of each sheet.
Each column after the students' names becomes a grouping strategy. As I gather information about their reading and writing levels, personalities, interests, etc. I create groups accordingly.
I also use a random group generator to spit out groups when I don't think the lesson will benefit from a particular grouping strategy. Here are some random group generator tools. If my random group generator spits out a great collection of groups, I capture those in my spreadsheet too!
I love not having to recreate groups every time I create a lesson. I also don't think my students have any idea how they are being grouped because the groups change constantly.
Stealth Grouping
Once I've designed a Station Rotation Lesson, I select the grouping strategy that makes the most sense given the objectives of the lesson. If I am focusing on writing thesis statements in my teacher-led station, then I will break students up by writing level so I can tailor my instruction and scaffolding to each group. If students are working collaboratively at one station, I might group them by strengths in a group dynamic, so I do not have all of my type A students in one group. If I want to offer a differentiated reading station, then I might group them by reading level. The key is to match the grouping strategy with the lesson.
Then as my students walk in the room, I put a small colored post-it note on their desk. That post-it note signals that we are doing a Station Rotation. They grab their post-it and go to the corresponding station. I do not tell them what the different colors mean, and I change the colors up so there isn't any pattern.
Another option is to project the groups using a colorful display like the one below, so students enter the room and go to their designated group. This saves time transitioning into groups at the start of class.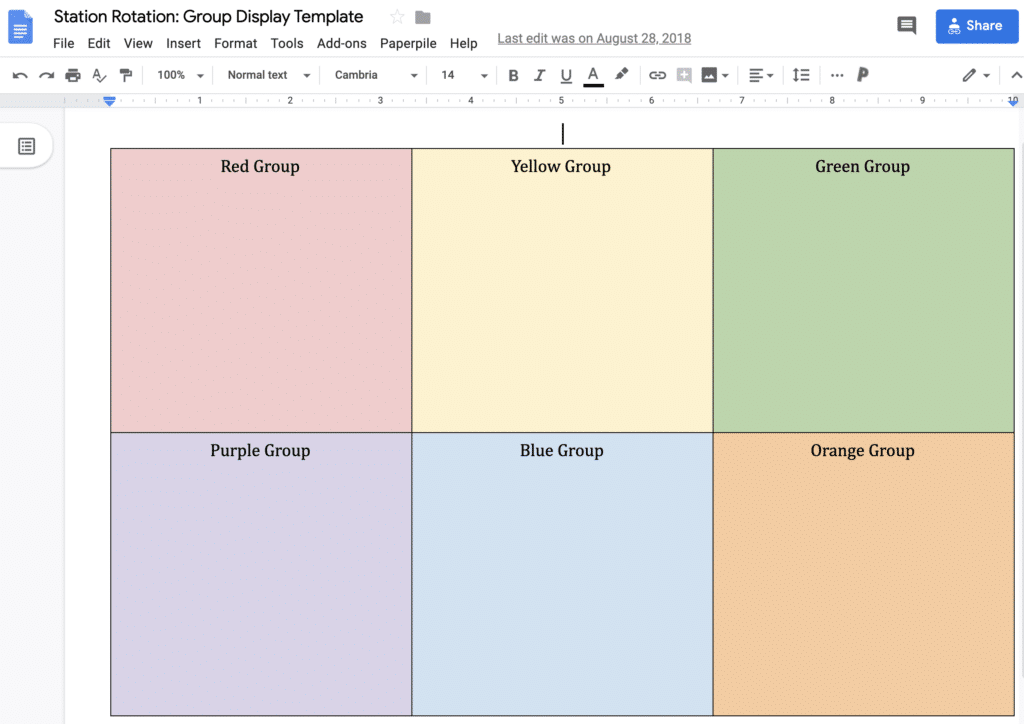 Hopefully, these simple strategies will help teachers using the Station Rotation Model to think about how they are grouping students. If you have other strategies you use that you think might save other teachers time, please post a comment and share!