It's summertime! For those of us with children, the summer break presents some challenges.
How do we keep our kids entertained?
How do we encourage them to engage in mentally stimulating activities?
How can we keep them learning and exploring during the break?
In a previous post titled "Learning Beyond the Classroom," I wrote that my daughter reported not enjoying science. This concerned me because she is curious by nature and loves a good project. Both of these attributes seem perfect for STEM subjects!
My latest attempt to get my daughter developing STEM skills was with Sony's KOOV.
The KOOV kit has:
Koov building blocks
Sensors, motors, and LEDs
The KOOV core–a microcontroller that connects code with the robots
KOOV app–kids can create a personalized avatar, access multimedia project descriptions and step-by-step directions, and code to make the robots move
When I presented my daughter with the kit, she was hesitant to dive in. Ironically, it was the ability to create an avatar using the app that grabbed her interest first. Then she watched the video on the KOOV homepage of several completed robots. Then she was hooked! She decided she was going to make the whale shark.
The step-by-step directions made it possible for her to work on her own without needing help from me. The app even let her manipulate the images zooming in and out and rotating them to get a clear sense of how to put the pieces together.
As I watched her work, I was struck by the range of skills she had to use to bring her creation to life. She was building the actual structure of her whale shark around the KOOV core microcontroller, wiring the KOOV core, and arranging the code on the app to ensure her whale shark would be able to move when her project was complete.
I was also pretty pumped that she did not have to call me up to her workstation every five minutes to ask me a question. Often with STEM projects, I field a lot of "what do I do next?" questions, but the KOOV app was clear and easy to use.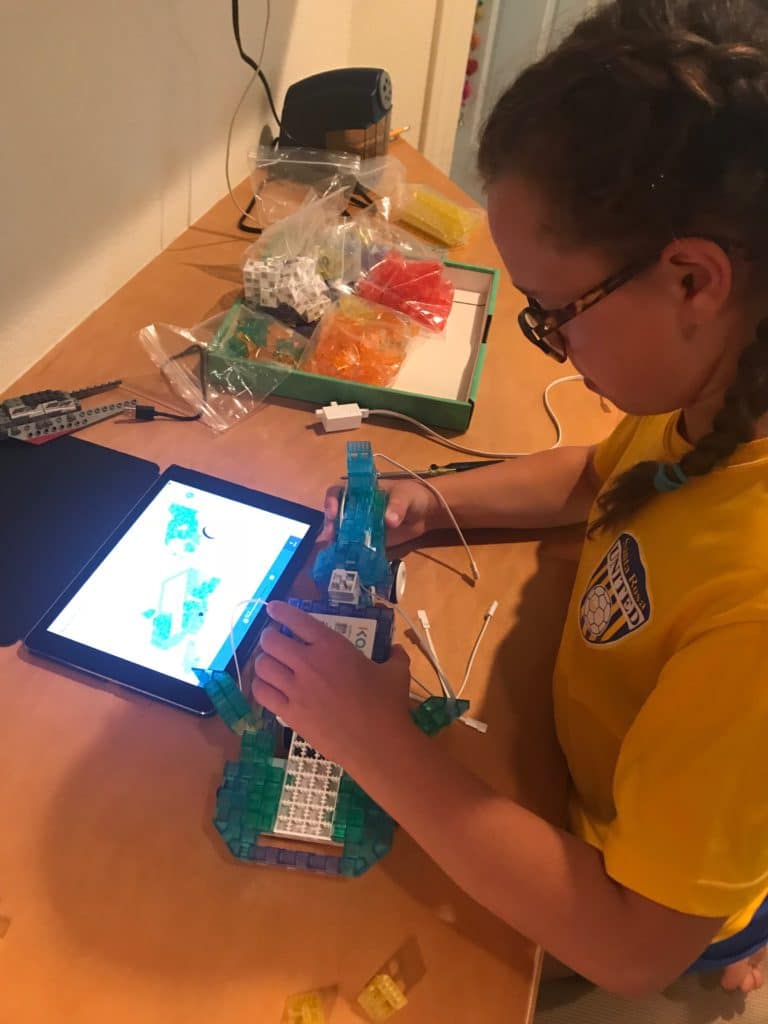 The coding part was the most challenging for her, but she was delighted when her whale shark began to wiggle its way across her desk!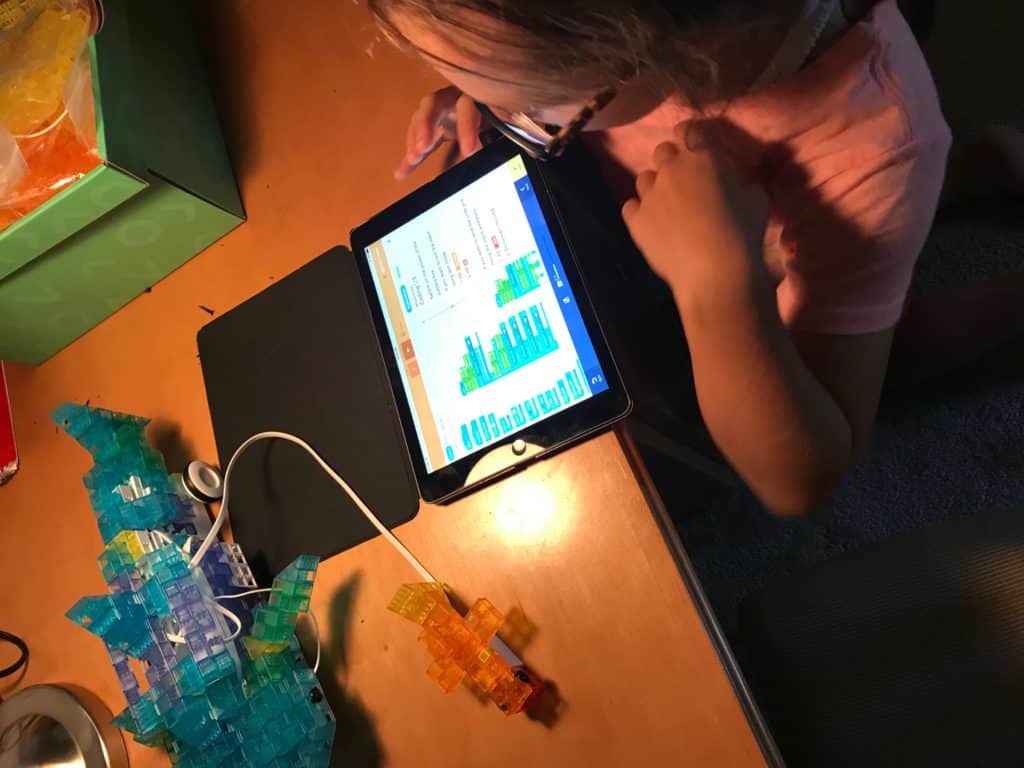 As a teacher and blended learning coach, I see exciting possibilities to use KOOV to create a makerspace STEM station where students tinker to learn. The best part of the KOOV kit is that it is reusable and has a growing collection of robot recipes.
Now that my daughter has completed her project, my son is starting his own KOOV robot. It is the type of project set that can be used repeatedly by siblings or by students in a class. Below is an example of a station rotation lesson where KOOV could be a collaborative makerspace station with small groups of students working together to build and code a robot.
The KOOV educator kit is a financial investment, but the reusability of the kit makes it an attractive investment for parents, teachers, and schools looking to make STEM more interesting and engaging for younger kids!
For those interested in potentially purchasing KOOV, Sony has created the KOOV Pilot Program to provide hands-on experience with educators and students. To apply, email KOOV@sony.com and tell us where you plan to use KOOV. How will it be used? Which grade(s)? How many students? etc. As part of the program you will be asked to observe and record the following, but not limited to, student's experiences & feedback, the most visited portion of the software, amount of time spent, involvement and troubleshooting by Educators/administrators.
https://www.sony.com/campaign/SNA/koov/pdf/Pilot-Program.pdf