Teachers are already blowing up my Twitter feed with awesome photos taken during their first few station rotation lessons! It's exciting to see so many teachers trying this blended learning model and creating opportunities for small-group instruction, real-time feedback, collaboration, and differentiated learning.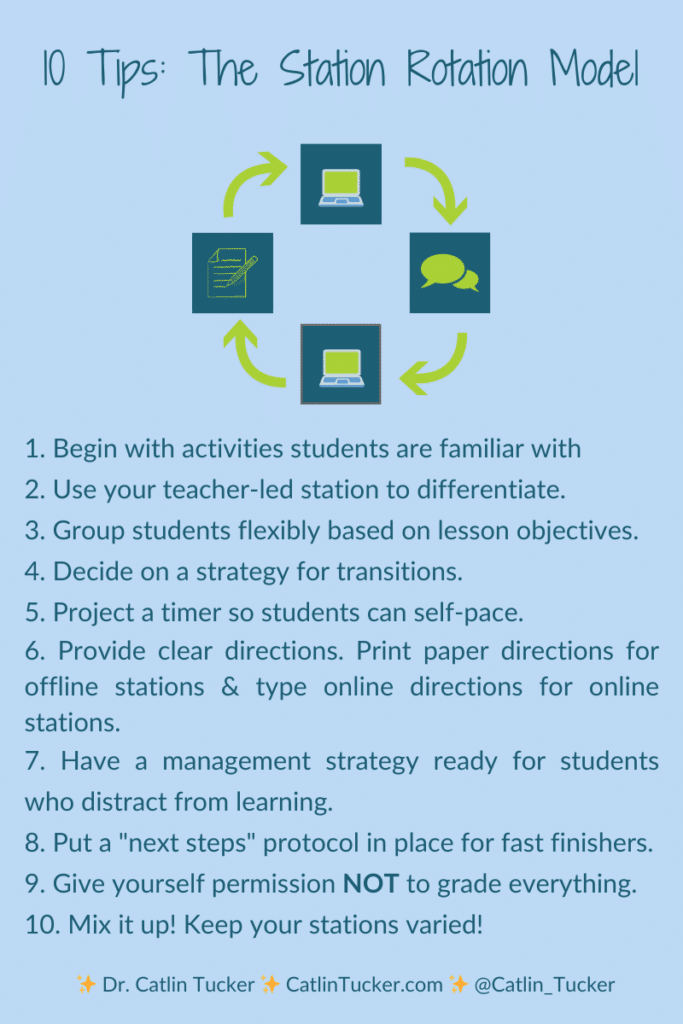 1) Use your teacher-led station for a range of activities beyond differentiated direct instruction. Model a process, provide real-time feedback, lead a small group discussion, guide practice and application, or conference with students.
2) Switch up your groups! Sticking students in skill-level groups and leaving them there for an extended period of time can be detrimental to their confidence as learners. I understand that it may be easier for us to support kids at the same academic level, but it isn't always what is best for learners. Mixed ability groups, interest-based groups, and strengths in group dynamics are alternative grouping strategies that you can add to the mix for variety. Click here for more on grouping strategies and organizing groups.
3) Decide on a strategy for transitions. Students can take FOREVER to transition from station to station, so I always recommend explicitly teaching them how to transition. This goes for secondary students too! I like to have my kids organize materials, stand by their chairs with materials in hand quietly, and when everyone is standing quietly, they head to the next station. It's simple and efficient.
4) Project a timer onto your board so students can keep track of the time as they work. I use a free online timer with a bell that rings at the end of the rotation. It serves as both a visual and auditory cue.
5) Make sure every station has crystal clear directions. Writing out clear directions takes time, but it means you won't be bombarded by questions when trying to work with students at your teacher-led station.
6) Print paper directions (in plastic covers) for offline stations and create online directions (Google doc, class website, LMS) for online work. If students don't need a device at a station, then I always print offline directions, so the devices do not become a distraction. If students are completing work online, I create a Google document with step-by-step directions, links, and screenshots to help them navigate that online work.
7) Have a strategy ready for kids who are having an off day or distract their peers. This can be as simple as allocating some desks alongside a wall or near your teacher-led station where a student can work in isolation if they are struggling to stay on task or are distracting their peers from work at a station.
8) Put a "Next Steps" protocol in place so students know what they should do when they are done. You can create a simple list on the board of items kids can complete if they pace through the work more quickly than their peers. For example, my "Next Steps" list always reminds them to return to any work at a previous station that they did not get a chance to complete. I also include items like practicing our vocabulary words on Vocabulary.com, reading and annotating to page X, or updating your digital notebook. This can eliminate the question, "What do we do if we finish early?"
9) Give yourself permission NOT to grade everything kids do in stations. If you feel pressure to put points on every paper or grade everything kids do in stations, you will not use this model for very long. I have become extremely selective about what I provide feedback on and grade. If I provide feedback, it is because kids are going to use that feedback to improve their work. If I grade something, it is an assessment. A lot of the work students do in a station rotation lesson is practice or preparation for an assessment. I don't grade practice. For more on my approach to grading, check out this blog post.
10) Mix it up! Variety is the spice of life, so don't let your stations become stagnant. Make sure you try a variety of strategies and technology tools in your different stations. This is more likely to keep kids excited and engaged.