Relationship building needs to start on the first day of school if teachers are going to cultivate a community of learners willing to take risks and engage with one another. That said, building a community can be challenging, especially in those early days of the school year when students are feeling shy, nervous, and unsure of themselves.
One of my favorite icebreaker activities is an offline scavenger hunt. I pass out paper copies of the scavenger hunt pictured below and ask everyone to grab a pen and stand up. I explain that they will have 20 minutes circulate around the room meeting their new classmates. I tell them that the goal of the activity is to complete as many items on their scavenger hunt list as possible. (In reality, the goal is to break the ice, connect with classmates, and have fun.)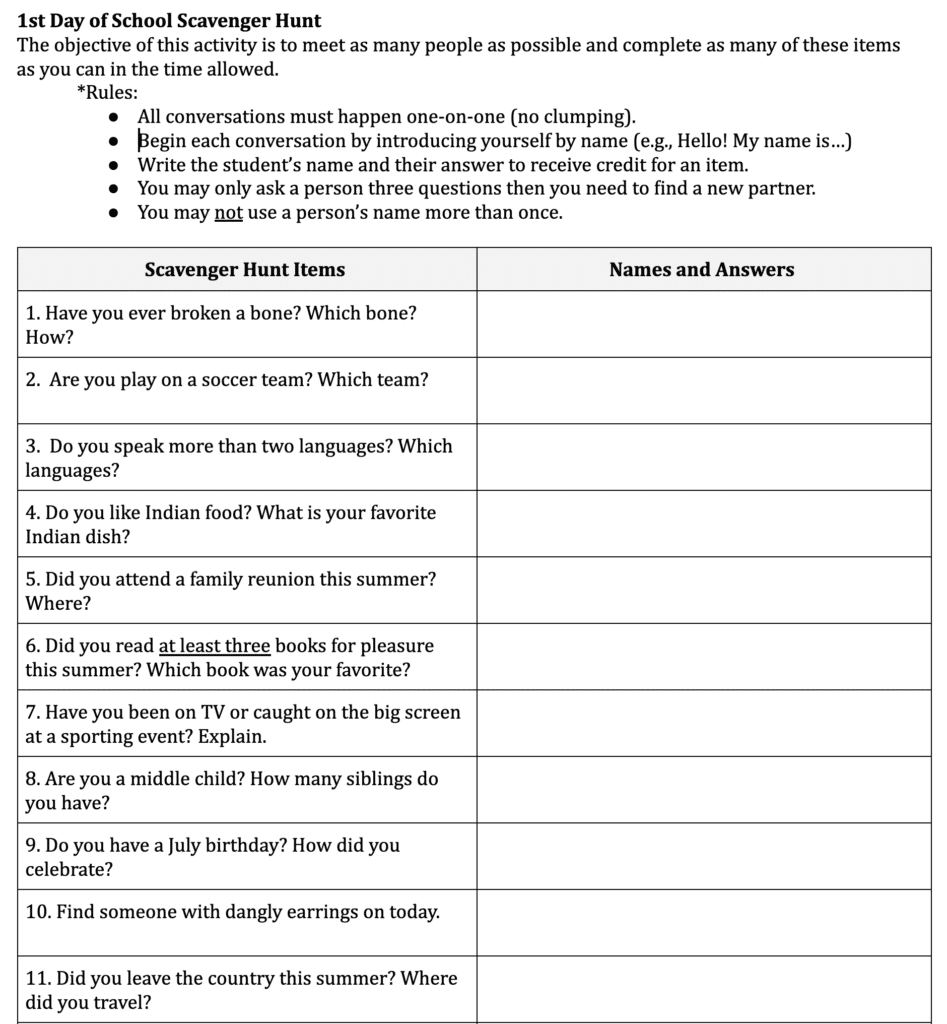 Over the years, I've fine-tuned this activity to make it more effective. I explain the following rules before we begin:
Conversations must happen one-on-one. Students are not allowed to form small groups to ask several people a question at one time. The goal is for students to get to know one another, and that is easier to do when they engage in individual conversations.
Each conversation must begin with an introduction. Each person should start by saying his/her name. This seems like it should go without saying, but teenagers tend to be awkward, so I have to remind them to start with their names.
They are only permitted to ask a person three questions before they have to move onto the next person.
If the person they are talking to answers "yes" to a scavenger hunt item, they must write that person's name in the box next to the item and answer any questions associated with that item. For example, if a student says they visited an amusement park, then the person asking the questions must find out which park their classmate went to and which ride was their favorite. They must answer these additional questions on their sheet of paper to get credit for that scavenger hunt item.
The student asking the questions must write their partner's name and details on their paper. They should not hand their paper to the person they are talking to and ask them to write their name and information. Again, this should be obvious, but some students try to cut corners to speed up the process.
I hope this will be a fun activity that teachers can use at the beginning of the school year to break the ice and get kids having conversations. Investing time to build relationships at the start of a school year is crucial to creating a community of learners who can work together all year long!