When I facilitate station rotation workshops with teachers using StudySync, I encourage them to consider designing offline discussion stations. There is value in having a small group of six to eight students discuss a text as opposed to facilitating a whole group discussion. In a small student-led discussion, every student has an opportunity to speak, they are responsible for keeping the conversation going, and they rely on each other as resources to dig deeper into the discussion questions.
Unfortunately, a lot of teachers worry about what students will say if they are left to engage in a discussion that is not facilitated or monitored by the teacher. One way to combat this fear is to proactively teach students how to engage in a discussion with their peers. StudySync's SyncTV episodes provide a model that teachers can leverage to help students develop critical speaking and listening skills. Below are three strategies teachers can use help students to become confident participants in a student-led discussion.
In the SyncTV episodes, a group of students model a strong discussion about a StudySync text. During the discussion, they:
Support their statements with evidence and details from the text.
Make connections between their lives and the text.
Ask follow up questions.
Admit moments of confusion.
Build on the ideas shared by their peers.
Make eye contact.
Demonstrate nonverbal communication cues (e.g., nodding their heads).
Compliment strong points made.
Level 1: Observe, Critique and Discuss the SyncTV Episodes
Before we ask students to engage in small group discussions with their peers, I would suggest we have students watch and critique a few SyncTV episodes. This way, they are encouraged to identify discussion strategies and nonverbal communication cues that make conversations run smoothly. It also encourages them to think more deeply about the text by really listening to what the students are saying about the story, characters, and themes.
I encourage teachers to use this two-column chart to get students capturing their ideas about both the content of the SyncTV episodes as well as the discussion strategies the students are using.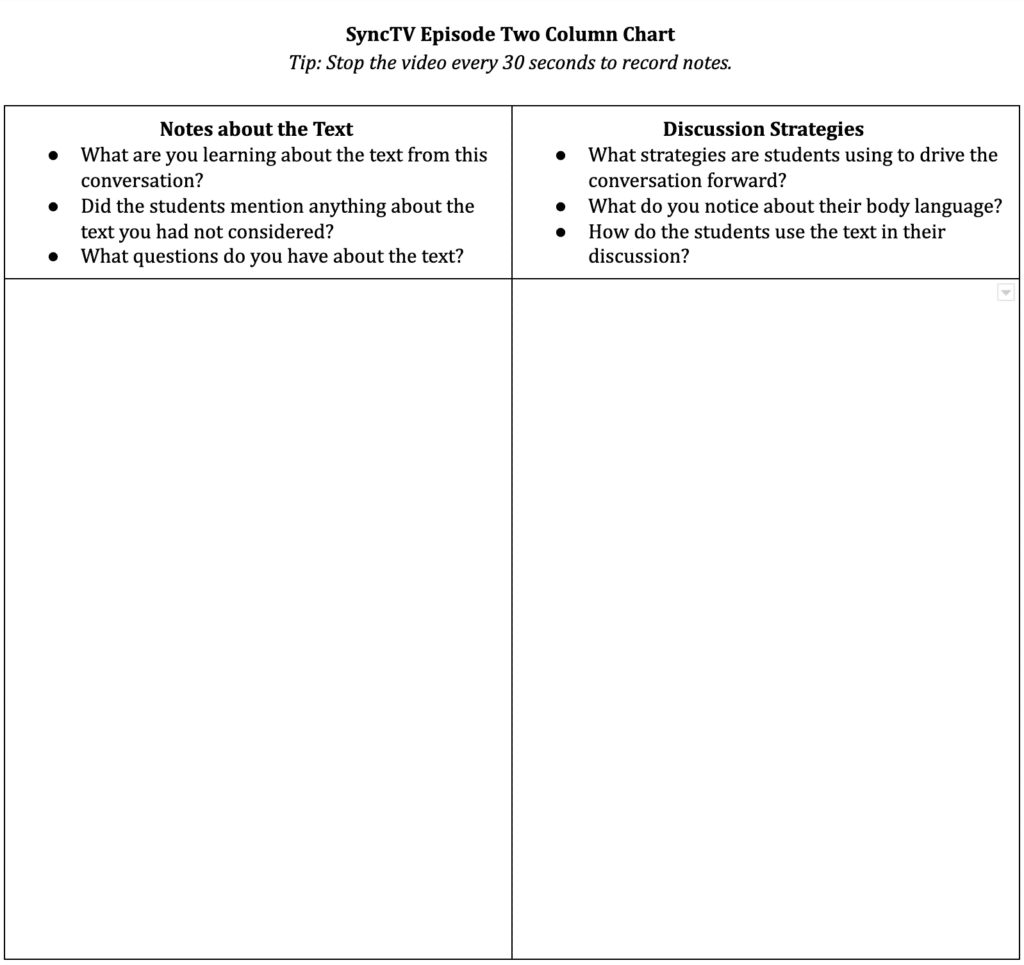 Level 2: Engage in Student-led Conversations & Practice Specific Discussion Strategies
Once students have watched and critiqued a few SyncTV episodes, it is time to get them practicing their discussion skills.
Break students into four groups (one group in each corner of the classroom).
Ask students to select one "target" discussion strategy from their two-column list and write it on a post-it. 
Request that students put the post-it on the back of their chairs, so you can easily see the strategy they are working on during that discussion. 
Provide each group with a list of discussion questions from the StudySync lesson plan to use in their four corner conversations.
As students engage in discussion, the teacher can circulate around the room observing the conversations and capturing formative assessment data.
Level 3: Record & Critique Student Conversations
After students have some practice engaging in small group discussions and practicing a variety of discussion strategies, I encourage teachers to have students document their conversation. That way, they can critique and assess the quality of their discussions using the two-column chart from level 1 and a single skill discussion rubric. This encourages them to bring a critical eye to their engagement in discussions with the goal of improving.
After completing the First Read, ask every student to generate a question about the text that they would like to discuss. 
Break students into four groups (one group in each corner of the classroom).
Ask each group to set up a device to record the conversation using the camera on their phone or Screencastify on their Chromebook.
Assign one student in each group the "facilitator role" and ask them to keep the conversation going by highlighting strong points made, making connections between points, and encouraging quieter students to share their ideas.
Critique the videos using the same two-column chart they used in level 1 to critique the SyncTV episodes.
Complete a one skill rubric about their individual performance in the conversation and write a brief explanation of the assessment score they gave themselves.
Students need to learn how to engage in academic conversations with their peers. I hope these strategies provide teachers with a clear path for helping students to develop critical speaking and listening skills while also releasing the responsibility for discussions to their students.