Can teachers who are teaching an AP course use blended learning models and cover the extensive curriculum? I get asked this question frequently as a blended learning coach. My answer is a resounding "Yes!" In this guest post, Cori Schwarzrock shares her experience using blended learning models in her AP psychology course.
Over the past few years, I have been involved in the implementation of blended learning in my district. I teach AP Psychology, blended and traditional, at a high school in the northwest suburbs of Chicago. Initially, some people at my school expressed concern about whether an AP- level course was the most appropriate choice for a blended learning pilot because of the sheer amount of content to be covered in a year. Luckily, I was given the opportunity to move forward with the pilot. I would like to share with you what a blended learning model can look like in a high school, AP–level classroom, and how I am able to maintain a high level of rigor while empowering students through flexible scheduling and increased student agency.
My Approach to Designing a Station Rotation
I use the Station Rotation Model to design my lessons every few weeks. Each station rotation is designed to provide a balance of online, offline and teacher-led activities. They typically last between 3 and 4 days. My online learning activities typically involve the use of short videos, online discussions, student research, podcasts, and various formative assessments.
I strive to balance the time that students are online with offline tasks that can be an individual, partner, or group-based. This includes small group discussions, practice problems, experiments, retrieval practice or writing practice, as well as my favorite component, the teacher-led station. This is the station that I was "missing" for most of my career. At this station, I get to meet with small groups of students (because let's face it, the students are the best part of our job!). I get to breakdown complicated processes, facilitate discussions, conduct student conferences, or meet with individual students who need additional support.
What Does the Station Rotation Model Look Like in Practice?
I have provided an overview of two station rotation lessons below. Each lesson is broken down into the three components that I purposefully balance in my lesson design: online activities, offline activities, and teacher-led activities.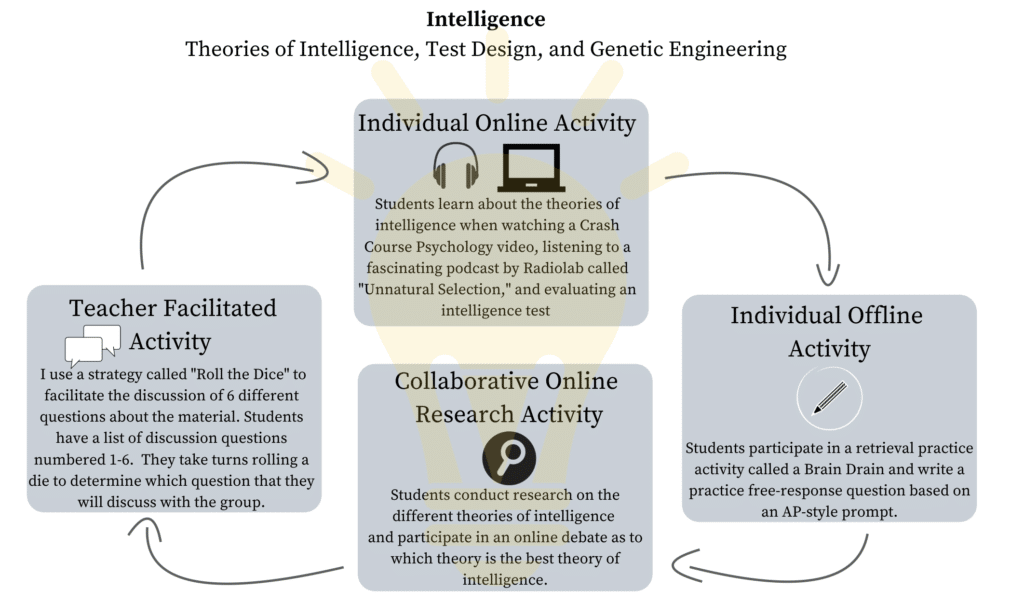 For a detailed description of my station rotation lesson on intelligence, click here.
Tips for Teachers Using the Station Rotation Model
Here are some things to consider if you want to implement this model in your classroom.
Do

not

feel like you need to recreate the wheel. There is a good chance that you already have a number of activities that would fit nicely into this format. When I make the decision to shift an existing lesson to the Station Rotation Model, I look at which parts of the unit naturally lend themselves to the Station Rotation Model. I separate out my online, offline, and teacher-led activities and then focus on the flow of the lesson.
If you plan for a multi-day rotation, there is a significant amount of planning on the front end because you are essentially planning for 3 or 4 days at the same time. Ensure that all of the components are placed correctly. For example, during my Bio lesson pictured above, my students had to watch a video on the split-brain before they could participate in the demonstration.
Identify potential logistical problems. What will you do if a student is absent? What platform or technology tools will best meet your needs? I use a combination of free and paid tech tools to facilitate my lessons. Not sure where to start? You can find a great list of web tools on Catlin's blog
The benefits of using the Station Rotation Model in my AP Psychology course have included increased engagement, stronger executive functioning skills, and greater accountability. I have also become a stronger teacher. The changes I have made to my instruction provide me with a more accurate measure of student mastery as well as flexibility in scheduling to meet with students for revision or additional support.
In my opinion, one of the best things about our job as educators is that we can continually learn and grow. Change is not a bad word, but we need to make sure that the changes we implement are meaningful and evidence-based. I would like to thank Catlin for creating the materials to help me survive and thrive as a blended teacher and for the opportunity to share my experiences with you.

Cori Schwarzrock is an AP Psychology teacher at Cary-Grove High School in Cary, Il. She is a veteran social studies teacher who has taught Sociology, US History, World History, Anthropology, and Psychology. She is passionate about helping her students develop the skills necessary to become independent, lifelong learners. She began writing a blog called "A Blended Learning Journey" to share her experiences implementing blended learning. You can contact her on Twitter @csrock100 or on her blog at https://geniusclimbingfish.blogspot.com.