This school year will look very different for most teachers. Some are beginning entirely online and others are returning to school on a modified schedule where they will only see students in person a couple of days a week. So, the question many teachers are asking is, "How should I spend my limited time with students in the classroom or in video conferencing sessions? What is the best use of that time?"
First, let's be clear about the differences between asynchronous and synchronous learning.
Asynchronous Learning
Synchronous Learning
Occurring at different times and in different places (e.g., students working at home).
Occurring at the same time and in the
same place (e.g., students working in the classroom or meeting online for a video conference session.
Students can access content, resources, activities at any time, and from anywhere.
Students can access content, resources, and activities at a specific time and location.
Students can control the time, place, and pace of their learning.
Students may have some control over the pace of their learning, but they do not control the time or the place.
Students work independently to complete assignments and tasks.
Students have access to teacher and peer support while completing assignments
and tasks.
If we take a step back and think about the benefits and challenges of asynchronous learning and synchronous learning, that can provide clarity about how to think about the design of our curriculum in an online or blended learning course.
Asynchronous learning provides students with a high degree of flexibility and autonomy. They can control the pace of their learning, which lends itself to the following activities.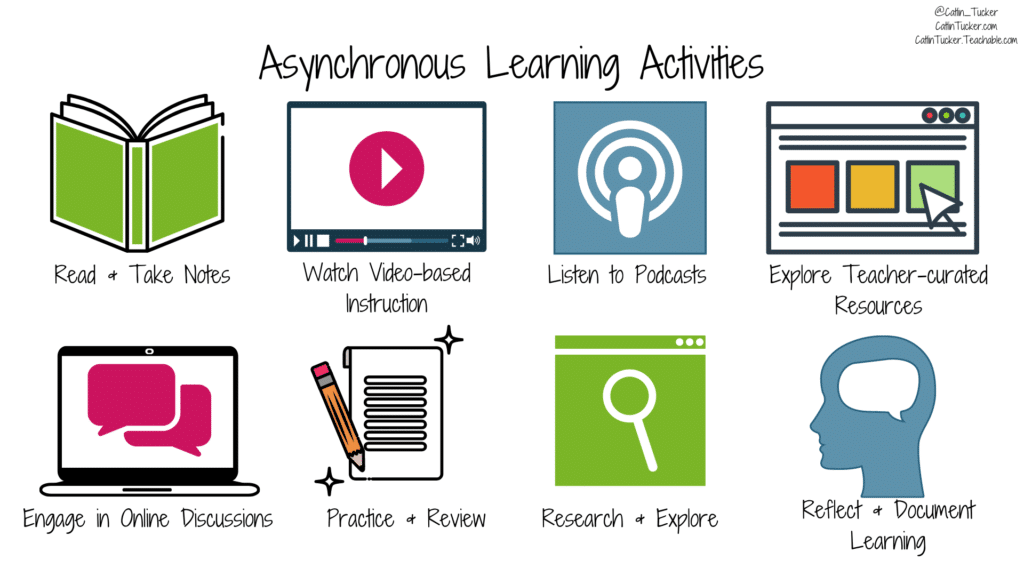 Teachers who are seeing students for synchronous face-to-face sessions in a classroom or virtual conferencing sessions online may find it useful to think of the asynchronous learning as pre-work and post-work for the synchronous sessions.
The pre-work may involve students reading texts, watching videos, listening to podcasts, exploring teacher-curated resources online, and taking notes. Completing this work asynchronously lets the students control the pace at which they consume and process information. Teachers may also want to engage students in online discussions to encourage them to think critically about that information before attending class.
If students engage in meaningful pre-work prior to class, the teacher can maximize their limited synchronous time with students in a blended learning or online learning course. They can focus their time and energy on high-value learning activities when working directly with students. Instead of feeling pressure to cover the curriculum or present information, the teacher can use their precious synchronous time to do the following.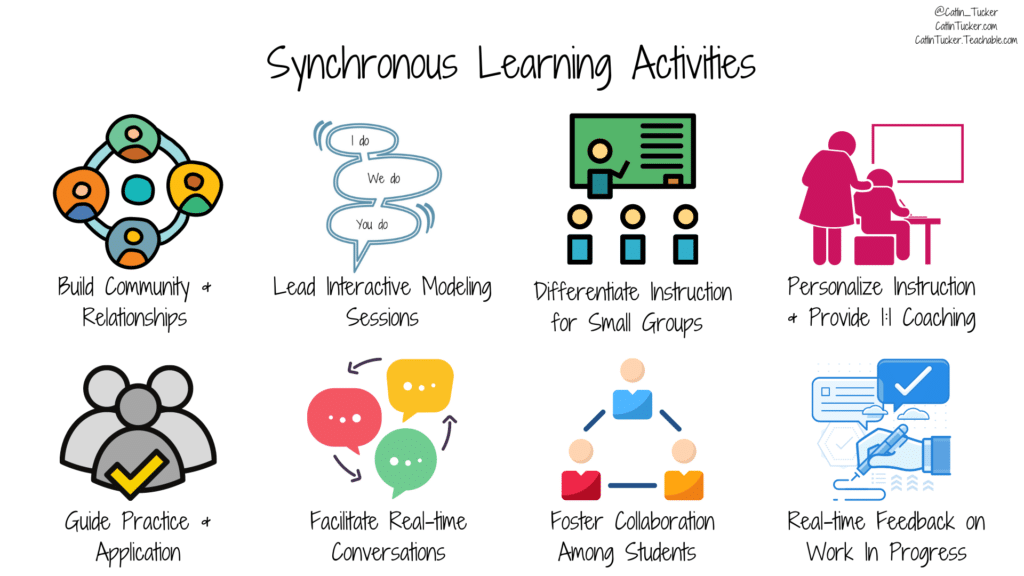 Teachers can follow this synchronous time with post-work activities, like additional review and practice, research and exploration, or reflection that build on the work students did in synchronous sessions.
The biggest advantage of synchronous learning is human connection. When students learn in a shared time and space, they have access to their teacher and each other. So, teachers should design with that in mind, prioritize community, and leverage those human connections to engage students in social learning.
Need support getting started with blended learning or online learning? Check out my self-paced online course.