Teachers all over the country are being asked to teach "concurrent classrooms" in which some students attend class in person and others attend virtually. The teacher in a concurrent classroom attempts to meet the needs of the students in class and online simultaneously. This is the most challenging scenario I can imagine in our current situation.
Several teachers have reached out asking for advice. I wish there was research I could point to or a collection of best practices that I could share. Unfortunately, there is a scarcity of information on this topic in the context of K-12 education. In an attempt to support teachers in this situation, I've been reflecting on how I would approach design, instruction, and facilitation in a concurrent classroom.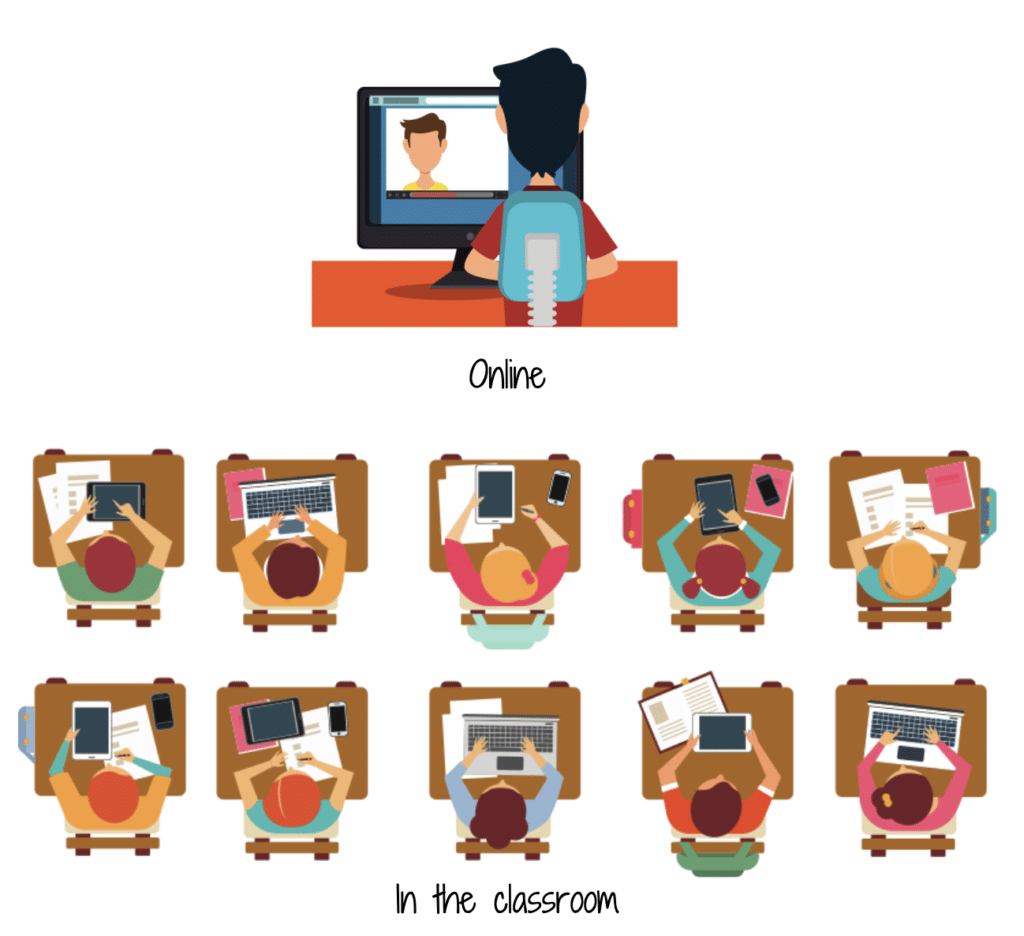 It is helpful to begin by identifying the benefits of an in-class experience as compared to an online experience. In-class, students have easy access to the teacher and each other. There are more opportunities for social learning and human interaction. Online, students have a higher degree of agency, autonomy, and flexibility, but they may feel isolated or disconnected.
As architects of learning experiences, teachers should focus on providing that human connection to students working remotely. The students online need to feel like they are part of the class community even though they are not sharing a physical space. Conversely, teachers will have more success engaging students attending class in person if they build more agency, autonomy, and flexibility into their lessons.
As I wrap my mind around the complexities of the concurrent classroom, I believe blended learning models can make this challenging situation more manageable. Below I will explore three blended learning models–the station rotation model, the flipped learning model, and the playlist model. I'll review the benefits of each model and explain how I would use these models to teach a class with students attending both online and in person.
#1 Station Rotation Model
The station rotation model does what the name suggests. There are a series of stations–or learning activities–and students rotate through them. Given current restrictions on movement and supply sharing in classrooms, students will not physically move but rather progress through a series of learning activities–a) teacher-led station, b) online station, and c) offline station–in the same physical location.
Benefits of the station rotation model:
Create smaller learning communities within the larger class.
Spend time working directly with small groups of students.
Differentiate learning (e.g., instruction, scaffolds, practice, assignments).
Balance online and offline work to give students a break from the screen.
Tips for using the station rotation model in a concurrent classroom:
"Rotate" or transition groups of students from activity to activity on a set schedule.
Have "may do" activities ready for students who pace more quickly through their work.
Host an offline teacher-led station for the in-class groups and an online teacher-led station for online groups using video conferencing software.
Record video directions for each station to reduce questions and confusion.
Create a pathway for online students to ask questions as they work (e.g., Remind or ClassroomQ).
Prepare your station rotation lesson (e.g., learning objectives, directions, links, and resources) so that all parts of the lesson are easily accessible by students both in class and online.
#2 Flipped Learning Model
Flipping instruction with video is a great way to avoid spending our synchronous time–in class or online–talking at kids. If teachers shift explanations, instruction, and modeling online with video, they have more time to interact with and support learners. I encourage teachers to consider organizing their flipped learning lessons into three distinct parts–a) pre-video activity, b) video, and c) post-video activity. For more detail on this three-part approach to designing a flipped lesson, you can read this blog.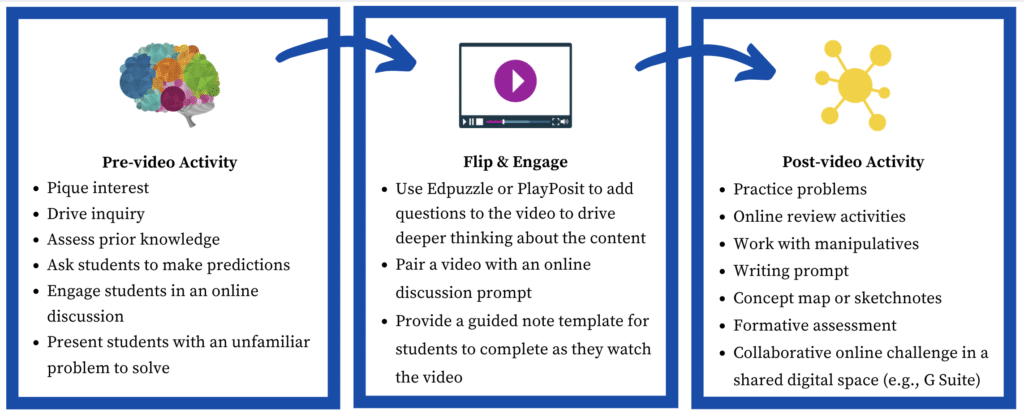 Benefits of the flipped learning model:
Students control the pace at which they consume and process information.
Students and families have 24/7 access to video instruction online.
Teachers do not have to spend time repeating the same information over and over.
Video provides on-demand instruction and frees the teacher to move around the room working directly with individual students or groups of students.
Tips for using a three-part flipped lesson in a concurrent classroom:
Begin class with the pre-video activity and create groups that are a mix of both online and offline students enabling them to work collaboratively using video conferencing software.
Allow students to self-pace through the instructional video.
Engage students around the video content using online discussions (e.g., video-based with FlipGrid or text-based with your learning management system). This makes it possible for students to continue learning from one another regardless of their physical location.
Encourage students to practice and apply during the class period so they can ask for help if they get stuck or need support.

Create a pathway for online students to ask questions as they work (e.g., Remind or ClassroomQ).

Provide individual or small group support (in person or online) as the class works on the practice and apply activity or use this time to conference with individual students.
#3 Playlist Model or Individual Rotation Model
The playlist model presents learners with a sequence of learning activities that they can self-pace through. Teachers can create a playlist around a unit of study, a formal writing assignment, or a project. Playlists integrate different types of media and learning modalities to keep students engaged while freeing the teacher to work with individual learners. For more on playlists, check out this blog.
Benefits of the playlist model:
Shifts control over the pace of learning to students.
Paths can be differentiated or personalized.
Creates clarity about the trajectory of work.
Mixes media and learning modalities.
Affords the teacher time to conference with students.
Pulls feedback and assessment into the classroom or synchronous virtual sessions.
Tips for using the playlist model in a concurrent classroom:
Allow students to work independently or strategically pair your online and offline students to create a support network as they work.

If you strategically pair students, create a digital space (e.g., Google Document) where they can connect to chat if they have questions or need support.

Meet with online students for "teacher check-ins" using video conferencing software.
Post a "may do" list for students to work on if they are waiting for their teacher check-in.
Create a pathway for

all

students to let you know when they have hit a "teacher check-in" and need to conference with you (e.g., Remind or ClassroomQ).
Teaching a concurrent classroom is a daunting task. I am hopeful that strategies and best practices for K-12 will blossom out of this challenging school year as teachers experiment, reflect, create, and share.
As the new school year begins, teachers must be gentle with themselves. We don't need to be experts. We don't need to pretend that we have this all figured out. We need to be vulnerable and honest with our students and remind them that we are learning right alongside them.
Need support getting started with blended learning or online learning? Check out my self-paced online course.