At the start of a virtual workshop last week, a teacher sent me a note in the chat saying that she wanted to quit. She was frustrated and exhausted. This is a sentiment I've repeatedly heard this year as I work with educators who are teaching online, on hybrid schedules, or juggling the demands of the concurrent classroom.
I worry about the impact that this moment in education is having on teacher engagement. My doctoral research focused on the multidimensional motivational construct of teacher engagement in blended learning environments. There was a clear connection in the data between the quality of the teachers' relationships with their students and their engagement at work. Yet, many teachers find it challenging to connect with learners as they navigate the demands of teaching online, on a hybrid schedule, or in the concurrent classroom where their attention is divided between in-class and online students.
The playlist model presents a strategy teachers can use to structure learning experiences that are more personalized to the needs of specific learners, provide students with more agency, and free the teacher to spend time connecting with and coaching learners as they progress through the playlist.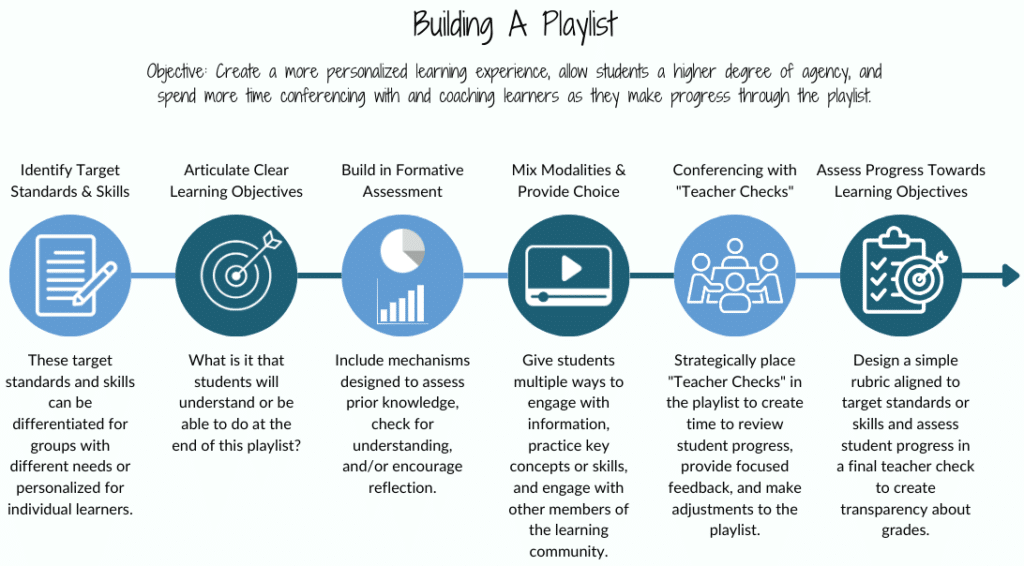 Building a Playlist
The scope of a playlist can vary dramatically. Some teachers are approaching the challenges of teaching in a pandemic by organizing a weekly playlist, while others create playlists that span a couple of weeks. Small-scale playlists may focus on introducing students to a particular concept or skill. In contrast, large-scale playlists may walk students through the process of conducting an experiment and writing a lab report or working through a multi-step project.
As teachers explore the playlist model, I encourage them to do the following.
Identify Standards and Skills
Starting from a place of the standards provides teachers with a clear road map for designing both the learning activities within the playlist and the rubric they will use to assess student learning at the end of the playlist.
Articulate Learning Objectives
Articulating learning objectives creates clarity about what students are working toward in terms of understanding specific concepts and mastering specific skills.
Build in Formative Assessment
Collecting informal data throughout a playlist provides insight into what students know or can do. Beginning the playlist with an activity designed to assess prior knowledge, including checks for understanding as students move through the playlist, and ending with a reflective prompt can help teachers identify areas of growth and gaps that need to be addressed.
Mix Modalities and Provide Choice
Providing a range of learning activities and allowing students choice can increase engagement.
– Present information using a variety of media–texts, videos, podcasts, interactive websites.
– Give students the option to take notes, draw or create sketchnotes, engage in discussion, or tinker.
– Invite students to make key decisions about how they consume, process, practice, and create.
Conferencing & Coaching with Teacher Checks
Strategically placing teacher checks into a playlist provides teachers with the opportunity to spend time with individual learners–in person or online–to review and discuss their progress. These teacher checks can be used to:
– Provide additional instruction, modeling, or guided practice.
– Give focused, actionable feedback to support progress.
– Make adjustments to the playlist to personalize the learning based on the individual student's needs.
Assess Student Progress
Allow students a choice when it comes to how they demonstrate their learning at the end of a playlist (e.g., choice board) and use a standards-aligned rubric to assess student progress toward stated learning objectives.
Frequently Asked Questions
1. Should I build my playlist in a digital document or slide deck?
You can build a playlist in a digital document or a slide deck. However, teachers who want to insert video instruction, models, or directions into their playlist should build their playlists in a Google Slide deck or PowerPoint instead of a Google Document or Word Document.
2. Does a playlist have to be an individual endeavor?
Not necessarily. Teachers can assign students an individual playlist or strategically pair or group students on a shared playlist to encourage communication and collaboration.
3. Should the playlist be done synchronously or asynchronously?
This depends on both the age of the students and the requirements around synchronous time. Teachers may want to pull parts of the playlist into synchronous sessions, allowing them to progress during class while pulling individual or small groups of students into conferencing sessions. Teachers working online can create breakout rooms for individual students or groups of students to make progress on their playlist. While students work, the teacher can pull students who have reached a "teacher check" into the main room for a conference about their progress.
4. How do I keep track of individual student progress on a playlist?
I encourage teachers to create a Google sheet or Microsoft Excel sheet to track student progress. Give the sheet a title that corresponds with the title of your playlist. Create a page on your spreadsheet for each class period. Copy and paste the names of your students in the first column of the sheet. Then each column after should represent a learning activity or task from the playlist. This simple strategy gives teachers one location to track student progress and make notes during conferencing sessions.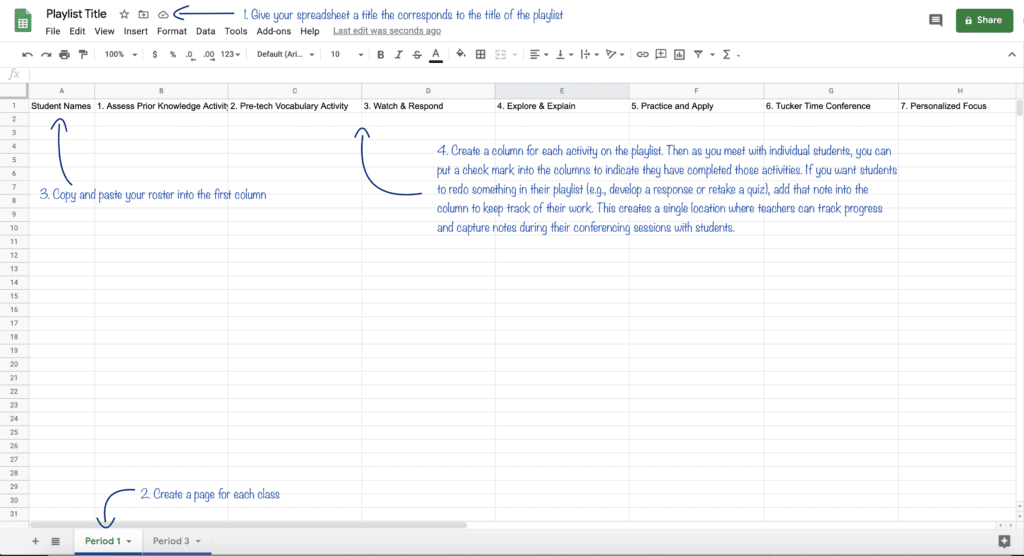 5. How do I differentiate or personalize a playlist?
To differentiate a playlist for groups of learners with different skills, abilities, and needs, the teacher can create one version of the playlist then make a copy of the digital document or slide deck. Once they have made a copy, the teacher can modify the original playlist without recreating the whole thing.
To personalize a playlist, teachers can co-construct a personalized focus to follow each "teacher check." That way, the teacher can review the student's individual progress and decide with the learner what they need to continue making progress. Additionally, teachers can send students away from the playlist for personalized practice using adaptive software.
Need more support getting started with blended learning or online learning? Check out my self-paced online course.