As teachers navigate online learning, hybrid schedules, or the demands of the concurrent classroom, I've recommended the station rotation model. I know this recommendation may seem odd given that most teachers are not in classrooms daily with students, or if they are, there are strict social distancing protocols in place. In our current situation, it is necessary to emphasize that a "station" does not need to be a physical location in a classroom, but rather it is a learning activity. Students do not need to rotate physically. Instead, they shift from one learning activity to the next.
The beauty of the station rotation model lies in the small group dynamic, opportunities to differentiate more consistently, and increased student control over the pace at which they move through individual tasks.
Teachers may find the template below a useful resource as they plan their station rotation lessons, especially if they teach online or in a concurrent classroom where the teacher-led stations are likely happening via video conferencing.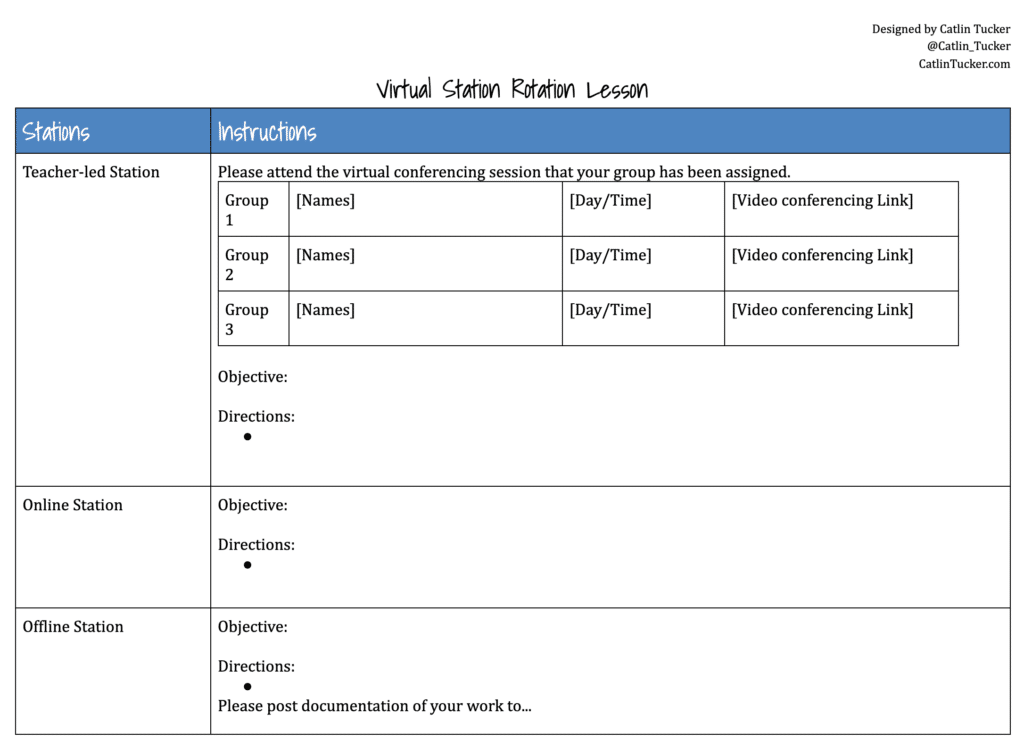 I know getting started can be the most challenging part! So, I've created the following idea documents brainstorming learning activities that teachers in math, English, and history may find helpful as they plan for their station rotation lessons.
Math: Station Rotation Ideas
Often, math teachers have the most challenging time designing a station rotation because the curriculum is so linear with each concept and process builds on the previous. However, as I work with math teachers exploring the station rotation model, I encourage them to think about the stations serving specific functions.
Teacher-led Station: Move linearly through the curriculum
Online Station: Support self-paced progress, collaborative small group challenges, and mathematical reasoning
Offline Station: Encourage students to revisit and review concepts or apply mathematical thinking to real-world situations individually or collaboratively.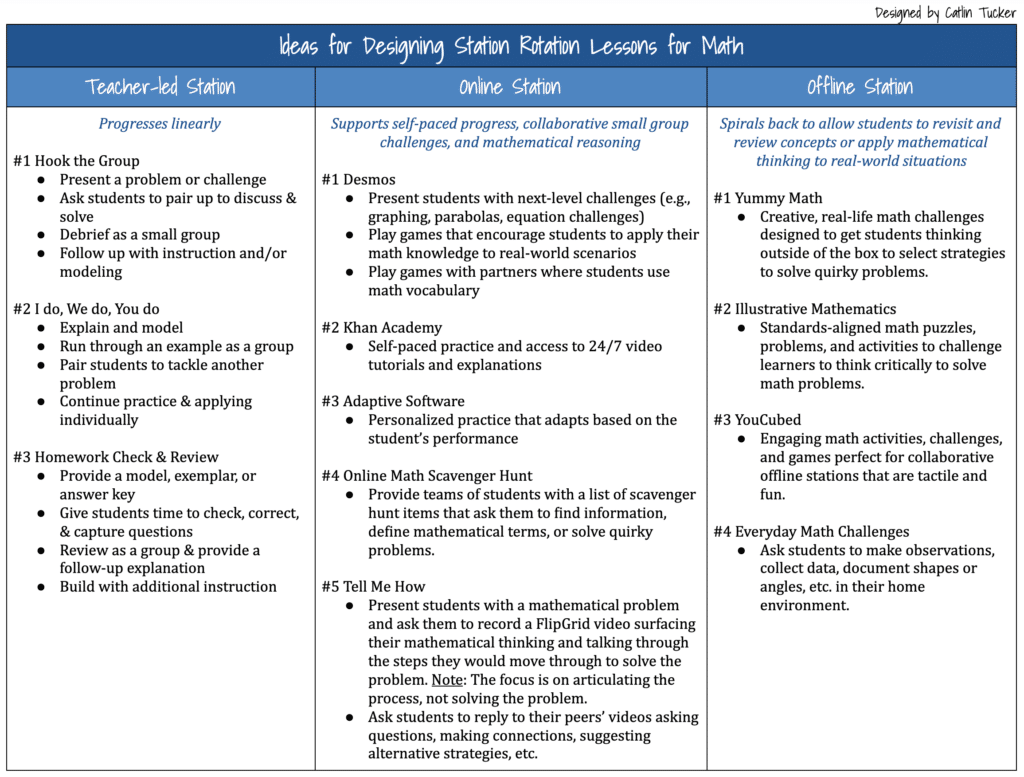 English: Station Rotation Ideas
English teachers frustrated by the volume of work they take home can leverage the station rotation design to pull some of that work into the classroom (physical or virtual). The teacher-led station provides time for the teacher to provide differentiated instruction around concepts and skills, support students as they read or employ reading strategies, and provide focused feedback as they write.
The online and offline stations can then allow students the time and space to engage in conversations about texts, read and write, complete more artistic tasks, or conduct online research to build their background knowledge.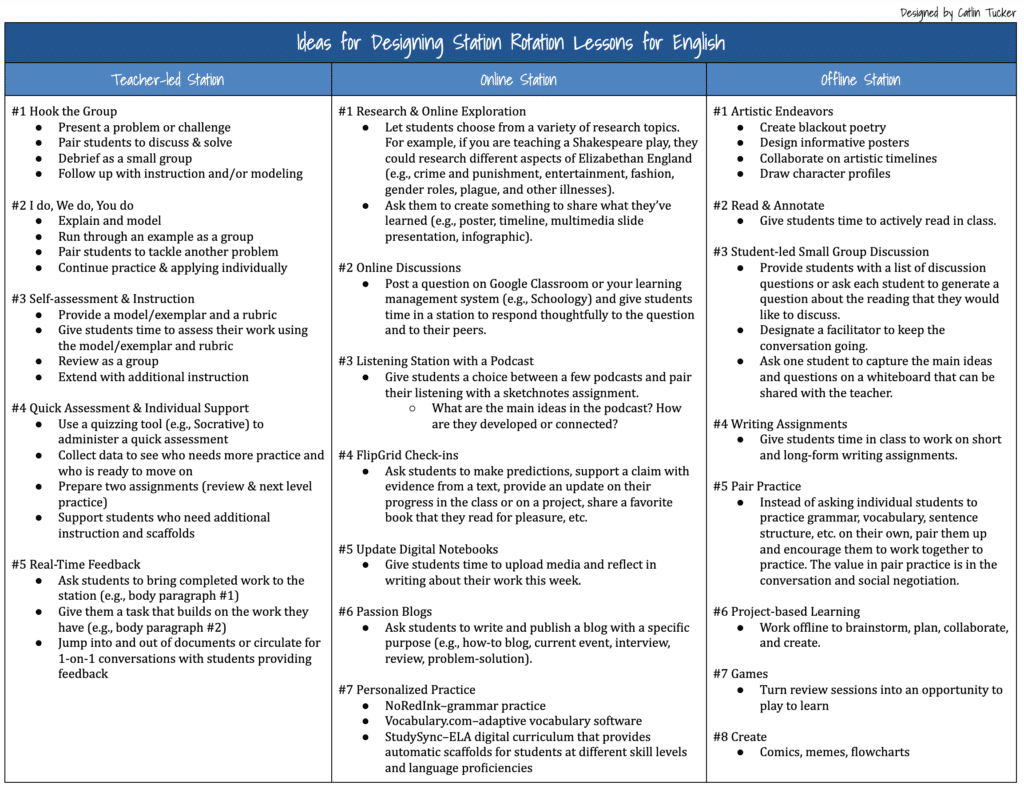 History: Station Rotation Ideas
When I work with history teachers, I adapt and use many of the strategies I employed in my English class. I think of history as a story told from different perspectives. As a result, students must think critically about who is telling the story of an event or moment and how that point of view impacts the way they tell the story. What is emphasized? What is neglected? Which perspectives are absent?
Students also need opportunities to connect their identities and their lives with past events. That is easier to do if they have time to explore, discuss, and reflect.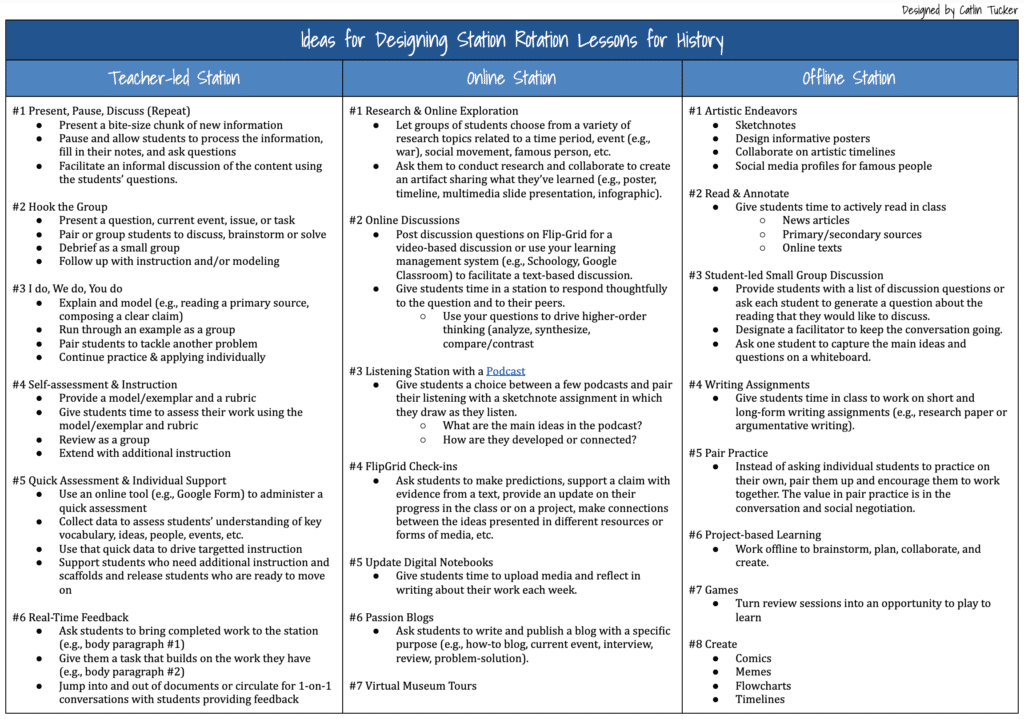 Science: Station Rotation Ideas
Science curriculum, like math, can be very linear. It also involves a lot of hands-on work (e.g., labs and experiments) that the teacher may want to monitor. These realities can make it challenging for science teachers to design a station rotation; however, stations provide students the time and space to explore and process complex concepts and phenomena.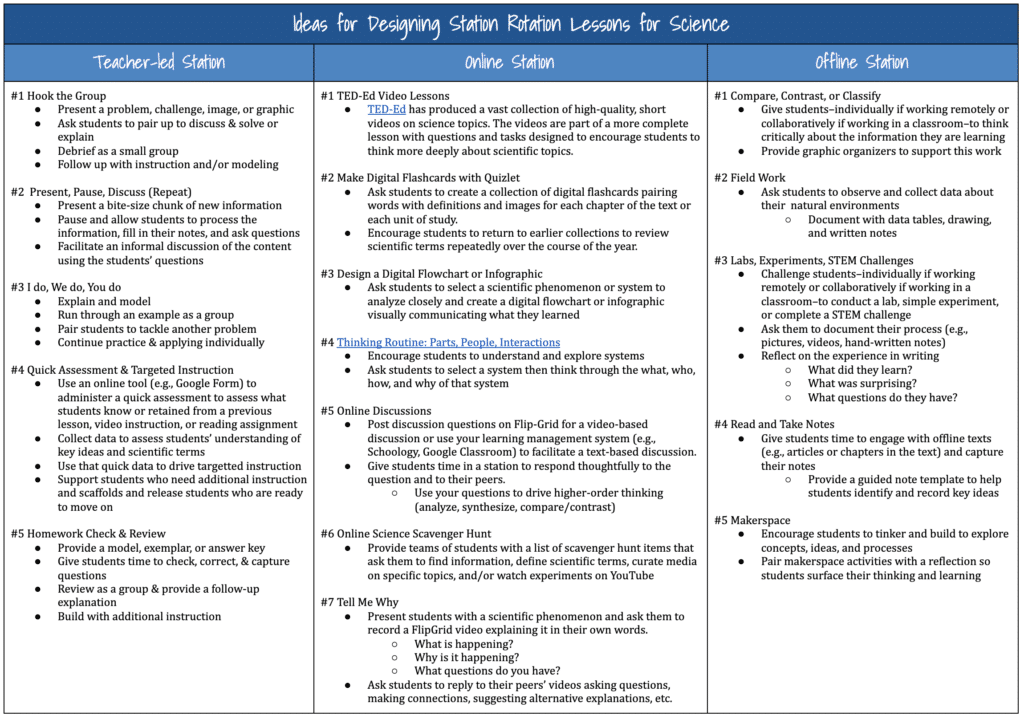 You can access the virtual station rotation template and the idea documents below. I hope these resources support teachers in designing engaging, student-centered learning experiences for any learning landscape!