There are two things I am certain of in education. First, learner variability is the norm, not the exception. Second, technology is here to stay. So, how do we design and facilitate learning experiences to remove barriers and allow all students to succeed? How can we leverage technology to provide meaningful choices within a learning experience and create the time and space needed to work with individual students or small groups of learners?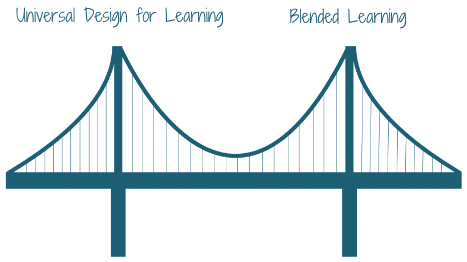 In my upcoming book, I teamed up with Dr. Katie Novak to explore the complementary nature of Universal Design for Learning (UDL) and blended learning. Below you will find italicized excerpts from the first chapter of our new book woven into the text below.
UDL is a framework to improve and optimize teaching and learning for all people based on scientific insights into how humans learn." It celebrates learner variability as an asset in the classroom, and recognizes that every class comprises a wide range of learners with various needs, skills, experiences, knowledge, and interests. Each student will encounter unique barriers, enjoy engaging with information in different formats, thrive in different learning scenarios, have particular preferences, benefit from varying levels of support, and communicate their learning differently.
Every student, regardless of variability, deserves the best opportunity to develop their skills and knowledge regardless of the learning landscape. For too long, schools were designed for those students who were the mythical average learners at the expense of students who had unique needs and challenged teachers to the limits of their commitments, insights, and skills. When we accept that learner variability is the norm, we begin to design with that reality in mind.
However, the events of the last year have made it clear that educational landscapes can shift at any time. In the last 15 months, teachers have been asked to teach in person, online, and various combinations of the two. As soon as teachers got their bearings in one teaching and learning landscape, things shifted. It was an exhausting and often frustrating experience. Moving forward, Katie and I want teachers to have a skill set nimble enough to navigate any teaching and learning landscape.
Education today requires flexibility and agility. We are called to design and deliver curriculum and instruction that engages learners in face-to-face settings, during hybrid instruction, and when learning is remote, and back again. We don't need two vehicles, or two different sets of skills, to meet the needs of learners in a flexible learning landscape. Instead, we need to develop a skill set that is adaptable enough and flexible enough to travel from the bumpy, cobblestone streets of traditional education to the choppy waters of learning in the cloud.
To meet the needs of diverse learners in flexible landscapes, educators need more than a single framework. UDL provides a foundation that reminds us that the goal of school is to teach students how to become motivated, resourceful, innovative learners, and help them prepare for the lives they want to live. To do this, we have to embrace blended learning so they can seamlessly traverse from in-person, hybrid, online, and back again.
In my previous books, I've defined blended learning as the combination of active, engaged learning online with active, engaged learning offline to give learners more control of the time, place, pace, and path of their learning. This definition is grounded in constructivist principles and positions students at the center of learning. This fundamental shift in control from teacher to learners is key to helping us reach those goals of developing more motivated, resourceful, and innovative learners.
In my previous books, I've explored what blended learning looks like in action, encouraged leaders and coaches to power up blended learning by building a professional learning infrastructure, and described how teachers can leverage blended learning to partner with students and create more balance in their lives. This book creates a bridge between the UDL framework and blended learning. This bridge will help leaders and teachers understand how to universally design blended learning. We want to universally design to celebrate learner variability, remove barriers, give students agency, and cultivate expert learners. This book highlights how blended learning, in general, and the models, specifically, can make those objectives easier to accomplish!
UDL and Blended Learning: Thriving in Flexible Learning Landscapes is available now! If you want to place a bulk order (10+) for a book study, complete this form.