Student agency, or a students' ability to make key decisions about their learning experience, is an essential aspect of blended learning. Student agency requires that we design our lessons to offer students meaningful choices. These choices can help us universally design learning experiences that strive to remove barriers and invite students to decide how to engage with information, make meaning, and demonstrate their learning.
Choice boards fall within the umbrella of blended learning when we combine active, engaged learning online with active, engaged learning offline. Below is an overview of the benefits of using choice boards and the various types of boards you can design to meet a range of different objectives.
The Benefits of Choice Boards
Choice is a powerful motivator.
Learner variability means that not all students enjoy the same task.
Students have more control over the pace at which they navigate the tasks.
Teachers are freed from orchestrating a lesson and able to conference with learners about their progress, provide feedback on work in progress, or conduct side-by-side assessments.
Designing Choice Boards
You can design choice boards for a variety of purposes or learning objectives. It's essential to identify the purpose of a board to ensure your design aligns with that objective.
Standards-aligned boards
Strategy-specific boards
Thematic boards
Review and practice boards
Project or performance task boards
Standards-aligned Choice Boards
Standards-aligned choice boards provide students with multiple ways to engage with target standards. Each column focuses on a specific standard or skill. Then the various learning activities within each column allow students to engage with that standard or skill in a way that is appealing to them. Below is a deconstructed example that highlights the considerations you will want to make when designing your standards-aligned choice board.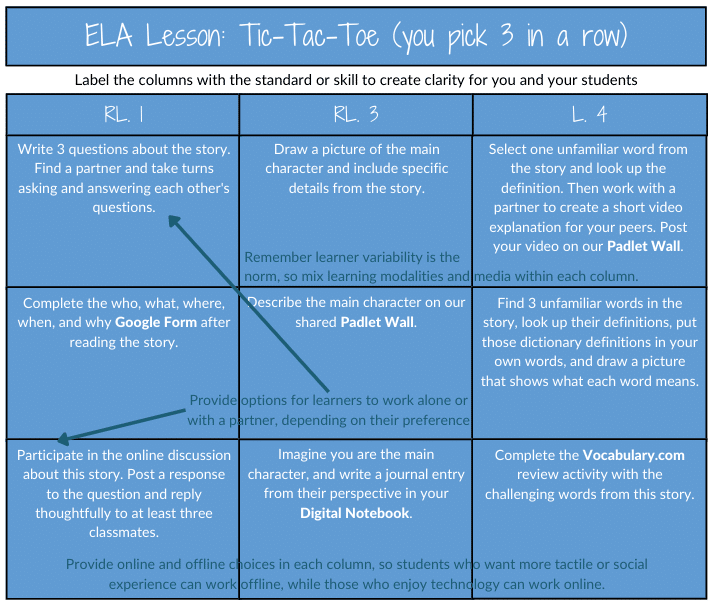 Strategy-specific Choice Boards
Strategy-specific boards present learners with a variety of strategies to select from and can be used repeatedly. For example, a board can focus on presenting reading strategies as pictured below so that students can select a focus strategy each time they read a text. Similarly, you can create a vocabulary review board with activities students can choose from to practice and play with their new subject-specific or academic vocabulary.
Thematic Choice Boards
Thematic choice boards focus on a particular theme or topic. Elementary teachers may use their board to encourage a deep dive into a holiday, season, or weather pattern. Thematic choice boards can prioritize a topic we care about or value that does not appear in our standards. For example, teachers may want to create a well-being board to engage students in mindfulness activities or create a brain break board to provide "fast finishers" with activities to work on while other students finish a task.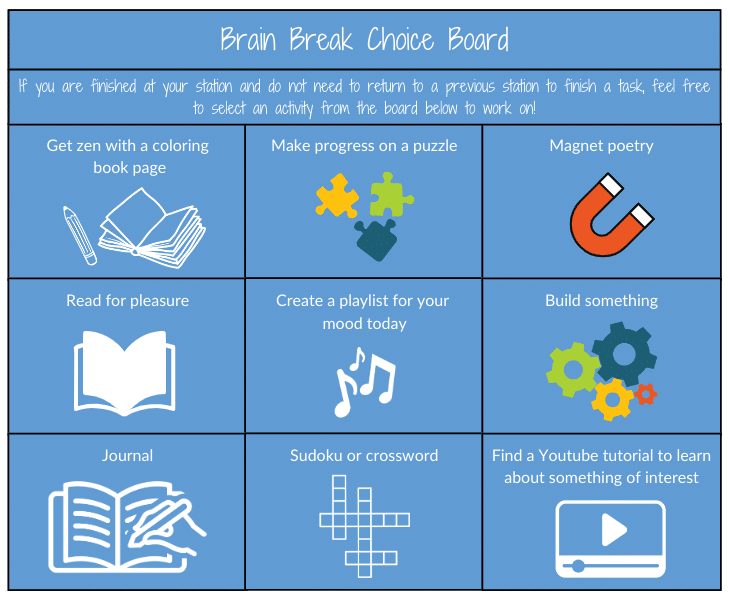 Review and Practice Choice Boards
A review and practice board is an alternative to a traditional study guide. As students prepare for an assessment, create a board with activities that target key vocabulary, concepts, and skills. Then encourage students to select an item from each column to help them prepare for the assessment. This positions the learner to make key decisions about which activities would be most valuable as they work with vocabulary, concepts, and skills.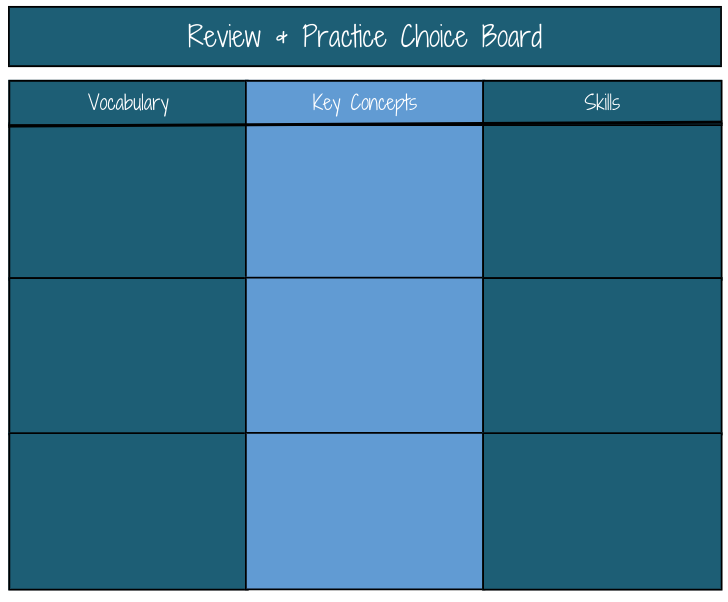 Project or Performance Task Choice Boards
Not all students express or communicate their learning effectively in the same way. Providing students with a project or performance task choice board allows them to select the project or task they want to work on to demonstrate their learning. This choice can translate into higher rates of completion and more robust finished products.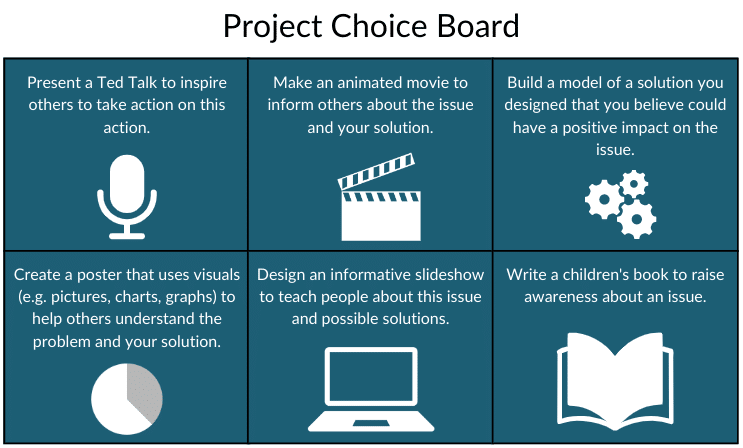 Subtly Differentiating a Choice Board
You can create three versions of the same choice board (advanced, regular, scaffolded) to ensure that the level of rigor and academic complexity is appropriate to different groups of learners in your class. If you create your choice boards using a digital document or slide deck, you can "make a copy" of your regular choice board and adjust them to challenge strong students or add additional supports and scaffolds for students who need them.
Alternatively, you could create a single choice board and color-code the squares to denote more challenging activities and tasks. For example, the choice board template below has blue and green squares. The green "stretch" squares are more challenging for students who are capable of academically rigorous work. These squares can be optional, or you can ask students who you think are ready for a stretch square to complete at least one activity or task from a green square.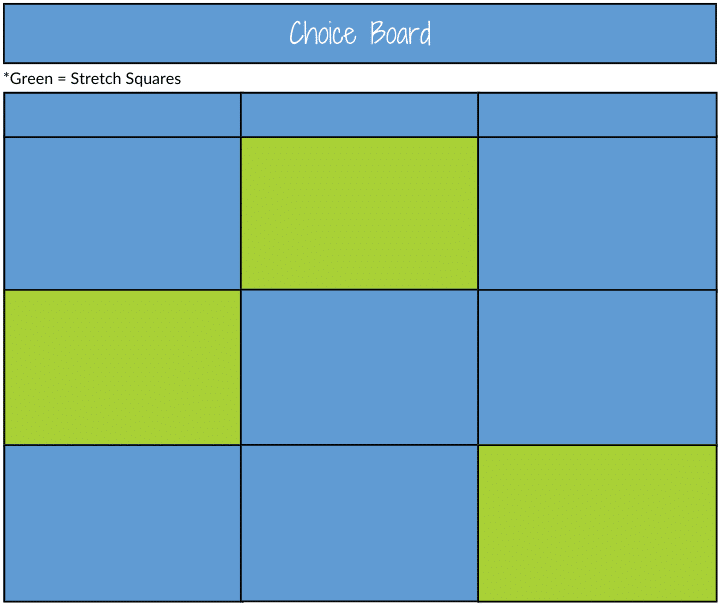 What will you do with your time while students work on a choice board?
Prioritizing student agency and removing barriers are significant benefits of a choice board. Still, the best aspect of using choice boards from a teacher's perspective is the time and space they create for us in the classroom. As students self-pace through the items on a choice board, you are freed to spend your time working directly with individuals or small groups of learners.
The goal of this time from a teacher's perspective should be to connect with learners and shift more time-consuming teacher tasks, like feedback and grading, into the classroom. When these tasks are done in the classroom with learners, they become an opportunity to engage learners in conversations about their progress and work.
Choice boards are versatile and can effectively shift students to the center of the learning experience by inviting them to decide how to spend their time and energy. This increased student agency also frees you to invest your time and energy in tasks that free you from the front of the room and allow you to work alongside students.