The 5Es: A Powerful Framework for Student-centered Blended Learning
Too often in education, students are given answers to questions they did not ask and solutions to problems they have never encountered. This can lead to learning experiences that feel irrelevant to and disconnected from their lives beyond the classroom. To combat this reality, I encourage teachers of all grade levels and subject areas to check out the 5Es instructional model to promote and support student-driven inquiry, discovery, and problem-solving.

Tucker, Blended Learning and the 5Es Instructional Model
The 5Es instructional model has become my go-to strategy for designing student-centered inquiry. I have used it across grade levels and subject areas, and I appreciate its versatility. The 5Es instructional model blends active, engaged learning online and offline to position students at the center of the learning experience. I love using this model so much that I decided to create a mini-course for teachers designed to walk them through the process of creating their own 5Es inquiry cycle.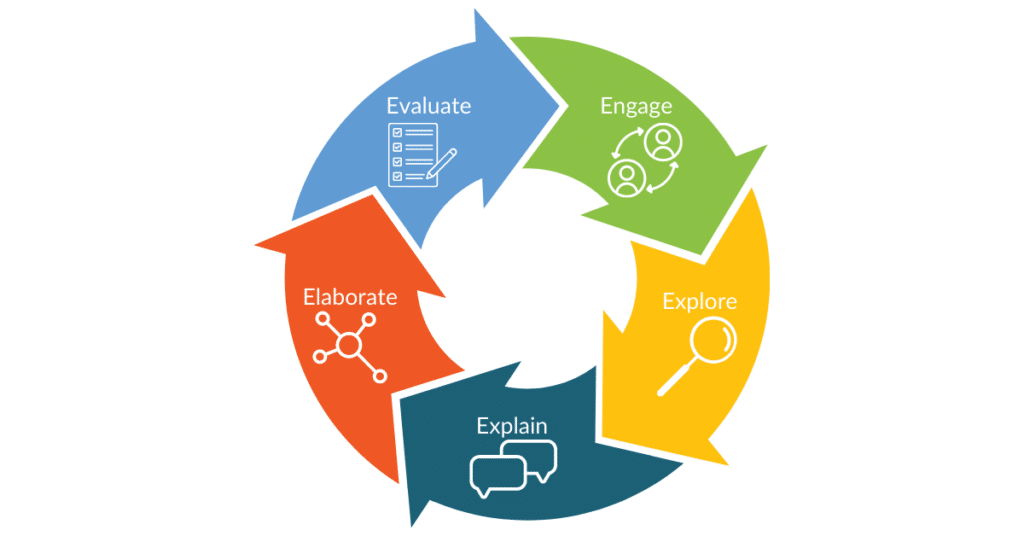 Benefits of the 5Es Instructional Model
Challenges students to explore complex questions, topics, concepts, issues, processes, and phenomena
Requires online and offline exploration to deepen understanding, positioning students as active agents in the learning process
Encourages students to use each other as resources in the meaning-making process
Develops critical thinking and analytical skills
Demands that students transfer their learning, applying it to new and novel situations
Gives students more control over the pace and path of their learning
Weaves together the benefits of online and offline learning
As teachers plan for the second half of the year, the 5Es instructional model creates opportunities for students to lead their learning. A 5Es inquiry cycle can run parallel to a traditional unit, encouraging a deeper dive into an essential question or complex topic throughout a unit. Alternatively, the 5Es inquiry cycle can be the sole focus for a week or two, depending on the scope of the question or topic. Either way, the goal is for students to have the time and space to work through all five stages to achieve deeper learning.
The 5Es Instructional Model Mini-course
This mini-course has ten lessons. Each lesson includes video instruction, resources and templates, and a "your turn" application activity designed to encourage teachers to apply their learning. I share strategies for engaging students online or offline at each stage of the 5Es–engage, explore, explain, elaborate, and evaluate. Both learning environments have their benefits, drawbacks, and affordances. I want teachers to have the tools and resources to engage students in the classroom and online. Below is an overview of the course content.
Lesson 1: Introduction to the 5Es Instructional Model
Lesson 2: Essential Questions
Lesson 3: Goal Setting
Lesson 4: Stage 1–Engage
Lesson 5: Stage 2–Explore
Lesson 6: Stage 3–Explain
Lesson 7: Stage 4–Elaborate
Lesson 8: Stage 5–Evaluate
Lesson 9: Spotlight Lesson–Student Agency
Lesson 10: Spotlight Lesson–Online Discussions (Text and Video-based)
If you want to purchase this mini-course for 10+ teachers on your campus to support self-paced learning, fill out this form for a group rate! You'll be contacted directly to coordinate a purchase order for bulk licenses.
Want to learn more about the 5Es instructional model? Check out this blog!