I am using Google documents for all writing assignments this year. The day I assign a formal essay topic, students must create a doc, title it properly and share it with me. This makes it possible for me to check their progress throughout the writing process. It creates opportunities to provide formative feedback instead of waiting until the final draft is submitted to provide comments.
The challenge? How can a single teacher with 170 students provide feedback to every student multiple times during a single writing assignment?
This is how…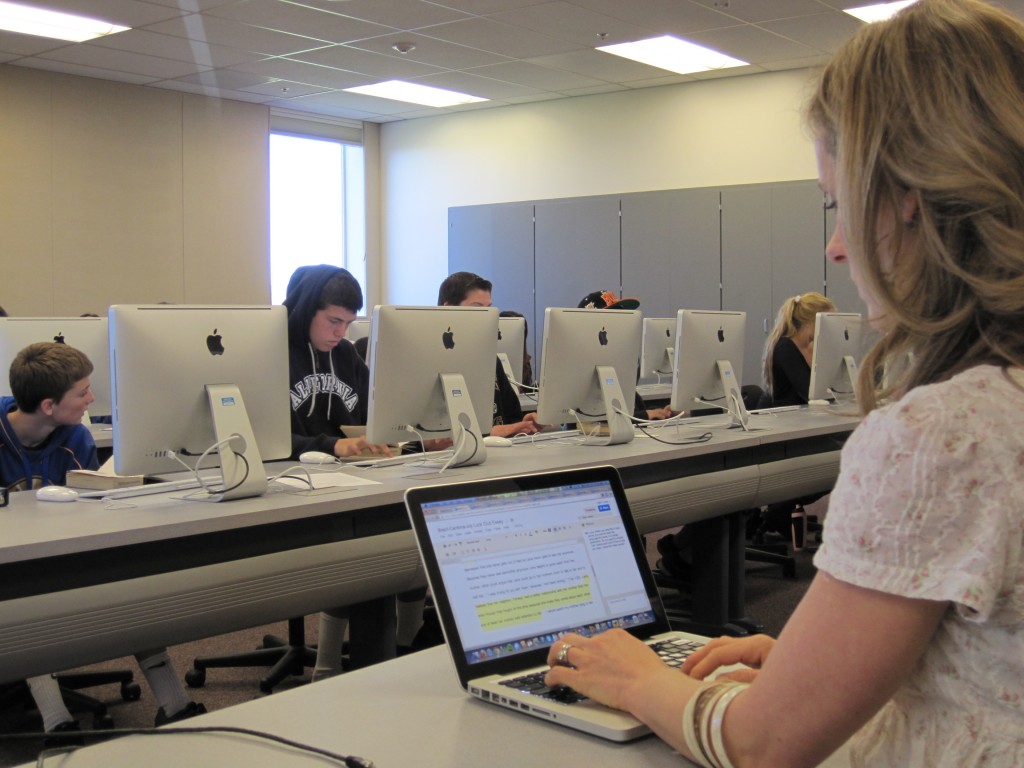 Last week, I reserved the computer lab for two 90 minute class periods. During that time, I opened every document that had been shared with me and spent the entire period working synchronously on each document. 
Click to watch a screencast: http://www.youtube.com/watch?v=mhxp1_5pruA
I asked students to use the instant chat feature on their document to send me questions or comments as they worked. It was ironic how much individual feedback I was able to give in 90 minutes with 30+ students working quietly at their computers.
I successfully edited every paper shared with me 2 times before the final draft was submitted. For those concerned about addressing the Common Core Standard that requires students "develop and strengthen writing as needed by planning, revising, editing, rewriting, or trying a new approach," this is a wonderful way to support students in this process. You are also using "technology, including the Internet, to produce and publish writing and to interact and collaborate with others," which is another writing standard!
A new student to my class as of the semester break wrote me the following email: 
Ms. Tucker,
I really want you to know how much I appreciate your constructive criticism and how much it helps me do my work. In the past, whenever I received a graded paper all I really got back was a bunch of red circles telling me what I did wrong. Not only do your comments help me from making these mistakes but they also make me feel like I am doing something right. 
Thank you so much. 
Using technology to create opportunities to collaborate in real time, meet students where they are at, and provide support during their work is an enormous benefit of integrating technology. 
So many teachers worry about technology taking time, but this saved me so much time. It took place during our class period (not at home in the evening or on a weekend), and the final papers are exponentially stronger and require significantly less time to grade.
Preorder your copy of Creatively Teach the Common Core Literacy Standards with Technology. Just in time for summer reading!