The Common Core places new emphasis on the importance of reading and analyzing complex nonfiction and informational texts. This has many English teachers feeling like their literature is under attack, but students fall in love with stories. We don't need to lose our stories in our transition to the Common Core.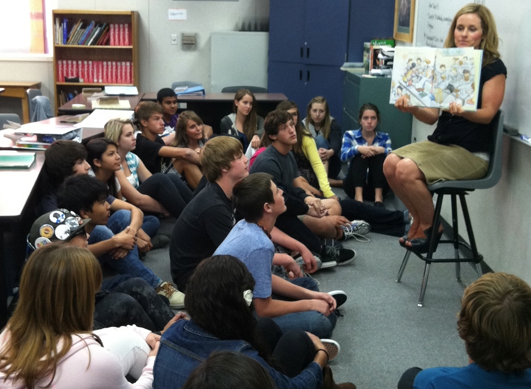 Each week, I do "story time" with my high school students. They sit on the floor and I read them a children's story. At the beginning of the year, they think I am nuts. In fact, one students said in his evaluation of the class, "I think story time was the most enjoyable [class routine]. At the beginning of the year I thought it was really weird that we were doing it when we were students in high school, but now I'm really happy that we do it because its a great way to end the class after a long day." Another student gushed, "I LOVED story time, it made me feel like I was back in Kindergarten, it was always something I looked forward to at the end of the class!"
Clearly, students of all ages love stories. There is nothing in the Common Core that says we have to lose our stories. What has been interesting for me is to change my approach to teaching literature. Now,  I ground the stories we read into real world events and issues so students see those connections more visibly. This is a great way to pull in those complex nonfiction pieces and use them to deepen our students understanding of the novels, plays and poetry they read in English.
My suggestion is to pair each title you teach with a "nonfiction focus." For example, when we read To Kill a Mockingbird at the start of the year, I selected the death penalty as our nonfiction focus. I pulled in a variety of digital texts related to the death penalty. We read, analyzed and discussed everything from the morality of killing people to the cost of executing prisoners to racial inequality in the justice system. It definitely encouraged students to think about the Tom Robinson trial in the novel more carefully.
The beauty of  digital texts is it is easier than ever to connect students with the most updated and relevant information online to introduce a variety of nonfiction and informational texts. When we read The Joy Luck Club, we focused on parenting styles and how cultural norms impact parenting decisions.

I had my students use Diigo (a free research and digital annotation tool) to read two different perspectives on Chinese parenting, then my students had to synthesize what they read and connect it to the novel. I didn't need a big clunky anthology of nonfiction pieces, instead I chose what made sense for my curriculum and my students reading level.
As I prepare for another year of curriculum, I am in the process of identifying my nonfiction focus topics that match the titles I am teaching this coming year. Here is how I am pairing my literature with nonfiction topics. I hope it sparks some ideas for other English teachers!
Novel:                                                         Nonfiction Focus:
Of Mice and Men                                      Migrant workers and immigration
Lord of the Flies                                       Human nature: are people inherently good or evil?
Canterbury Tales                                     Crime, punishment & torture: what does it reveal                                                                       about society?
Night                                                          Modern day genocides
Othello                                                       Racial stereotypes and biracial relationships
Princess Bride                                          Gender roles and gender inequality
If you want to to know more about what a complex text is, check out "What is a complex text anyway?" and "Common Core: Reading, Understanding and Analyzing Complex Texts" which may be helpful to teachers planning for next year.
As always, I welcome an additional strategies for teaching complex texts along side our literature!