When asked, "What is the most challenging part of writing an essay?" Most of my students agree, "It's just getting started that's hard." I remember feeling this same way as a student. The blank page was daunting. So, I decided to try a new strategy.
The first stage of our formal essay on Shakespeare's play, Othello, was a prewriting activity designed to tap into the collective potential of the class. I wanted students working together to generate ideas and collect textual evidence.
I pushed desks together and laid down a long sheet of yellow butcher paper. The essay prompt was written on the board:
Prompt: Identify and analyze three factors that led to the tragedy in William Shakespeare's play, Othello.
I explained that I wanted them to work together to brainstorm and collect textual evidence in preparation for their essay. That was where my involvement ended. The rest of the activity was student directed.
One student wrote the word tragedy in the center of the paper. Then they had an interesting conversation about what the actual tragedy was. Was it Desdemona's death? Was it Othello and Desdemona's lost love? Was it the inherent lack of trust in human nature?
Then students brainstormed factors they believed led to the tragedy. They had conversations as they captured their ideas on the paper. They wrote words and phrases like lack of communication, Iago's greed, Othello's "otherness" and status as an outsider.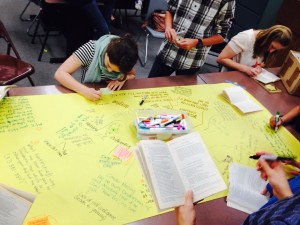 Once they identified a dozen different factors, they began searching for textual evidence (with citations!) to support those factors. The energy in the room was palpable. Students were flipping through pages, referencing devices, writing on the paper, and discussing their ideas. It was so different from the individual prewriting sessions of the past.
After their prewriting was done, I took pictures of the paper and posted them to our class website for my students to reference. When they wrote their first body paragraph in class, I laid out their prewriting paper. As they wrote, students would pause, come to the paper and reference the factors and quotes generated the previous class.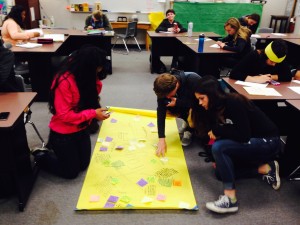 This strategy was fairly low tech since my classroom doesn't have any actual technology save the devices my students bring into the room. If everyone had access to a device, I could have done this same activity using a web tool, like Padlet, to facilitate real time collaboration and capture their ideas.
The success of this activity was evident as I began to edit their drafts in progress. The quality of their ideas, strength of their quotes, and the depth of their analysis improved dramatically.
Too often the collective intelligence in a classroom is ignored. It's so important that we give students more opportunities to learn from one another.
Creatively Teach the Common Core Literacy Standards with Technology  Available NOW!